Add Structural Interface
The Structural Interface option in RS2 allows you to model support which has a sliding interface (joint) on BOTH sides of the support element. This can be used to model:
piles
geosynthetics (e.g. geogrids, geotextiles, etc)
other support types with a sliding interface on both sides
Schematically, a Structural Interface consists of the following components (i.e. a support element sandwiched in-between two joint elements).
Schematic representation of Structural Interface components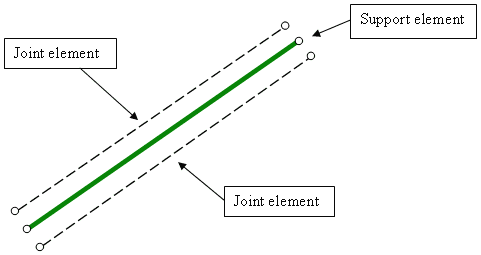 A Structural Interface boundary is added to a model and can be edited just like other boundary types in RS2.
To add a Structural Interface boundary:
Select Add Structural Interface from the toolbar or the Support menu.
You will see the Add Structural Interface dialog, which allows you to:

select the Property type (note: Property type can also be assigned or changed after the Structural Interface has been added to the model using the Assign option)
select the End Condition - the end vertices of the boundary can be specified as either Open or Closed. This is relevant to the Joint component of the Structural Interface (see the Add Joint topic for details).

Make your selections in the dialog, and select [OK].

Enter the vertices of the boundary as described in Entering Coordinates.
When all vertices are entered, right-click and select Done, or press Enter with nothing in the prompt line, and the Structural Interface boundary will be added to the model.
When you add a Structural Interface boundary to a RS2 model, it will appear similar to the other boundary types in RS2 (i.e. you will only see a single line thickness, you will not see the individual components of the structure as shown in the above figure).
NOTE: in the RS2 Interpret program, the 3 components of the Structural Interface (joint/liner/joint) will be expanded and drawn with thick line segments for easy viewing.
End Condition
For details about defining the End Condition of a Structural Interface boundary, see the Add Joint topic, as the details are the same for both boundary types.
Structural Interface Properties
For more information about defining Structural Interface properties, see the Define Structural Interface topic.
Edit Structural Interface
After a structural interface has been added, you can edit the properties and staging for one or more of them using the Edit Structural Interface option from the Support menu.
The end conditions for multiple structural interfaces can be edited with the Edit Joint\Structural Interface End Condition option from the Boundaries menu. For single ones, you can right-click on the end nodes to change the end condition.