Property Viewer
The Property Viewer, similar to Slide2, is accessed by selecting the Property Viewer icon on the toolbar (

).
It allows the user to visualize Cohesion, Phi, Pore Pressure, Residual Cohesion, Residual Friction Angle, Young's Modulus, Residual Young's Modulus, and Poisson's Ratio.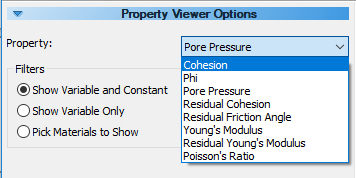 The options available are explained below:
Property: Select property to view
Filters:
Show Variable and Constant: view all contours
Show Variable Only: only view contours of spatially variable materials, or linearly increasing ones
Pick Materials to Show: select specific materials to view
Toolbar options:
The usual Display Options (
)are also found in the toolbar in the Property Viewer mode.