Porosity Value
You can specify the Porosity Value of a material under the Initial Conditions tab in the Define Material Properties dialog.
Porosity and Water Content
By definition, the porosity of a soil should ALWAYS be equal or greater than water content.

In RS2, water content value(s) needs to be defined one or more times, under Hydraulic Properties or(/and) Thermal Properties section, depending on the model settings.
A water content value needs to be specified at corresponded location under following sections:
Under Hydraulic properties section:
When a transient groundwater analysis is performed (i.e. Groundwater Method = Transient FEA in Project Settings dialog).
Under Thermal properties section:
Water Content Type = Define
Thermal Heat Capacity Type = Custom, Dependence = Water Content
Note: If more than one water content values are inputted, the porosity value should be not less than ANY water content value. Same condition applied when stage factors are defined for water content values.
In the
Define Material Properties
dialog, if invalid porosity or water content value is entered, a warning message will pop up, reminding the valid range of the input parameter (see below screenshot for an example). You would need to adjust the porosity or water content value to meet the requirement.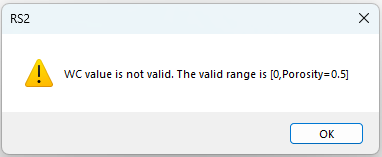 When constructing the model, if the porosity and water content values are being affected, and which violates the requirement, a warning message will pop up as the figure below. In the warning message, it:
Lists out the first five affected materials;
Resets ALL porosity and water content values of affected materials to default values.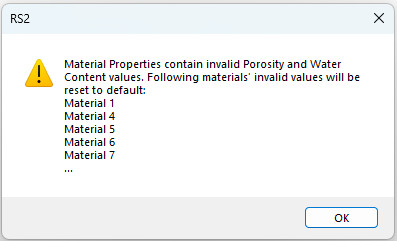 After clicking OK, please go to the Define Material Properties dialog (select Define Materials option from the Properties menu), browse through Initial Conditions, Hydraulic Properties, Thermal Properties, and Stage Factors tabs for EACH affected material, to modify the porosity and water values.