Add Material
A Material Boundary can be used in RS2 to define boundaries between different material types. If your entire model consists of a single rock or soil type with uniform material properties throughout, then Material boundaries are not necessary. If you wish to define regions having different material properties (e.g. strength and elastic properties), then use Material boundaries to define the regions.
To add a Material boundary to your model:
Select the Geometry workflow tab.
Select Add Material from the toolbar or the Boundaries menu.
Enter the vertices of the material boundary as described in Entering Coordinates.
When all vertices are entered, right-click and select Done, or press Enter with nothing in the prompt line, and the Material boundary will be added to the model.
Examples of Material boundaries: On the left, two Material boundaries define three regions. On the right, a single Material boundary defines two regions.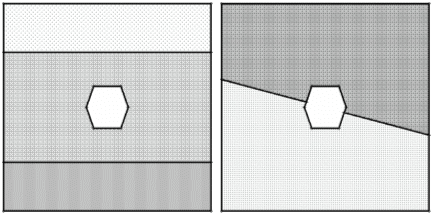 A Material boundary divides the model into sub-regions by virtue of intersection with other boundaries. The definition of a Material boundary in RS2 is completely general – it can have any number of segments, can intersect any other boundaries (including other Material boundaries), and can even be a closed boundary.
Material boundaries should, in general, define closed regions by virtue of intersection with other boundaries (Excavation, External, Joint, Stage or other Material boundaries). If a Material boundary is terminated without intersecting another boundary, then it will not serve the purpose of defining a separate material region (you will discover this when you try to Assign properties). In the interest of generality, RS2 allows "open-ended" Material boundaries to be defined. Possible uses of open-ended boundaries: applying liner support such as sheet pile walls; or conforming the finite element mesh along any desired line.
Material Boundaries vs. Stage Boundaries
Material boundaries and Stage boundaries can be used interchangeably. That is, anywhere a Material boundary can be used, a Stage boundary can also be used, and vice versa. The user may decide which boundary type is more appropriate in a given situation (i.e. use Material boundaries to represent boundaries between different materials, and use Stage boundaries to represent the boundaries between different stages of excavation).
Note: in early versions of Phase2 (prior to version 5.0), Material and Stage boundaries were not exactly equivalent, since Stage boundaries could only be defined within Excavation boundaries. This restriction has now been removed. See the Add Stage topic for more information.