Edit Wick Drains
You can edit wick drain / relief well properties by selecting: Groundwater > Edit Wick Drains / Relief Wells. Then, select the wick drains / relief wells in the model and press enter.
You will see the following dialog with parameters shown below: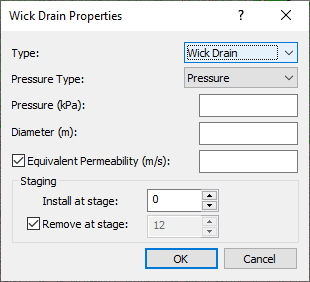 Type: Wick drains / Relief well
If you select wick drains, the defined wick drains will be applied with parameters in the dialog. As we assign the total head/pore pressure on the relief well, the node associated with the boundary condition will keep those values during the simulation. Note that with wick drain condition, if the node has a lower values the assign boundary condition, it will automatically ignore the condition. Wick drains / relief wells are mesh non conforming groundwater boundary condition.