Liner Type: Cable Truss
The Cable Truss liner type is a specialized option for modeling cable truss support systems, which are sometimes used to support coal mine roofs, for example.
A cable truss element provides support in tension only.
A cable truss element does NOT support flexural, shear or compressive loads.
Cable truss support is implemented as a liner type in RS2 (rather than a bolt type) because it fits into the general scheme of liner modeling in RS2.
NOTE: for modeling purposes a cable truss is assumed to be a single continuous cable in full contact with the rock. The details of the cable truss installation, cable type and connections are not considered.
Cable truss roof support system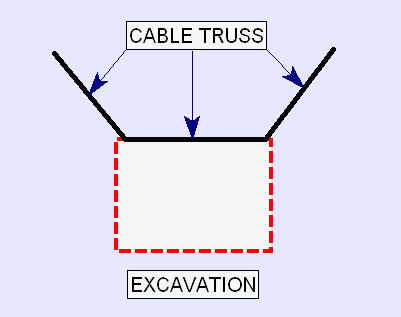 To define the properties of Cable Truss support:
Select Define Liners from the toolbar or the Properties menu.
Select Liner Type = Cable Truss.
Enter the properties described below.
Geometry
The cable geometry is defined by:
Cable Diameter
Out-of-Plane Cable Spacing (i.e. the distance between cables along the length of the excavation)
Elastic Properties
The cable Elastic Properties are defined by the Cable Young's Modulus.
Strength Parameters
The cable Strength Parameters are defined as follows:
Material Type: Elastic
If the Material Type = Elastic, then the strength of the cable is not considered (i.e. there will be no upper limit to the tensile load which can be sustained by the cable truss). The cable response will be elastic regardless of the load on the cable.
Material Type: Plastic
If the Material Type = Plastic, you must enter the peak and residual tensile strength of the cable truss.
The peak tensile strength determines the maximum load which can be sustained by the cable truss. If the peak tensile strength is reached, the post-peak yield load is determined by the residual strength. If the residual strength is zero, the cable will carry zero load after yielding.
Pre-Tensioning
To define a Pre-Tensioning force for the cable truss, select the Pre-Tensioning force check box and enter a value.
Axial Strain
This option allows users to assign axial strain to simulate liner contraction/expansion. In terms of the sign convention, negative input parameter (-) indicates contraction, and positive (+) represents expansion. The liner axial strain can be staged, using the Stage Cable Properties option in the dialog.
Stage Cable Properties
The properties of a Cable Truss can be modified at different stages by selecting the Stage Cable Properties check box and selecting the Define Factors button. See the Stage Liner Properties topic for details about staging cable properties.
Staging cable properties could be used to simulate a decrease in cable strength or stiffness over time, due to corrosion for example.