Add Stage
RS2 allows staged analysis of excavations in up to 300 separate stages. The Number of Stages is set in the Project Settings dialog.
If you are working with staged models, then you can use Stage boundaries to define intermediate excavation stages within Excavation boundaries.
Stage boundaries may be defined anywhere in the model, and are not restricted to be within Excavation boundaries. See note below.
To add a Stage boundary to a model:
Select the Geometry workflow tab.
Select Add Stage from the toolbar or the Boundaries menu.
Enter the vertices of the Stage boundary as described in Entering Coordinates.
When all vertices are entered, right-click and select Done, or press Enter with nothing in the prompt line, and the Stage boundary will be added to the model.
Example of a three stage model, using two Stage boundaries within an Excavation boundary.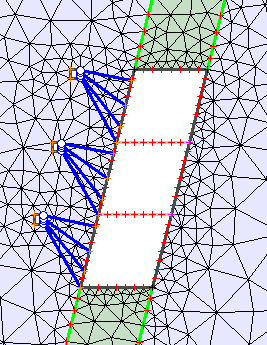 NOTE: Stage boundaries may now be defined outside of Excavation boundaries, and are no longer restricted to be within Excavation boundaries. The user can excavate any closed region of the model, regardless of what boundary types are used to define the region. (Previously, only regions within Excavation boundaries could be excavated). This allows the user maximum flexibility in defining model boundaries, using Stage and/or Material and/or Excavation boundaries.
Stage Boundaries vs. Material Boundaries
Because Stage boundaries may now be defined anywhere within the External boundary, Material boundaries and Stage boundaries can be used interchangeably in RS2. That is, anywhere a Material boundary can be used, a Stage boundary can also be used, and vice versa. The user may decide which boundary type is more appropriate in a given situation (i.e. use Material boundaries to represent boundaries between different materials, and use Stage boundaries to represent the boundaries between different stages of excavation).