Grid Search Settings
If you are using the Grid Search option to search for critical slip surfaces, then a Search Grid must be defined by the user. This is done with the Define Search Grid option.
A Search Grid is used to generate spherical slip surfaces of varying radii, as described in the Grid Search topic. Each point in the search grid is used as the center of rotation of a set of spherical surfaces.
The Grid Search option only generates spherical slip surfaces. It does not work with ellipsoids or other shapes.
Select the Slip Surfaces workflow tab.
Select Define Search Grid from the Surfaces menu.
In the Add/Edit Search Grid dialog, enter the Min and Max corners (this defines the size and location of the grid) and the Number of Points (grid points) in the X, Y and Z directions.
While the dialog is open, you can also use the Freehand Manipulation tool to stretch or move the grid along any axis.

Select OK to generate the grid.
Using the default settings, a 10x10x10 grid of 1000 points is generated above the slope at the approximate center of the model in the XY plane. You can customize the grid location and number of points as desired.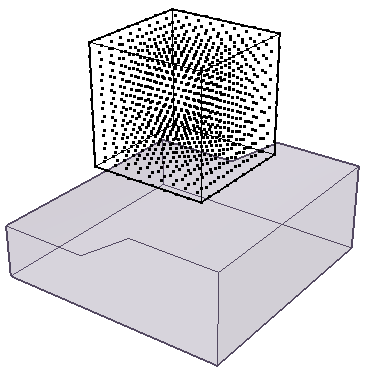 Edit Search Grid
To edit the search grid (location, size or number of grid points) after it has been created, you can:
select Define Search Grid from the Surfaces menu and edit the values in the dialog, OR
select the Search Grid entity in the sidebar Visibility pane and select the Edit (pencil) icon in the Properties pane.
In either case, the Add/Edit Search Grid dialog will re-appear.
Editing the search grid size and position with the freehand manipulation tool