Show Bolt Force Diagrams
If your Slide3 model includes bolt support, then the support force diagrams for the support can be displayed on the model with the Show Bolt Force Diagrams

option. This option is only available in Results mode.
This option works as a toggle to show or hide the display of the support force diagrams.
Bolt force diagram displayed on bolt (red=tensile, green=pullout)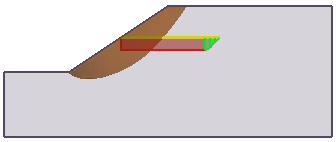 NOTE:
The support force diagrams represent the available support force which can be mobilized by a support element, at any point along the length of the support.
If a slip surface intersects a support element, the magnitude of the support force which is applied to the slip surface, is determined by the magnitude of the force diagram at the point of intersection.
When the support force diagrams are displayed, each failure mode is displayed using a different colour on the support force diagrams.
For a complete description of how the support force diagrams are determined in Slide3 for each type of support see the Define Support topic.
Bolt force diagrams displayed for bolt pattern