Show Intersecting Bolts
If your model includes Bolt Support, the Show Intersecting Bolts

option toggles the bolt display so that only bolts which intersect the Global Minimum slip surface are displayed on the model. This option is only available in Results mode.
If this option is turned off then all bolts are displayed regardless of their location or slip surface intersection.
Show Intersecting Bolts ON (left) and OFF (right)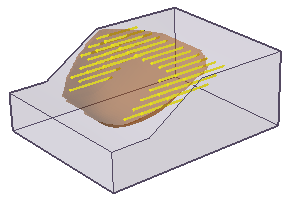 Bolts which do NOT intersect a slip surface have no effect on the stability calculations or safety factor of that slip surface. This includes:
Bolts which are entirely outside the slip surface
Bolts which are inside the sliding mass but do not pass through the slip surface.
So it is useful to display only the bolts which intersect a slip surface and provide support.