Show Bolt Column Forces
If your model includes bolt support, the Show Bolt Column Forces

option will show the magnitude, failure mode, and direction of the actual support forces which are applied to the column bases in the Slide3 analysis. This option is only available in Results mode.
Forces are only displayed on bolts which intersect the slip surface.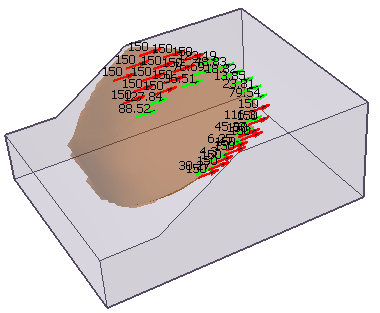 Bolt Force Legend and Display Options
When you select Show Bolt Column Forces, the Legend at the right of the screen will indicate the bolt failure modes and force magnitudes.
In the Display Options dialog, the Bolt Forces option allows you to customize the colours used for the bolt failure modes. You can also choose the Bolt Force Coloring Mode: Failure Mode or Force Value. If the colouring mode = Force Value, then the bolt force colours will indicate the force magnitude corresponding to the Legend.