Add Surface from Points
This option allows you to create a terrain-like surface from a file that contains geometries such as surfaces, lines and points. This is a common feature in a 3D CAD tool that have 3D scans stored as a point cloud for surface reconstruction. This particular command has a subtle difference from "Add Surface From Existing Points" where the table (shown below) is populated with a triangle at first and is enabled for either editing or importing from files.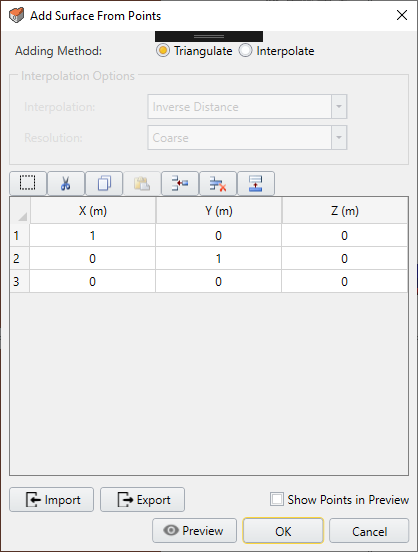 Add Surface from "Existing" Points
This is nearly identical to "Add Surface From Points" except that the function is only enabled when you have a geometry selected in the program, and that the table is populated with points of selected geometries. The rest of the functionality is identical to "Add Surface From Points" such that it allows editing on the table, or directly importing vertices from files.