Add Non-Uniform Load
Non-Uniform distributed loads, which vary linearly between two points on a surface or line, can be applied to faces or edges with the Add Loads option and specifying Non-Uniform Load as the Load Type. The load distribution is generated from linear triangulation of the user-defined load points.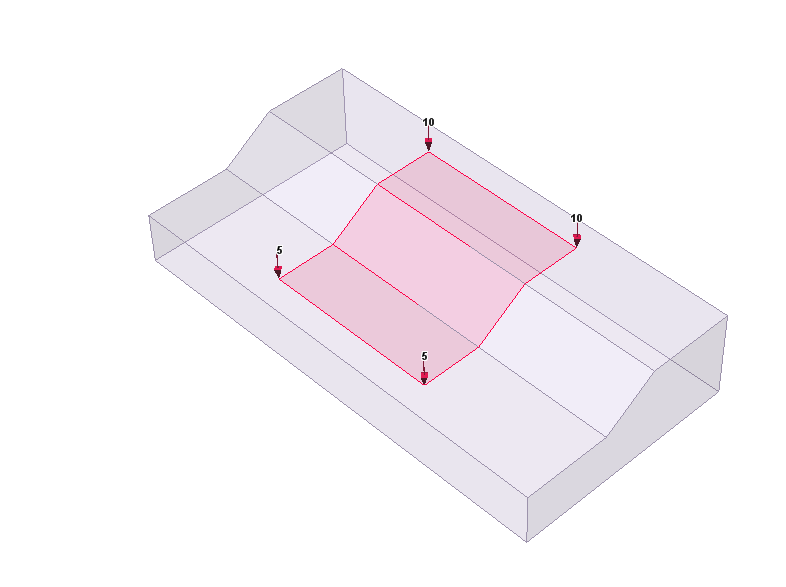 To apply a Non-Uniform distributed load:
Select the Loading & Support workflow tab.
Select Add Loads from the toolbar or the Loading menu.
You will see the Add Load dialog. In this dialog:

Select the Load Type = Non-Uniform Load to enter the default load magnitude. You can select rows by clicking on vertices in the right-side viewport.
Specify the load Orientation (e.g. Normal, Local +x, Local +y, Local +z, Vector (x,y,z), or Trend/Plunge)
Specify shape and dimension of the load region
Specify location and orientation of the load region

When finished specifying the load, select OK. The Non-Uniform distributed load will be applied to the face, below the green preview region.
See below for details about the load magnitude and orientation.
Load Magnitude
A distributed load magnitude is generally entered as a positive value. The direction of load application is specified by selecting an appropriate Orientation method (see below) in the Add Load dialog. If a negative load magnitude is entered, the direction of the applied load will be reversed.
Load Orientation
For details about defining the load Orientation, see the Uniform Load topic, as the same information applies to both Uniform and Non-Uniform loads.