Summary of Error Codes
When a safety factor cannot be calculated for a slip surface, Slide3 will write an error code to the output file, rather than a safety factor. These error codes are NEGATIVE numbers such as –101, -102, -103 etc. The figure below shows an example of some of the error codes you may encounter while running the analysis.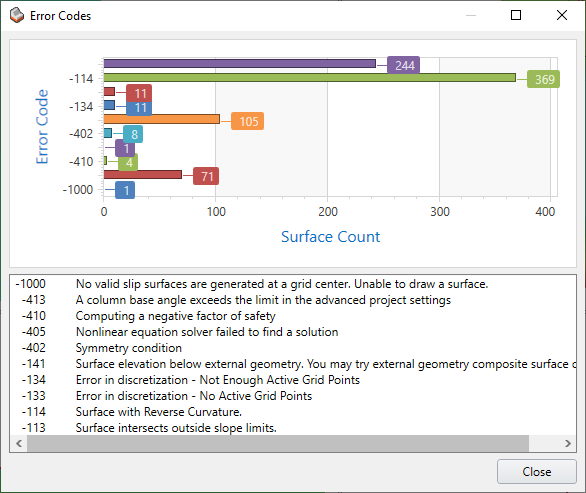 These error codes are displayed when you select Interpret > Show Error Codes.
The meaning of these error codes are summarized below.

| | |
| --- | --- |
| Error Code | Explanation |
| -97 | Factor of safety is out of valid range set by user. |
| -99 | Slip surface intersects through an infinite strength material. |
| -111 | Safety factor equation did not converge. |
| -114 | Surface with reverse curvature. |
| -115 | Surface depth is not within the user-defined min/max values. |
| -121 | Concave failure surface. Only convex slip surfaces are allowed. |
| -127 | Weight of slipping mass is not within the user-defined min/max values. |
| -128 | Volume of slipping mass is not within the user-defined min/max values. |
| -129 | Columns fall outside of the search limits. |
| -130 | Too many failed attempts to create a valid surface. To see most common error types check Interpret>Show Error Codes. |
| -131 | One or more columns had base points that were not within the soil model. |
| -132 | Error in discretization - No active columns. |
| -133 | Too many columns were found to have holes in the soil layers during sampling of soil weight. Perhaps there are holes in the geometry of the model or improperly constructed geometry. |
| -134 | Error in discretization - Too few active columns. |
| -135 | Can not interpolate discrete strength function. |
| -136 | Surface elevation violates the user-defined cutoff(s). |
| -137 | Axis of symmetry is not passing through search limits. |
| -138 | Error in discretization - Too few active columns. |
| -139 | Non-spherical Auto-Refine Search not supported. Change the Surface Type to Spheres in the Slip Surface. |
| -140 | None of the grid points in Auto Refine Search produced a valid slip surface. To see a list of error codes check Interpret > Show Error Codes. |
| -141 | Surface elevation below external geometry. You may try external geometry composite surface option. |
| -142 | Wedge persistence exceeding the user-defined limit. |
| -143 | Failed to form a valid wedge slip surface. |
| -144 | No search planes defined for multi-planar search. |
| -145 | Failure mass has invalid boundary columns. |
| -146 | Error calculating applied force polygons. |
| -147 | Failure mass contains internal regions without columns. |
| -148 | Internal intersection of slip surface with ground surface detected. |
| -149 | Slip surface was clipped vertically by a weak layer in a region of compression. Such a surface cannot be evaluated using Limit Equilibrium. For more information, see Help Documentation on weak layers. |
| -150 | Surface intersects outside search limits. |
| -151 | Surface does not intersect specified Intersects search limit. |
| -152 | Surface intersects outside search limits (edge of slip surface). |
| -153 | Surface touches the edge of model limits. |
| -154 | Surface violates surface-defined slope limits. |
| -160 | General block model error. |
| -161 | Slip surface touches an undefined region within a block model. |
| -162 | Too many weak layers touching this slip surface. Consider suppressing or combining some weak layers, or using Surface Options > Always snap to highest. |
| -200 | Factor of Safety <= min iteration value. Could mean 0 Normal/Shear resistance along part of the slip surface. |
| -402 | Unable to compute factor of safety due to symmetric forces/moments cancelling out each other along X/Y axes. |
| -403 | Could not compute initial failure direction, possibly flat ground surface. |
| -404 | Computed lambda values outside the specified range in the advanced project settings. |
| -405 | Nonlinear equation solver failed to find a solution. |
| -406 | Failed to compute factor of safety. |
| -407 | Iteration of the intercolumn lambda value failed to find a solution. |
| -408 | Iteration of the failure direction failed to find a solution. |
| -409 | Failed to compute a shear force given a normal force. |
| -410 | Computing a negative factor of safety. |
| -411 | Too much tension, amount of tension exceeds the limit defined in the advanced options. |
| -412 | Iteration of Ky did not converge. |
| -413 | A column base angle exceeds the limit in the advanced project settings. |
| -414 | Error computing the weight of a column. |
| -415 | RSPile analysis of reaction force did not converge for this slip surface with the given soil displacement. Consider reducing the displacement to improve convergence. |
| -700 | Surface Altering Optimization failed to converge. |
| -800 | Not enough memory available to perform the computation. |
| -900 | Failed to successfully extract external boundary polyline. This indicates likelihood of invalid computation |
| -901 | 3D geology structure with zero volume detected. |
| -902 | Non-manifold 3D geology structure (open polyhedron) detected. |
| -904 | PSO with Multiple Minimums cannot be performed with more than one Completely Within slope limit present. |
| -905 | Error applying design standards factors: cannot divide a strength or resistance by zero. |
| -906 | Error reading RSPile file. Slide3 only supports RSPile version 3.008 or later. |
| -907 | Error computing RSPile axis directions. |
| -908 | Error reading precompuated porewater interpolation files. |
| -909 | Spline search is only available with the improved spline surfaces formulation. Please change the setting in Project Settings > Advanced and try again. |
| -910 | Invalid slip surface type specified for the search |
| -1000 | No valid slip surfaces generated to compute factor of safety. Check Interpret>Show Error Codes dialog for further details. |
| 1000 | User aborted computation. |
| 0 | Unknown error |