Ponded Water
If a Water Table is defined with elevation above the ground surface, Ponded Water is automatically assumed to exist in the region between the Water Table and the External slope geometry.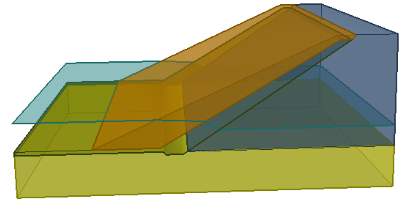 Water table above slope geometry automatically defines ponded water
Ponded water affects the slope stability calculations, by the weight of the water on the slope (vertical force), and also by the horizontal hydrostatic force exerted on the slope. The Pore Fluid Unit Weight determines the vertical and horizontal forces generated by the Ponded water.
Groundwater Method
A Water Table can be used to define Ponded Water regardless of the Groundwater Method (i.e. Water Surfaces, Ru, Water Grids). If the Groundwater Method = Ru or Water Grids, then the water table is NOT used to calculate pore pressure but will be used to define ponded water. When you define a Water Table with elevation above the ground surface, ponded water is automatically used in the stability analysis regardless of the Groundwater Method or water surface material assignment.
Display of Ponded Water
Ponded water is currently NOT displayed in the Slide3 modeler. The Slide3 engine automatically accounts for the ponded water forces when the water table elevation is above the slope. But the ponded water is not explicitly displayed on the model.
Piezometric Surfaces
Ponded water is NOT created by piezometric surfaces, even if they are drawn above the slope geometry. Ponded water is only defined by a water table or a drawdown surface, when drawn above the slope geometry.