Import from RSLog
Import from RSLog allows users to import borehole data from their RSLog project to Settle3. The purpose of this feature is to facilitate creating sections using the boreholes data imported from RSLog. Data from multiple boreholes may be imported from RSLog to Settle3. These boreholes will then be displayed in section creator for designing soil profile that will be shown in the modeller.
In order to use this feature, first choose 'Extruded section layer' in Project Settings. Then:
Select Soils > Import RSLog and log in using the dialog as shown below.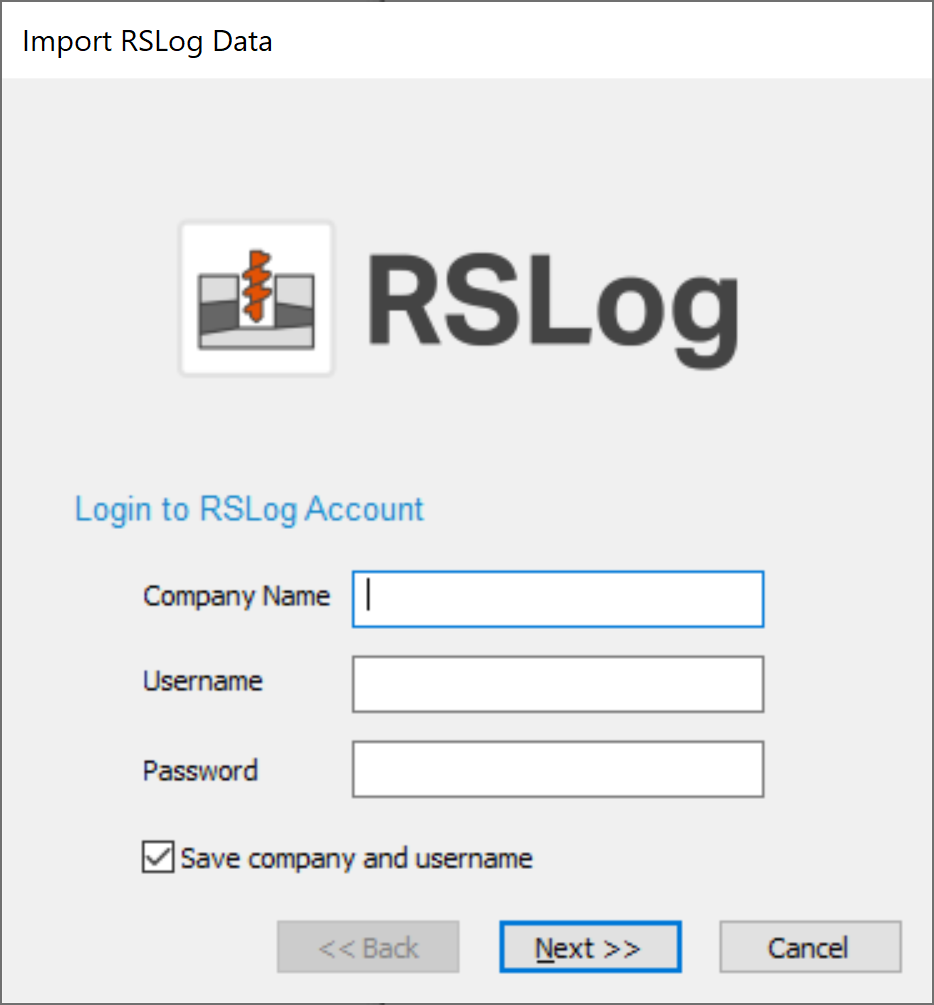 The following information is required to login:
Company Name
Username
Password
Please note, Company Name and Username are emailed to your company administrator at the time of initial registration. You can select Save company and username for ease of access in importing boreholes in the future.
After successful login, you'll be able to select which Project you wish to import the borehole data.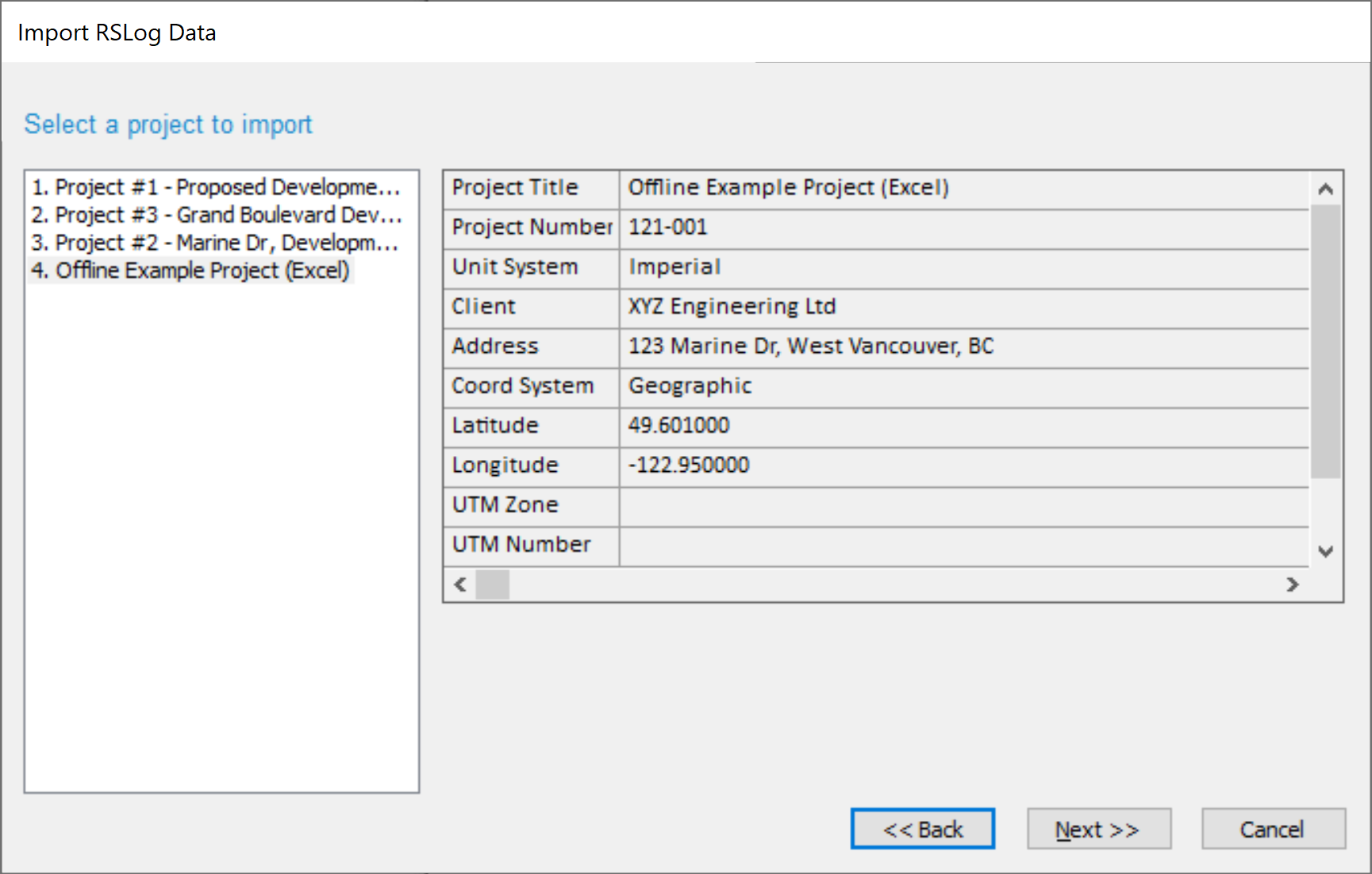 The detailed information for each project will be shown on the right panel, making it easier to identify the projects. In order to import the borehole data, the following information are required:
Valid borehole coordinates.

Soil stratigraphy including layer title, classification symbol, and thickness.
Have at least one layer.
During import process, if there is any missing data, Settle3 will throw a warning message with details about the missing information and will ask you to address the issue on your RSLog account; You can simply login to your RSLog account, update the missing data for your project and log back in to import the boreholes. Below is an example where the stratigraphy details are not property entered in RSLog and thus the user will not be able to import data in Settle3.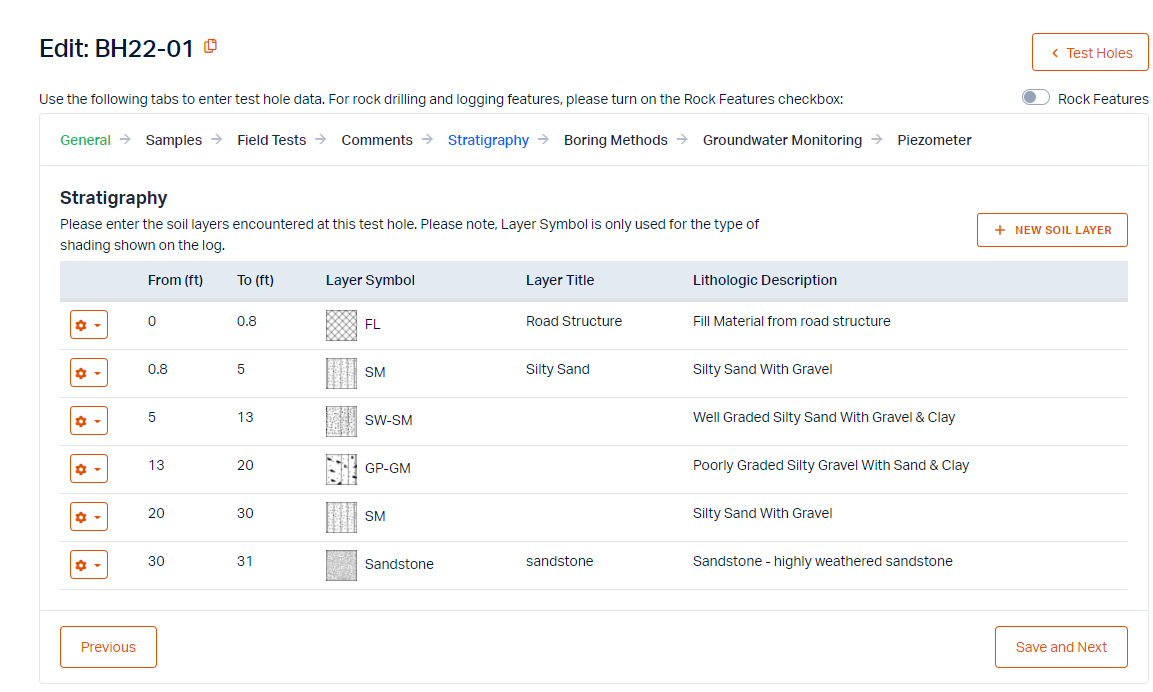 *The layer title is missing for three layers, which is unable to import this borehole for Settle3.
Upon a successful import of borehole data, you'll be able to see a list of of all boreholes along with the detailed stratigraphy for each borehole: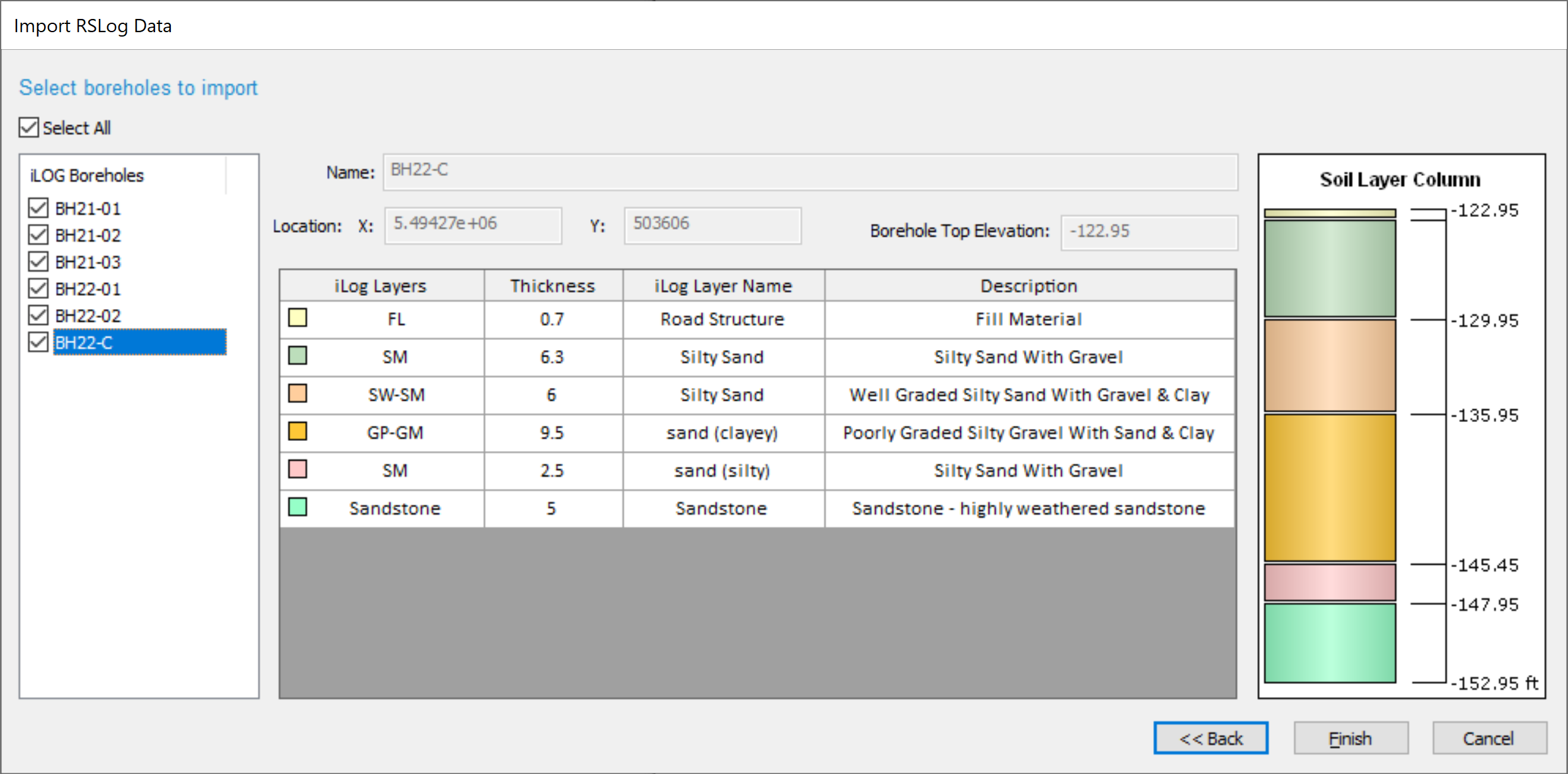 Select Finish and you will see the imported boreholes on the plan view. Select Soil > Section Creator and you'll be able to see the imported boreholes within the dialog as shown below: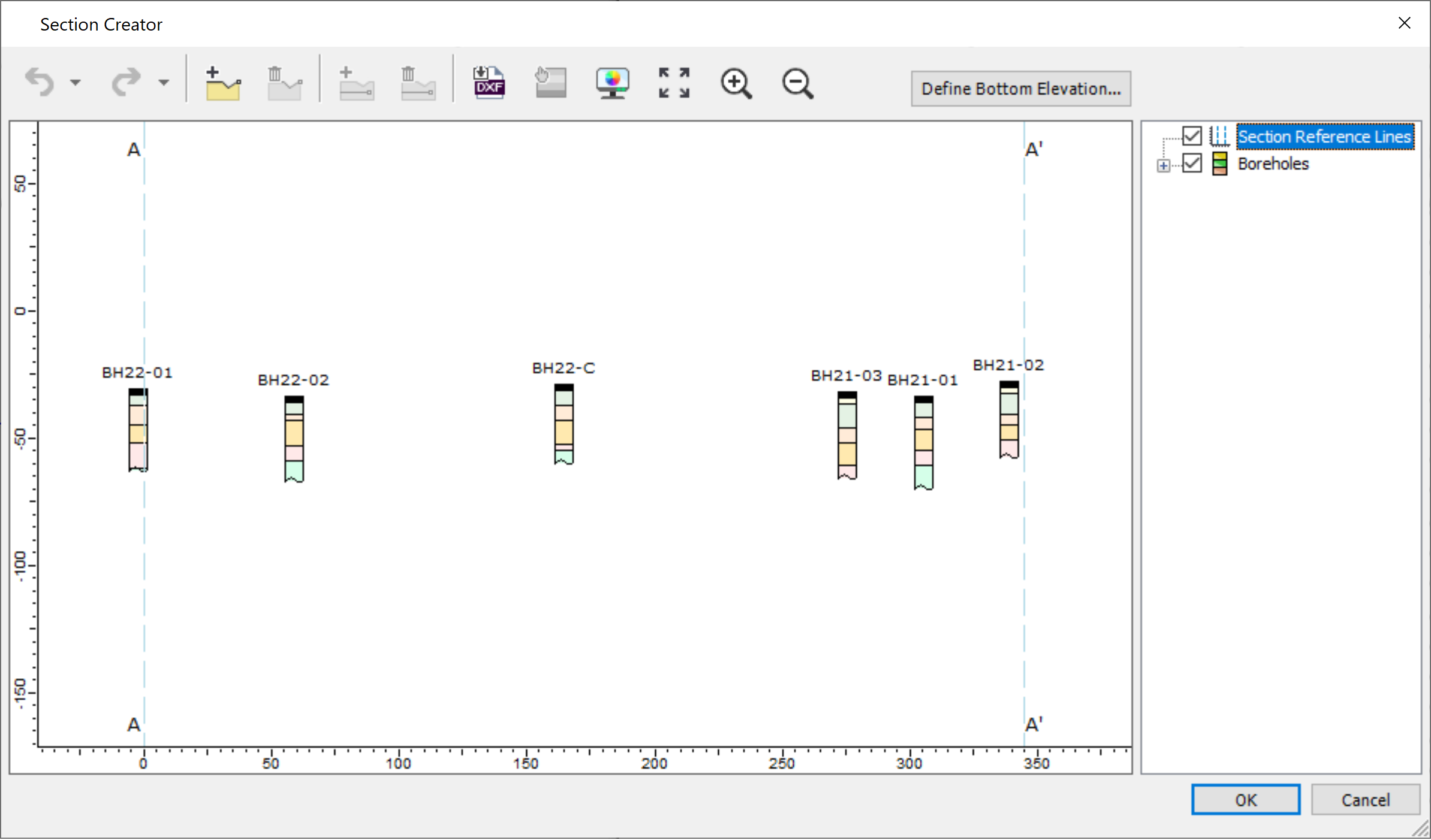 Select OK and you'll see the finished profile generated with the boreholes.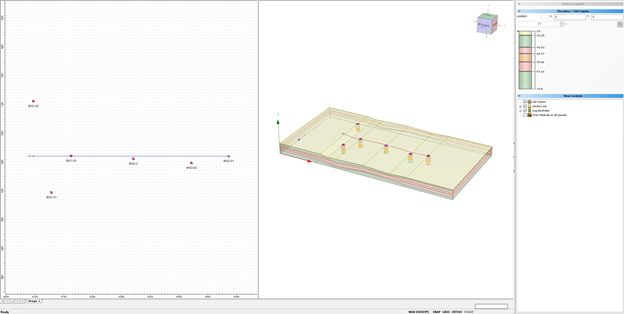 This feature is enabled when the user selects 'Extruded Section layer' from Soil Profile in Project Settings.
The main purpose of this feature is to assist with creating a soil profile. Hence, the imported boreholes are not used elsewhere at the moment.
It is up to the users to assign material properties to each soil layer for the settlement analysis.
At this stage, any associated CPT, SPT, etc data with boreholes from RSLog are not imported to Settle3.
Warning Messages:
While importing the project data, make sure the unit system of your RSLog project is consistent with that of your Settle3 project. If units are inconsistent, you'll be prompted with a message to change the units in project settings. Simply go back to Project Settings > Units and change the units to match your RSLog project.
View Boreholes
Our improved display option will let you see which boreholes are from RSLog so that you can differentiate the boreholes in your model that you are working with.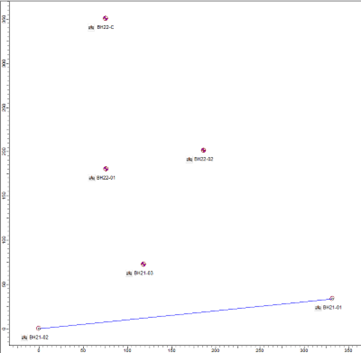 Each borehole will be labeled with RSLog symbols to indicate that they are imported from RSLog. Also, if you want to check the soil profile of RSLog, you can right click on the boreholes and select View RSLog borehole and see all the imported boreholes in Settle3 as shown below.