Chart View
A Chart View is created whenever you graph query results with the Graph Query option.
The following right-click options are available:
Copy Data (copies data to clipboard for pasting in Excel or other spreadsheet programs)
Plot in Excel (opens Excel and plots chart)
Defaults (to make current settings the default, or restore original program defaults)
Sampler (sample values at discretization points along the depth of a query point)
On the left side of the Chart View are the Chart Controls. In the Chart Controls, you can modify the following:
Titles (chart title, axes titles, etc.)
Markers and Lines (Show Point Markers, Show Grid Lines, Show Labels)
Fonts (title, axes, and legend fonts)
Legend
Colors (background color, grid line color, etc.)
Axes (limits, etc.)
Soil Bands
Show Soil Layers
Transparency (%)

Transparency setting in soil bands allow you to see color of soil layers to its true property colors. You can define either 0 % to see its color, or change to different values to see the plots better for your needs.
Below is an example of transparency 0 with soil properties color as shown: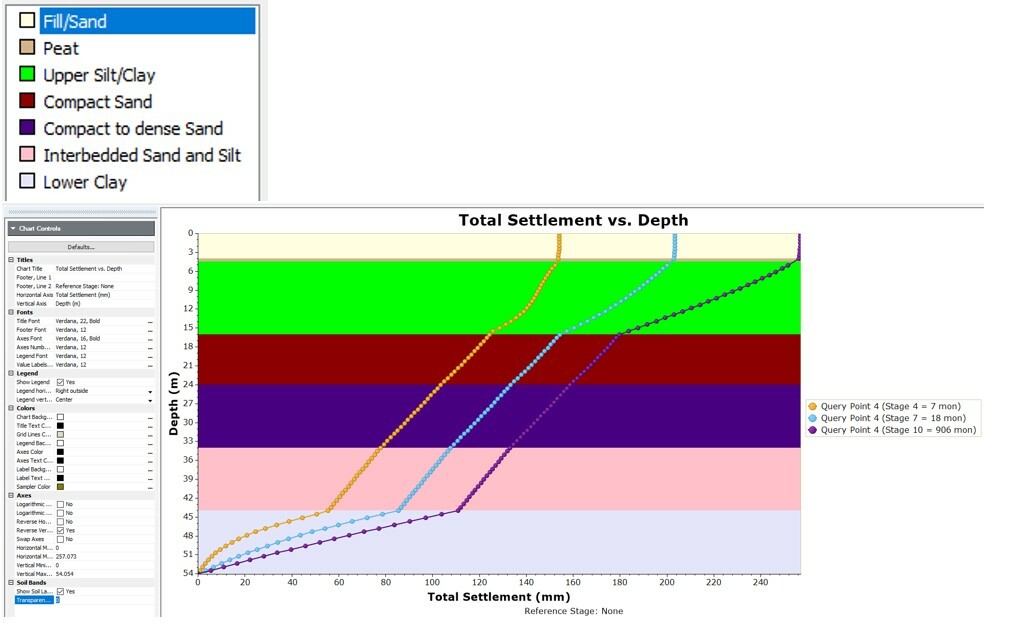 And below is if the user switches to 95% transparency (default) which will show the query lines more clearly.