Liquefaction Depth Correction
Standard Penetration Test (SPT)
The following methods are available for the Depth Correction (CN) factor:
Liao & Whitman (1986)
Bazaraa (1967)
Idriss and Boulanger (2004)
Peck (1974)
Kayen et al (1992)
There are also two options for Sampling Method (Cs): Standard or No Liner.
For the Borehole Diameter (Cb) correction factor, click on

and a dialog will appear with a set of typical borehole diameter values and the corresponding correction factors. The same type of dialog will appear if you click on

beside Hammer Energy Ratio (Ce). In each case, click on the appropriate factor and click OK to close the dialog.
The Rod Length Above Ground is used to calculate Cr, the correction factor for rod length. This factor accounts for how the energy transferred to the samplings rods is affected by the rod length.
Clicking on the Use Cetin et al (Cr) option, Cr is determined based on the figure below.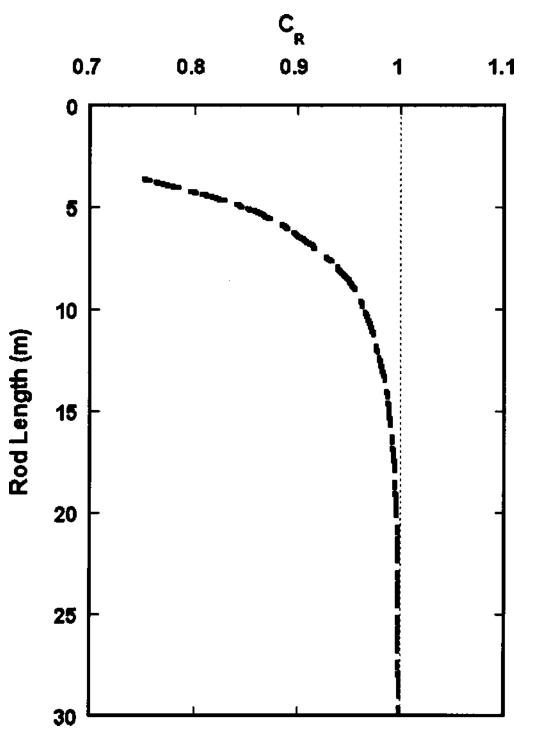 Recommended Cr values (Cetin et al. 2004)
Cone Penetration Test (CPT)
When CPT data is used there is the option to Use Custom Ic Threshold.
If the Use Custom Ic Threshold checkbox is selected, you need to specify:
Layer not liquefiable Ic > (threshold value)
Re-iterate threshold (%)
Shear Wave Velocity (VST)
There are no depth correction factors for VST input data.