Add CPT Point
To add CPT points to your model, the CPT Analysis option in the Cone Penetration Test (CPT) tab of the Project Settings must be selected.
To add a CPT point:
Select Soils > CPT > Add CPT or click on the Add CPT Point icon.
Enter the CPT Name, then either manually enter the depth data or select the Import Data button to import data from a CPT file. If the input data is imported from a CPT file, you can choose to manually enter CPT Notes or have the file header parsed as notes.

For more information on the Import Data option, see the Importing CPT Data help topic.
Enter the GWT depth for correlations.
If you want to incorporate the CPT point into a global soil profile, enable the Incorporate Soil Profile option - you will be guided through the soil profile generation procedure. See the Incorporate Soil Profile option for more information.
Click Ok to close the dialog, and save the CPT borehole.
Enter the CPT location, either with the mouse or by entering the coordinates in the command prompt.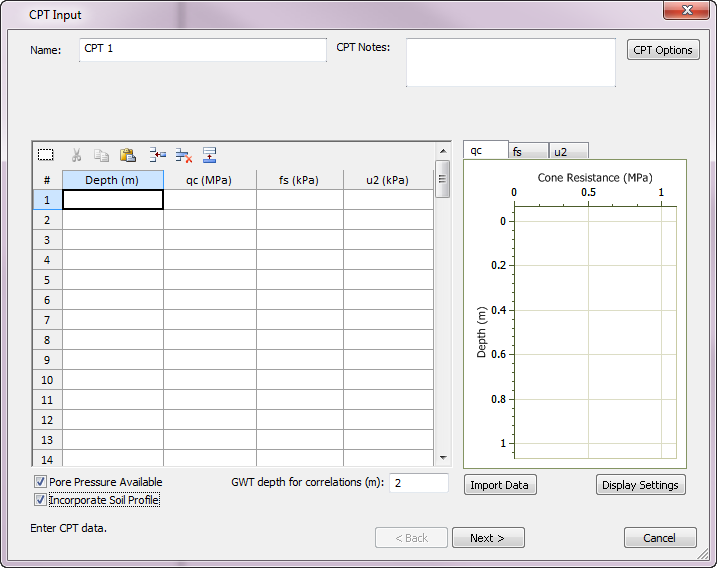 CPT Input dialog
Notee
The parameters defined in the CPT Options dialog are global parameters. The CPT Classification method can be changed for each borehole within the soil profile generation procedure if the Incorporate Soil Profile option is selected