Test Hole Log
After entering your test hole data in RSLog, you can then generate your Test Hole Log report(s).
To access this page:
Go to the left-hand navigation menu and select Report > Test Hole Logs.


The page should appear as follows: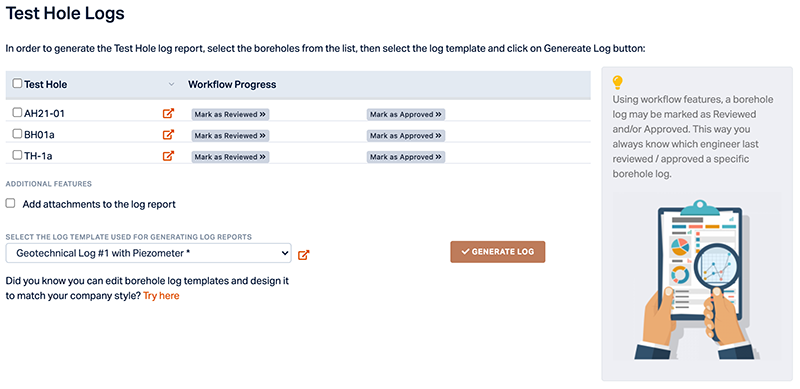 In addition to generating test hole logs, this page has workflow features allowing you to mark any borehole log as Reviewed and/or Approved so you see which engineer last reviewed or approved a specific borehole log.
To generate a Test Hole Log:
Select the test hole(s) from the list by clicking the checkbox. If you want to select all test holes, select the checkbox next to 'Test Hole' in the top left of the table.
From the drop-down menu, select the Log Template you would like to use for generating the log.

Note: RSLog also enables users to edit borehole log templates and design them according to company style. Click Try here and this will navigate you to the Report Templates page.


Click Generate Log to save and download the test hole log report as a PDF.

Note: Due to default security settings, some browsers prevent opening the new page to show the PDF of the borehole log. In these cases, users will need to disable their browser's Pop-Up Blocker or add RSLog to the list of allowed websites.
After generating, the PDF test hole log will be opened in a web viewer. Using the toolbars at the top of this PDF viewer you can navigate between pages, zoom, and download the PDF file. It should be noted that the quality of the PDF file improves once opened in desktop PDF viewers such as Adobe Acrobat.
Additional Features
This tool allows you to add pdf file attachments and specify their position on the log report. This feature is particularly useful when you would like to include a list of standards and definitions used in preparation of your test hole logs (e.g. soil symbols, classifications, etc.)
To add attachments:
Click the Add attachments to the log report checkbox.
Using the 'Position' drop-down menu, indicate the position of file attachment on the log report.
Using the Select PDF File drop-down menu, select the file to attach.
Click Manage Files to add or delete PDF attachments.
If you want to upload new PDF attachments:

Once the 'Manage Files' dialog is prompted, click + New File
Click Browse to choose the file.
Click Save to upload the file.

Click Generate Log to save and download the test hole log report as a PDF.