Offline Application
RSLog Offline is a desktop application installed on your computer allowing you to do data entry while you are offline. The following outlines the steps to setup and use the RSLog Offline application:
Installation
Go to Data Entry > Offline App page and download the installation package. Please note RSLog Offline application requires Microsoft Windows 10 operating system.
Sync Offline App With Your RSLog Account
Once installation is completed, run the application while you are connected to Internet. You will be asked to download your RSLog account settings. Please select Yes and enter your RSLog login credentials: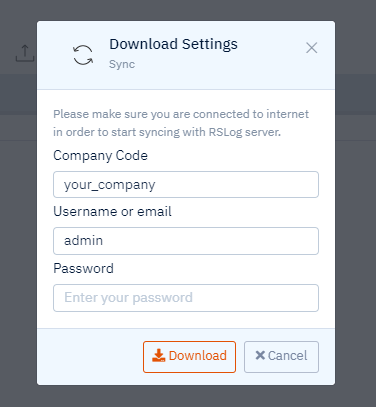 Then click on Download button. This will download the list of sample types, drill methods, field tests etc that are customized in your RSLog account.
Data Entry
You can now start using the RSLog Offline application by creating your projects and adding test holes. You don't need Internet connection when you use RSLog Offline application. The data will be saved locally on your laptop.
RSLog Offline has been designed for facilitating field data collection. As a result, the data entry is only available for project and borehole. The user interface for these pages are identical to those of RSLog web application.
Upload Your Offline Data With Your RSLog Account
When you are back to the office and have Internet connection, use the Sync > Upload menu to upload your offline data to your RSLog account. This will redirect you to the Projects page in RSLog Offline application. Select the checkbox beside the project(s) you would like to upload, and click on Upload button from the toolbar.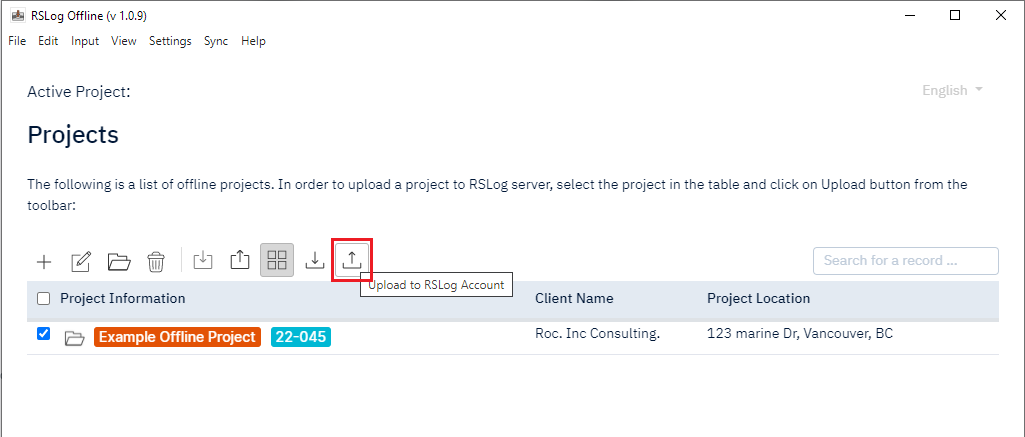 This will open the login page. After entering you rlogin credentials, click on Upload button (requires Internet connection). During upload process, a project will be created in your RSLog account for each offline project.
If an offline project has already been uploaded to your RSLog account, subsequent uploads will create duplicate projects (i.e. previous project will not be updated).