List of Test Holes
In RSLog, the Test Hole shows all the test holes of the Active project.
In RSLog the term "Test Hole" is used interchangeably for borehole, auger hole, test pit, trial pit and alike.
To access this page:

Go to the left-hand navigation menu and select Data Entry & Design > Test Holes.
Site Investigation Progress
The status of a test hole indicates at which drilling/excavating stage it is. A progress bar at the top of the Test Holes page is meant to show the site investigation progress:

List of Test Holes
The list of all test holes will be shown in a table (see below) where you can add, edit, or delete a test hole (see working with tables). This list only shows the major properties of test holes; to see the entire data associated to a test hole click on Edit button on each test hole:

Map View
In order to switch between the list view and map view, use the toggle-bar at the top-right of the table (next to the search box). If the test holes are not shown on the map, please check the following:
Duplicating a Test Hole

In order to duplicate a test hole click on the copy button at the right end of the row (see the screenshot above). You will be prompted to enter the number of copies you wish to make. Click OK button to proceed. Please note depending on the number of copies selected, this operation make take from a few seconds to several minutes.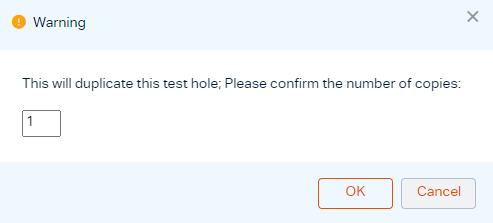 Importing From a CSV File

This allows you to import the list of test holes and their top-level data (i.e. data in the test hole data entry page > General tab). To import the list of test holes from a CSV file:
Switch to the list view (table),
Click on the dropdown arrow on + New button, and select Import CSV File from the menu,
Select the CSV file and apply filtering as required, then click Import button (see this article for CSV import help).
Test Hole Data Entry
Please see this page for a detailed discussion of data entry for a test hole.