GIS Map
Using this feature in RSLog, you can see all of your projects on an interactive map allowing you to search within a specific geographic area, find your previous projects, and open a specific project to view its test holes.

To access this page:
Go to the left-hand navigation menu and select Reporting > GIS Map.


The page should appear as follows: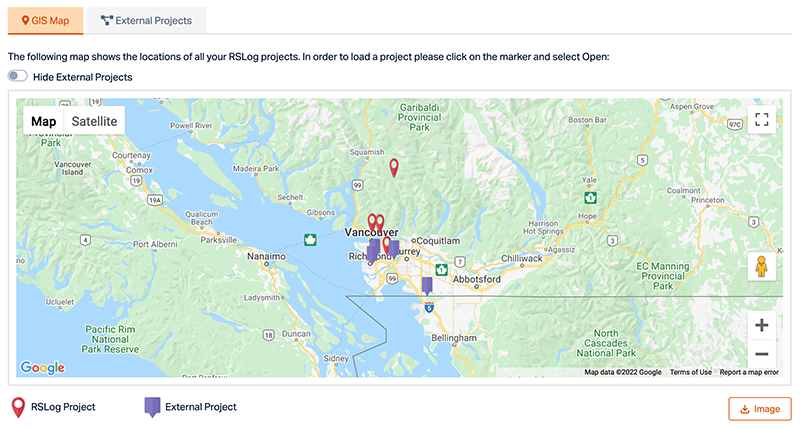 All Projects
The All Projects tab features a map with location markers indicating the locations of your RSLog and External projects. You can zoom or move the map, or toggle between Map and Satellite view to your desired setting.
The map itself is interactive and allows you to view details on a specific project. Simply click on the location marker and a pop up with project details will appear. This pop up includes a link to open the selected project on the Projects page.

External Projects
The External Projects tab shows all the locations of external projects, or company projects outside of RSLog. You can upload a list of these projects in CSV format. These projects will be shown on All Projects tab with different map markers.
To upload a list of external projects:
Go to the left-hand navigation menu and select Reporting > GIS Map > GIS Map tab.
Click + Add Projects.
Click Browse to select CSV File containing the data.
Click Import to upload project data.
The details uploaded can be edited afterwards by click on any of the fields displayed.

Use the link property for an External Project to allow navigating to a specific web page, if necessary.
Edit Map Markers
The colour and symbol for the map location markers can be changed from Settings page of your RSLog account. To do so:
Go to the left-hand navigation menu and select Tools > Settings.
Select the Theme tab.
Go to the Map Markers section and click on the Map Marker you wish to edit. A pop up will appear.
Select the preferred style/colour of your Map Market.
Click Close.