Company Account
On Company Account page, you can edit your company information.
To access this page:

Go to the left-hand navigation menu and select Account > Company Account.


The page should appear as follows: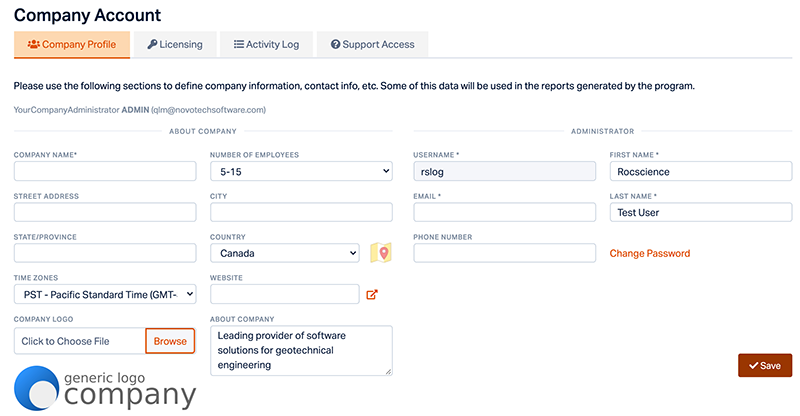 Company Profile
On the Company Profile Tab, you can enter company information, contact info, etc. on the specified textboxes. Some of this data input will be used in the reports generated by the program.
To set up your company's profile:
Under the About Company section enter company information (Name, Number of Employees, Street Address, State/Province, Country, Time Zones, Website).
In the Company Logo field click Browse to choose file. The company logo will be available for inclusion in the reports such as borehole logs.
In the About Company textbox enter the company description (e.g., tagline)
Under the Administrator section enter administrator information (Username, First Name, Last Name, Email, Phone Number). The administrator (i.e. the admin username) will be able to manage users registered under your company.
Click ✔️Save to keep any input and changes made.
Licensing
On Licensing tab, you can enter your License Key. Typically, you receive this license key by email after completion of your subscription on the Rocscience website.
Once the License Key is received:
Copy and paste this License Key into the textbox. To avoid typos, we recommend you do not try manually entering the license key into the textbox.
Click Validate.
Upon validating, the License Info should then become visible under the textbox.
If you decide to upgrade your subscription plan, you need to obtain a new license key and enter it on this page.
Activity Log
On Activity Log tab, a table shows the list of activities by all users in your account. These activities include creating records, editing a record, and deleting a record.
Simply click on each row in the table to view activity log details.
Support Access
On the Support Access tab, you can grant access to our support staff to review your input data, for the sole purpose of debugging issues that are difficult to reproduce or are specific to your data.

Use the Grant Support Access button only after coordination with RSLog support. While support access is granted, you can login access your projects data in RSLog. Once the support review is completed, you can proceed and 'revoke' support access.