Advanced Location Dependent Scaling
The Sampling tab also has an Advanced Location Dependent Scaling checkbox.
By default, when a wedge is scaled, the program determines its location based on maximizing the volume of the scaled wedge. When doing a Probabilistic Analysis with scaling, UnWedge takes this scaled wedge and assumes it can exist anywhere with the extents of the unscaled version of the wedge. For example, say you have a roof wedge, and the roof is made up of a number of line segments. The scaled maximum size wedge is assumed to exist over any of the line segments forming the wedge. This is a conservative assumption since the shape of the roof, and thus the location on the roof can have an effect on the size of wedge-formed.
The problem with this is that when you pick a line segment on the roof to see the worst-case wedge, the resulting wedge may not overlie that line segment. The advanced location-dependent scaling option tries to fix this by positioning scaled wedges over parts of the roof to get a better idea as to the variability of support pressure, wedge weight, etc. along the boundary of the tunnel.
An example of this is shown below:
The following is a Probability View in an example where the Advanced Location Dependent Scaling checkbox is unchecked. It is evident that although the selected segment (in red) is on the right of the roof, the displayed wedge does not overlay the segment; it appears on the left of the roof.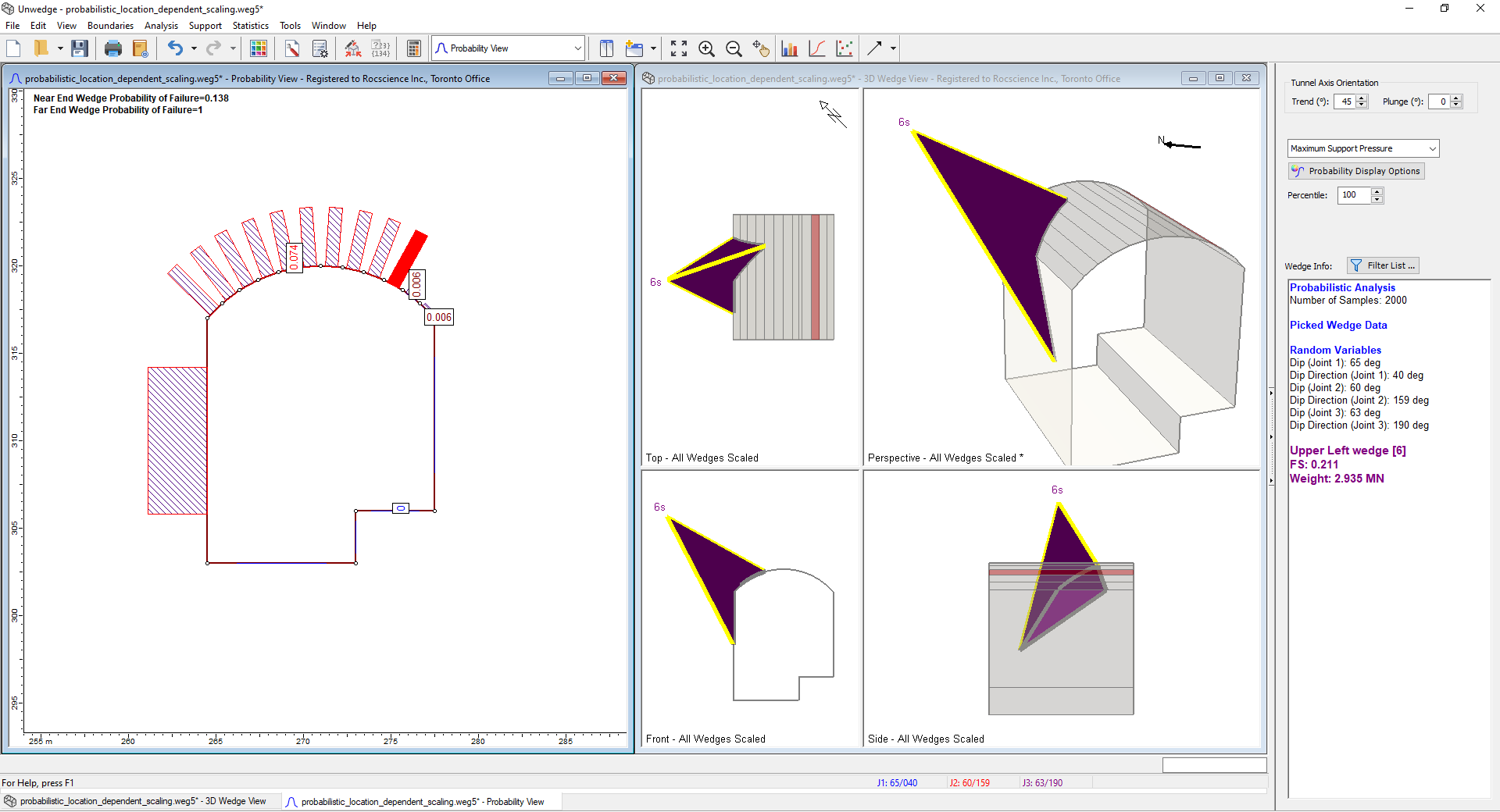 The following is the same example, where the Advanced Location Dependent Scaling checkbox has now been selected. Notice that using this checkbox results in less conservative results, as can be seen by the decrease in support pressures.