UnWedge Views
When you are working with UnWedge, several different views are provided, each of which allows you to perform certain tasks (e.g., define the Opening Section boundary, view wedges, and add/edit supports). The current view can be changed at any time by selecting it in the drop-down on the toolbar or using View > Select View menu. The toolbar and Sidebar provide frequently used options and functions that are applicable to the currently selected view.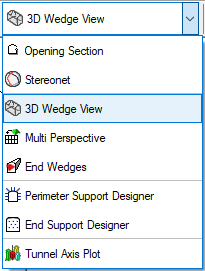 Opening Section View
The Opening Section View

allows you to define and edit the Opening Section boundary as well as any Ground/Truncation Surface.
Stereonet View
The Stereonet View

provides a lower hemisphere stereographic projection of your joint plane orientations and tunnel axis orientation.
3D Wedge View
The 3D Wedge View

provides a 3-dimensional perspective view of the model (excavation, wedges and support), and three orthogonal views (top/front/side), in a 4-view split-screen format.
Multi-Perspective View
The Multi Perspective View

provides up to 8 individual perspective views, where each wedge calculated by UnWedge is displayed separately in its own sub-view.
End Wedges View
The End Wedges View

displays only the two End Wedges, each in its own perspective view.
Front, Perspective View
The Front, Perspective View

displays only Front and Perspective views of the model. This view is only available in the Select View sub-menu of the View menu
Perimeter Support Designer
The Perimeter Support Designer View

allows you to add and edit support around the perimeter of the excavation.
End Support Designer
The End Support Designer View

allows you to add and edit support to the ends of the excavation.
Tunnel Axis Plot (Optimization 3D Chart)
The Tunnel Axis Plot View

allows you to create plots of the tunnel axis orientation with respect to any variable. You may view contour plots, 3D or 2D chart views. This view is only available during a Deterministic Analysis.
Probability View
The Probability View

allows you to see the results of a Probabilistic Analysis. The values to be displayed can be selected from the sidebar on the right (e.g., Maximum Support Pressure, Maximum Wedge Depth, etc.).
Single View Window
When you switch views in UnWedge, the new view is generated within the same window so that new windows are not constantly being generated each time you switch views. If you require multiple views of the same file to be opened, you can:
Select New Window on the toolbar or the Window menu, OR
Select the new view in the New Window drop-down on the toolbar.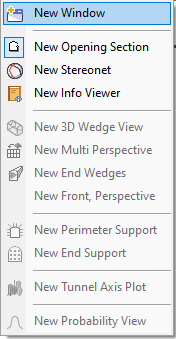 Once a new window is opened, you can switch views in it as needed. To view all the open windows at once, tile the views using the Tile Vertically

and Tile Horizontally
options on the Window menu.