Specifying Statistical Distributions
In RocFall, you generally have two options for specifying Statistical Distributions for random variables.
Using the Pop-up Window
Specifying the distribution characteristics for each variable separately by clicking on the Distribution icon

and entering the information in the pop-up window. When you click on the distribution icon, the following pop-up window appears.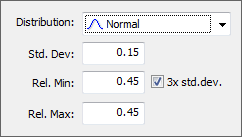 By default, the 3x std. dev. check box is selected. This automatically sets the If you want to specify different values, uncheck the 3x std. dev. and enter them manually.
Using the Statistics Dialog
Clicking the Stats button in a dialog to specify the distribution characteristics for all the properties in the dialog.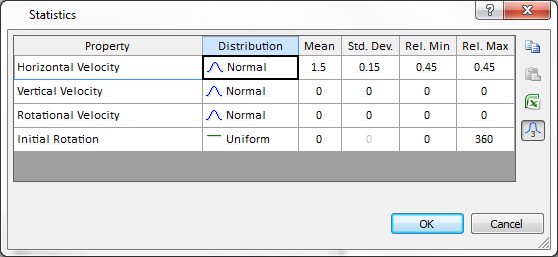 The Statistics dialog allows you to specify the distribution characteristics for all variables quickly in table format. By default, the
option is selected in the dialog, meaning that the Rel. Min: and Rel. Max: values are equal to 3x the Std. Dev: In this window, you can edit the seeder properties manually, copy the table of properties to the clipboard, export the properties to Excel, or paste properties from the Clipboard.