Scaling Functions
The Scaling Functions Project Settings tab allows you to configure the Coefficient of Normal Restitution Scaling. Depending on which Analysis Type you choose (Lump Mass or Rigid Body), you have the option to specify different Scaling functions.
To open the tab:
Open the Project Settings dialog.
Select the Scaling Functions tab.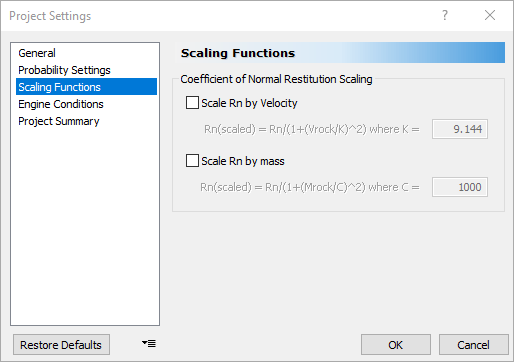 There are two Scaling Functions to choose from:
Scale Rn by Velocity
The normal scaling factor (scale by velocity) adjusts for the decrease in the normal coefficient of restitution as the impact velocity increases. This factor represents a transition from nearly elastic conditions at low velocities to highly inelastic conditions caused by increased fracturing of the rock and cratering of the slope surface at higher impact velocities.

Scale Rn by Mass
You may also scale Rn according to rock mass; however, it is NOT recommended that you scale according to both velocity and mass at the same time.