Seeder Properties
The Seeder Properties
dialog will open automatically after you specify a point or line seeder. Alternatively, you can edit existing seeders by right-clicking on the seeder and selecting Edit Seeder or from the Seeder menu: Seeder > Seeder Library.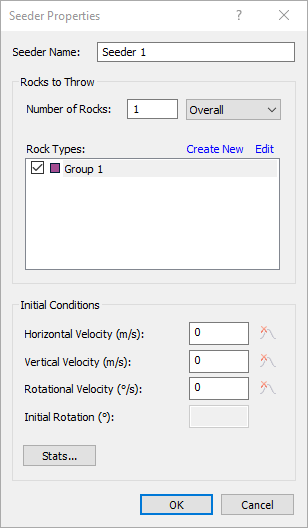 Number of Rocks (Rocks to Throw)
The Number of Rocks can be specified individually per seeder or overall for all seeders, depending on the setting chosen in Project Settings > Probability.
If the Number of Rocks option (in Seeder Properties) is greyed out, then go to Project Settings > Probability and change the Number of Rocks Thrown option to Set Individually Per Seeder.
Rock Types
In the Rock Type List you can:
Choose the Rock Types assigned to a particular seeder (at least one type must be selected)
Create new Rock Types (click on Create New and the Rock Type Library will open)
Edit Rock Types (click on Edit and the Rock Type Library will open)
Initial Conditions
The seeder Initial Conditions to be specified are:
Horizontal Velocity
Vertical Velocity
Rotational Velocity
Initial Rotation (for Rigid Body analyses only)
Notes:
The default direction for Rotational Velocity and Initial Rotation is counter-clockwise.
Note that when specifying Initial Conditions for a Lump Mass model, the Rotational Velocity is only considered if the Consider angular velocity check box is selected in the Project Settings dialog. See Specifying Statistical Properties for details on how to enter this information.