General Project Settings
On the General page of the Project Settings dialog, you can define:
Analysis Method options (Lumped Mass or Rigid Body)
Units
To open the Project Settings dialog:
Select Project Settings on the toolbar or the Analysis menu.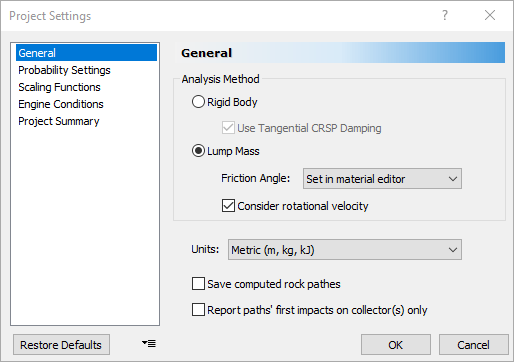 Analysis Method
The Analysis Method allows you to choose one of two different methods for modelling rocks in a rockfall analysis - Lump Mass or Rigid Body.
For a description of the two approaches see Analysis Method Setting in RocFall.
Units
Both metric and imperial measurement units are available in RocFall. You may select one of the following options:
Metric SI (m, kg, kJ)
Imperial Foot-Pounds (ft, lbm, ft-lbf)
Imperial Poundal-Feet (ft, lbm, pdl-ft)
Save Computed RocFall Paths
Checking the box for Save RocFall Paths in the project settings dialog will save all computed rock paths when you save the file.
Report Paths' First Impacts on Collector(s) Only
There are cases where a rock may pass through a data collector more than once (i.e., the rock rolls down and up a slope then back down). When the Report path's first impacts on collector(s) only option is checked, only the rock's initial pass through the collector is taken into account when graphing collector data.