3D Wedge View
The Wedge View provides a 3-dimensional Perspective view of the SWedge model, and three orthogonal views (Top/Front/Side), in a 4-view split-screen format, as shown in the following figure.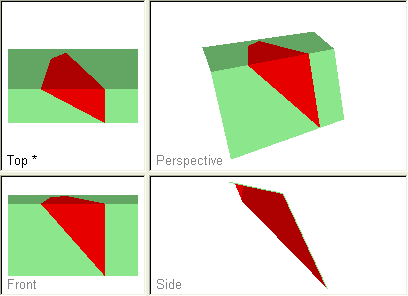 The Wedge View is displayed by default when you create or open an SWedge file. You can access the Wedge View at any time by:
selecting the Wedge View toolbar button
selecting Wedge View from the Analysis menu.
The user has control over the following aspects of the Wedge View:
Coordinates
Although an SWedge model is not defined using absolute coordinates, a coordinate system is in effect for the Top, Front and Side views of the model, within the Wedge View. See the Coordinates topic for more information.
Display of North Arrow
An arrow indicating the North direction can be displayed in the Top orthogonal view of the Wedge View. The display of this arrow can be toggled on or off in the Display Options dialog.