SWedge
SWedge
SWedge is a quick and simple-to-use analysis tool for evaluating the geometry and stability of surface wedges in rock slopes. Commonly used together with Dips, SWedge is a key tool for the analysis of rock slope stability.

Applications
Help yourself to a comprehensive database of product support.
SWedge is a quick, interactive and simple-to-use analysis tool for evaluating the geometry and stability of surface wedges in rock slopes. Wedges are defined by two intersecting discontinuity planes, the slope surface and an optional tension crack. SWedge provides an integrated graphical environment for fast, easy data entry and 3D model visualization.
SWedge offers an extensive array of analysis options including Deterministic, Probabilistic, Combinations, Sensitivity, and Persistence analysis.
Rock bolts, shotcrete or support pressure can be applied to increase the wedge safety factor. Destabilizing forces due to water pressure, seismic loads or external forces can also be easily modeled. Joint shear strength options include Mohr-Coulomb, Barton-Bandis or Power Curve models, and a joint waviness angle can be defined.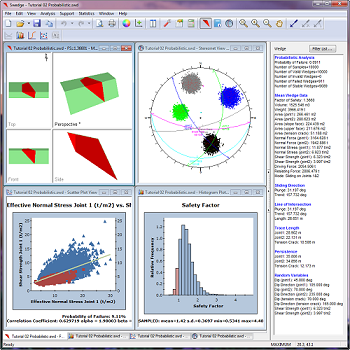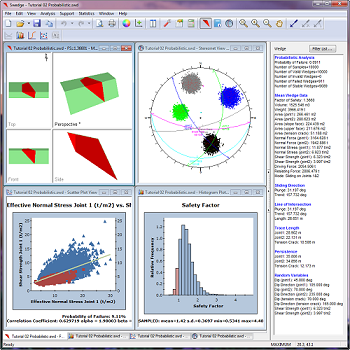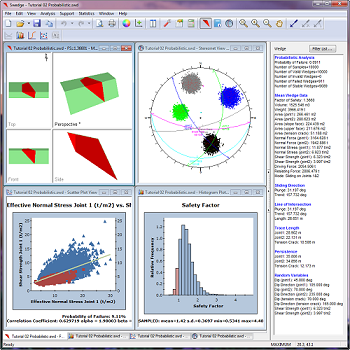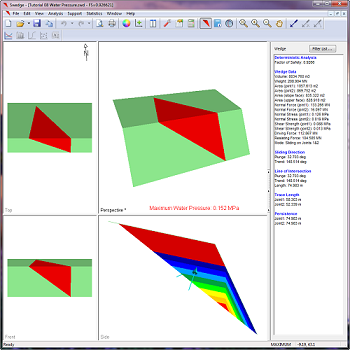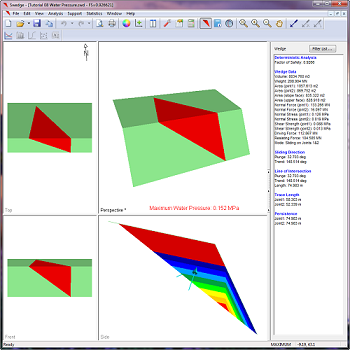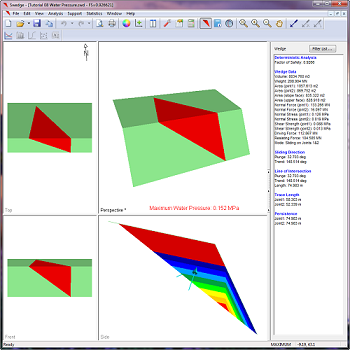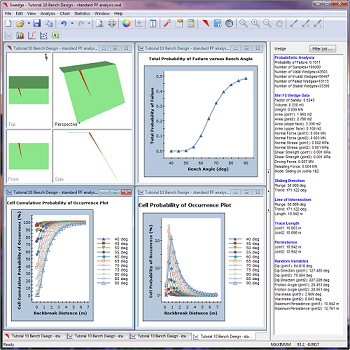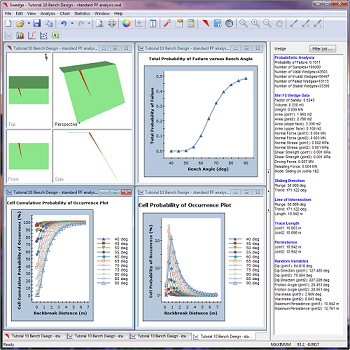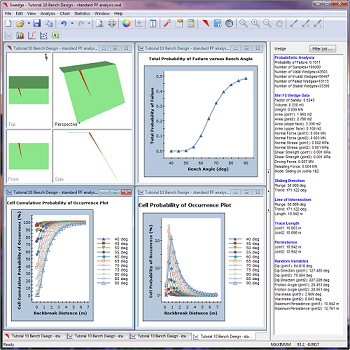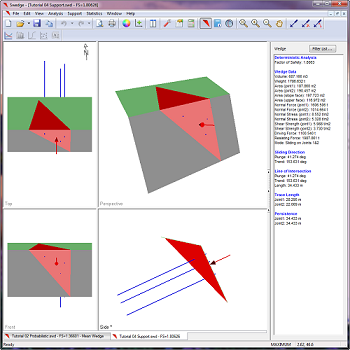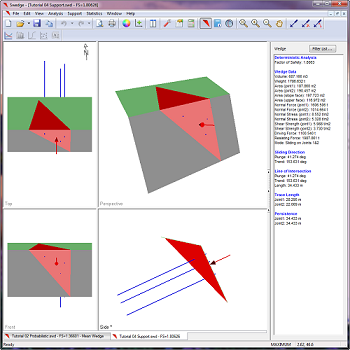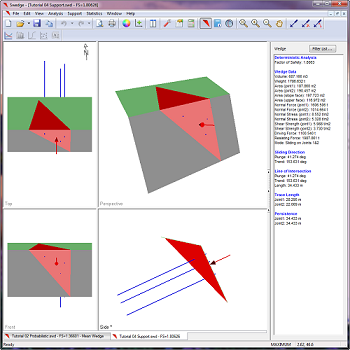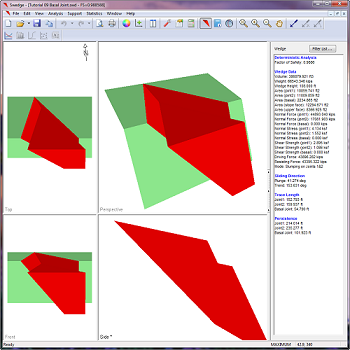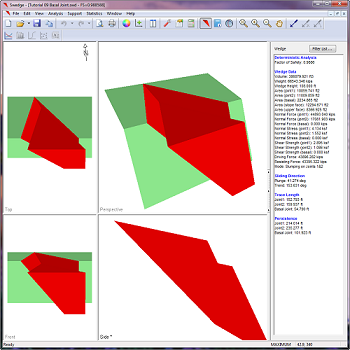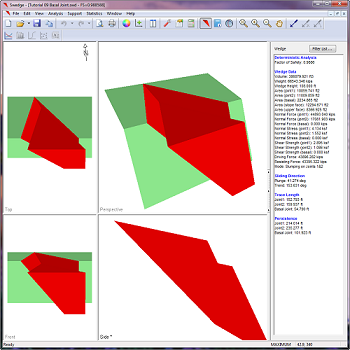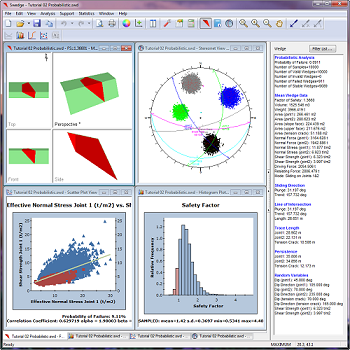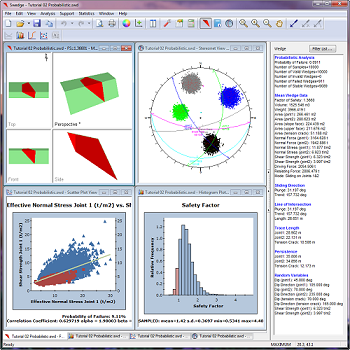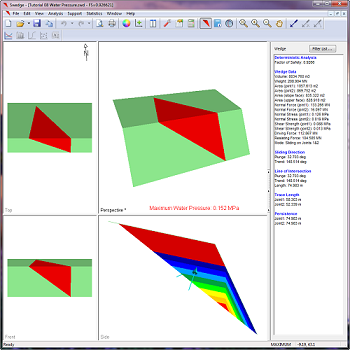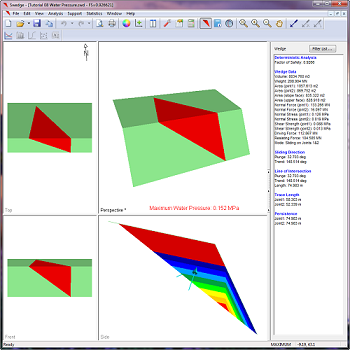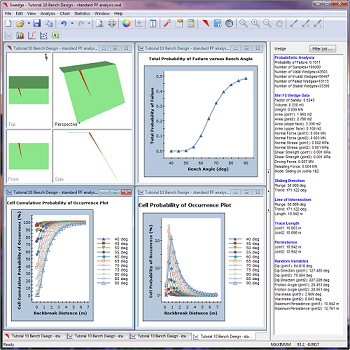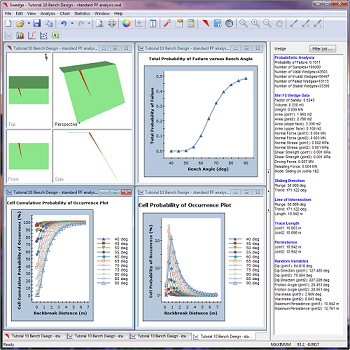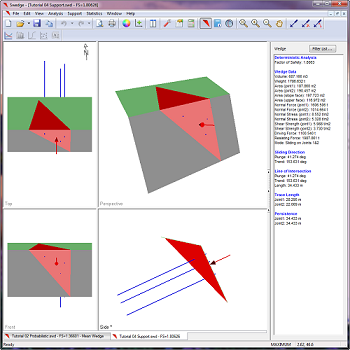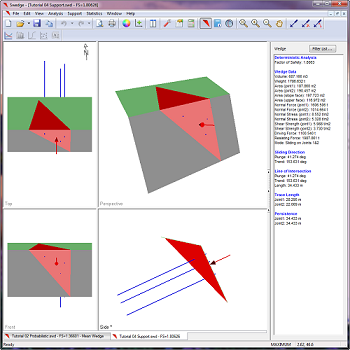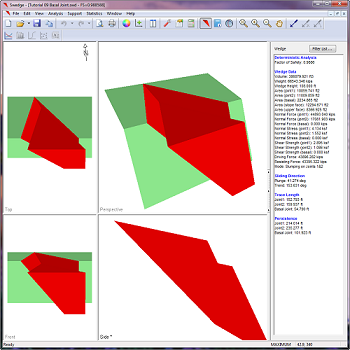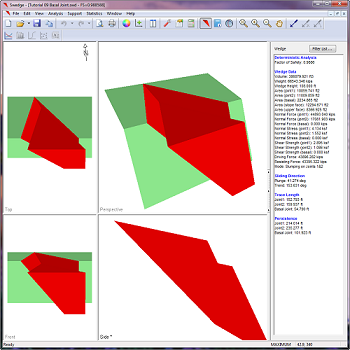 Applications
What's New in SWedge
Automation Features
SWedge introduces powerful new automation features that enable users to run large numbers of analyses and generate results quickly and efficiently. Batch Compute computes and generates results for multiple saved model files while Automate from Excel automates numerical model inputs, computes, and generates results for multiple scenarios.
Batch Compute Model Files
With the new Batch Compute feature, users working with a large inventory of saved model files now have a method of quickly generating results for all the files in one, single process. The new feature can be used to compute multiple Deterministic, Probabilistic, and Combinations analyses models. Files are computed sequentially, and the results are output to a folder, bypassing the process of manually opening and exporting the results for each file. Users can simply add saved model files to the file queue and compute. The results files can then be exported to Excel or other data processing software for further analysis and interpretation.
Automate Model Inputs from Excel
New input automation enables users to obtain large numbers of analysis results with varying input parameters tailored to their needs. The new feature gives users the freedom and efficiency to pre-process numerical inputs, automate the computation of millions of wedges, and generate results for post-processing. Pre-processing can be done directly in or imported into the Excel automation file. Users can analyze several unique Deterministic, Probabilistic, or Combinations scenarios using automated, varying inputs. Numerical inputs for wedge geometry, strength, seismic, water pressure, and scaling can all be automated. Results can be exported to a CSV file or in Excel format for easy post-processing and graphing since results files contain all applicable inputs and calculated values for each wedge scenario that is analyzed.
Robust and Customized Analyses
Automate from Excel can also be used to perform more robust and customized analyses such as:
Custom Sensitivity analysis by varying any one input parameter or several input parameters simultaneously.
Custom Probabilistic analysis with random variables generated based on a custom sampling method and probabilistic distribution.
Custom Bench analysis with a range of bench face angles.
Support and Loading
There are various options for modeling support in SWedge, including:
Bolts
Shotcrete
Pressure
External Force
Different support types can be combined (e.g. bolts and shotcrete), and the required support parameters necessary to achieve a given factor of safety can be readily determined.
The following options are available in SWedge for applying loading to wedges to simulate destabilizing or stabilizing forces. Critical load values can easily be determined with the Sensitivity Analysis option.
Water Pressure
Seismic Force
External Force
Import from Dips
SWedge provides deep integration with Dips — a Rocscience software program designed for the graphical and statistical analysis of orientation data using stereonets. Dips and SWedge are commonly used together for the analysis of rock slope stability.
Orientation data can be imported from Dips into SWedge with the Import from Dips option in the Input Data dialog. The data which can be imported depends on the SWedge Analysis Type (Deterministic, Probabilistic or Combinations), as described below:
Deterministic
If the SWedge Analysis Type = Deterministic, you can import individual plane orientations from a Dips file and assign the orientations to the Slope, Upper Face, Joint1, Joint2, or Tension Crack.
Probabilistic
If the SWedge Analysis Type = Probabilistic, you can import mean orientations and statistical joint set information (Fisher K value or standard deviation) from a Dips file, and assign the information to Joint1, Joint2 or Tension Crack.
Combinations
If the SWedge Analysis Type = Combinations, you can import any number of plane orientations from a Dips file, and SWedge will analyze the stability of all possible joint combinations.
Probabilistic Analysis
In a Probabilistic Analysis, you can define statistical distributions for input parameters (e.g. joint orientation, shear strength, water level), to account for uncertainty in their values. When the analysis is computed, this results in a safety factor distribution from which a Probability of Failure (PF) is calculated.
The following input parameters can be defined as random variables in an SWedge probabilistic analysis:
slope plane orientation
joint orientation
joint shear strength
joint waviness angle
tension crack orientation
water pressure force
seismic force
In addition, if you are using the Joint Persistence Analysis option, you can define the following random variables:
wedge height
joint persistence or trace length
Bench Analysis
The Bench Design option is an extension of the probabilistic analysis features in SWedge. Assuming either a constant bench width or constant inter-ramp angle you can input the design parameters and statistical joint information in order to optimize the bench slope angle according to design constraints. The analysis output allows you to interpret the results according to various methods including:
managed approach to bench design
quantitative hazard analysis (QHA)
The following statistics can be plotted for a bench design:
Total Probability of Failure
Cell Probability of Occurrence
Cell Cumulative Probability of Occurrence
Cell Probability of Sliding
Cell Probability of Failure
Bench Loss versus Bench Angle
Cumulative Frequency of Failed Wedges
Mean Wedge Volume of Failed Wedges Plot
Cumulative Mean Wedge Volume of Failed Wedges Plot
Combination Analysis
The Combination Analysis option in SWedge allows you to define any number of discrete joint plane orientations, and all possible combinations of two joints which can form a wedge will be analyzed. The wedge with the minimum factor of safety is determined, and results can be plotted on histograms, scatter plots and the stereonet view.
The Combination Analysis option can be selected in the Project Settings dialog or from the drop-list in the toolbar. By default, the minimum wedge Factor of Safety (FS) is displayed in the toolbar.
Because the Combination Analysis option is not, strictly speaking, a Probabilistic Analysis, a Probability of Failure is not reported. If desired, a Probability of Failure can be calculated by dividing the number of failed wedges by the total number of joint combinations. The interpretation of results in this regard is the responsibility of the user.
Help yourself to a comprehensive database of product support.