3D View
The 3D View is the pane on the right-hand side of the Toppling View. The view displays a three-dimensional view of your RocTopple slope model.
NOTE: Keep in mind that the RocTopple analysis is a two-dimensional analysis. The 3D View is presented for visualization purposes but the toppling analysis is two-dimensional.
Some useful features of the 3D view are:
You can rotate the model for viewing at any angle by clicking and dragging with the mouse.
If you click and drag the mouse while hovering over the slope, you can interactively "topple" the blocks downslope to visualize the toppling mechanism, as shown in the figure below.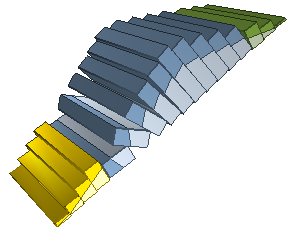 Display Options
The Display Options

dialog is available on the toolbar, the View menu, and the right-click menu. It allows you to customize the appearance of the 3D View (e.g., colours, display of model dimensions, etc.).
Zoom and Pan
The zoom and pan options allow you to zoom in, zoom out, and pan the model within the 2D View and 3D View.