Topple Blocks
In the 3D View, you can interactively "topple" the blocks down the slope using the mouse to visualize the failure mechanism.
Hover the mouse cursor directly over the slope model in the 3D View.
The cursor changes to a vertical two-way arrow symbol .
Click and drag the mouse in the down slope direction.
Toppling blocks topple forward and sliding blocks slide forward.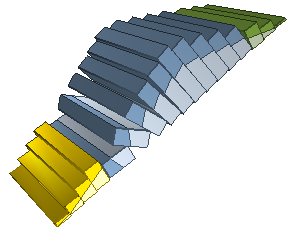 Reset Slope
To reset the blocks in their default position, right-click and select Reset Slope from the popup menu. You can also select Display Orientation > Isometric on the View menu or the right-click menu This resets the toppling blocks and the default viewing angle.