Display Options
The Display Options
dialog is available on the toolbar, the View menu, or the default right-click menu.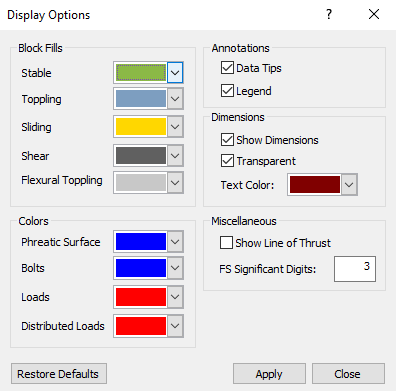 Display Options allows you to customize colours and various display settings for the 2D View and 3D View within the Toppling View. Some display options are only applicable to the 2D View (e.g., Legend Display) and others are applicable to both view (e.g., display colours).
The most recently selected Display Options automatically become the program defaults.
To restore the default display options, select the Restore Defaults button in the dialog.
Show Line of Thrust
The Show Line of Thrust option gives the location of the resultant interblock forces. For toppling blocks, this point is located on the ground surface. For sliding blocks, this point is located a third of the distance from the base to the slope.