Export DXF File for RS2
The Export DXF File for RS2 option allows you to export the geometry of a RocTopple model as a DXF file that can then be imported into RS2 for a finite element analysis. This options allows you to easily create an RS2 model from a RocTopple file to carry out a verification analysis to compare results from the two programs.
Export a DXF File for RS2
Select File > Export > Export DXF File for RS2.
Enter a file name and save the DXF file.
NOTE: Only the geometry is saved to a DXF file. Material properties (e.g., joint strength) are not saved.
Import DXF into RS2
After you have created the DXF file in RocTopple, you can import the geometry into RS2 as follows:
In RS2, select File > Import > Import DXF.
In the DXF Options dialog, use the check boxes to select the boundary types you would like to import. For a RocTopple DXF file you should always select:

External Boundary
Materials
Joints
Piezo Lines (if your RocTopple model includes a Phreatic Surface)
Click the Import button.
The figure below shows a typical RocTopple model imported into RS2.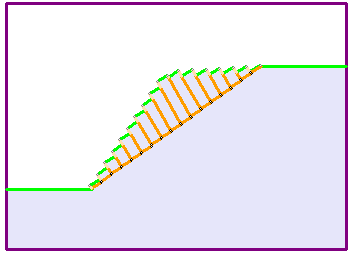 Note the following:
The toppling joints and base joints become joint boundaries in RS2.
The slope surface and upper edges of toppling blocks become material boundaries.
An external boundary is automatically created around the entire RocTopple slope model.
After you import a DXF file into RS2, you still need to carry out various steps to set up the model for analysis. For example, you need to manually input the joint strength parameters, excavate the region above the slope, create a mesh, and select SSR Analysis in the Project Settings dialog. For details of this process, see Tutorial 04 - RocTopple Export to RS2. For help on comparing RocTopple results with RS2, see RocTopple Verification Examples.