Adding a Phreatic Surface
A phreatic surface (water table) can be used to define the water level in the slope. Hydrostatic forces are applied to all toppling block joint surfaces below the water table as described in RocTopple Theory Documents.
To add a phreatic surface:
Select the Use Phreatic Surface option in the Water Pressure dialog (see Including Water Pressure in RocTopple) and click OK.
Select Add Phreatic Surface on the Water menu or the Water Options toolbar button drop-down.
Click and drag the mouse to graphically enter points defining the phreatic surface polyline by clicking the left mouse at the desired coordinates. Points should be entered from left to right.
When you are finished entering points, press ENTER or right-click and select Done.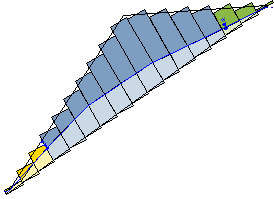 NOTES:
The water table should be defined across the entire horizontal extent of the slope. If the first or last coordinates do not correspond to the left and right edge of the model, the water table will be automatically extended horizontally as indicated by a dashed blue line on the left and/or right.
Generally, the water table should be defined within the region of the toppling blocks. If you draw the water table above the slope, the maximum water level within the toppling joints will be assumed. RocTopple does not model submerged slopes and will NOT apply additional ponded water loading if the water table is drawn above the slope. Therefore, it is best to define the water table within the region of the toppling blocks.
Only ONE phreatic surface can be defined. The Use Phreatic Surface option in the Water Pressure dialog is disabled after you add a surface.
Various editing options are available after a surface has been added, see Editing a Phreatic Surface for details.