Sets Overview
The various stereonet plots in Dips ( Pole, Scatter and Contour) allow you to visually identify clustering of orientation data.
What is a Set ?
A Set as defined in Dips, is a grouping of data created with one of the following options in the Sets menu:
These options allow you to create windows around data clusters on the stereonet, and obtain mean orientations of data (poles) within the windows.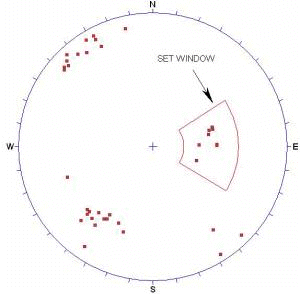 Curvilinear Set Window created with Add Set Window option
If you use the Add Set Window option, the windows enclosing the Sets are curvilinear, four-sided windows defined by two trend values and two plunge values, at opposite corners.
Multiple windows can be defined for the same Set, allowing you to enclose complex pole distributions as a single Set.
Windows can wrap around to the opposite side of the stereonet to group data near the perimeter.
Circular Set Windows can be drawn to facilitate the selection of Sets near the center of the stereonet.
Freehand Set Windows allow you to easily select irregular groupings of poles as a set.
The mean orientations can be plotted as poles and / or planes on the stereonet, and set statistics (confidence and variability cones) can be plotted with the Edit Sets

option, and are also listed in the Info Viewer.
Set Windows will normally be drawn on Contour Plots of the data, since data clustering is most evident on Contour Plots. However, Set Windows can be drawn on any of the stereonet plots in Dips (Pole, Scatter, Contour, or Major Planes).
NOTE: Sets added to the Stereonet Plot View are not view-specific. These Sets will be applied the main data and any filtered subset of data (if applicable).