Oriented Core Borehole Data
If orientation data was measured from the logging of core from a borehole, then the Orientation Columns must contain the measurements of the Alpha and Beta angles, as defined below. This applies to both Linear Borehole Oriented Core and Curved Borehole Oriented Core Traverse Types.
Alpha (Entered in Orientation Column 1)
The Alpha angle is the minimum angle between the maximum dip vector of the plane of the discontinuity, and the core axis.
Beta (Entered in Orientation Column 2)
The Beta angle is the clockwise angle from the Reference Line to the direction of the maximum dip vector, looking along the direction of borehole advance.
See the figures below for illustration.
IMPORTANT NOTE: Also see the Borehole Traverse Orientation topic for essential information concerning the orientation data required (orientations 1, 2 and 3) to set up a borehole logging Traverse.
If your data set was entirely recorded from borehole core logging, you will have to specify a Traverse for each borehole, in the Traverse Information dialog, and set up the data accordingly.
ORIENTATION PARAMETERS FOR BOREHOLE DATA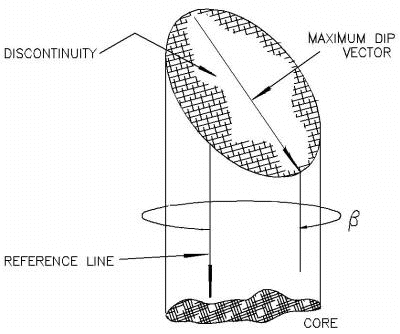 DEFINITION OF ALPHA ANGLE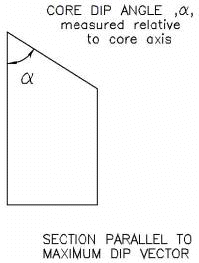 DEFINITION OF BETA ANGLE