Filter Data Overview
The Filter Data

option (available in the toolbar or the Analysis menu) allows you to create filter(s) to search for any subset(s) of data in a Dips file. If any valid filter is defined, it will be saved once you click OK in the Filter Data dialog. All saved filters will show up in the Filter dropdown list in the toolbar.
If you select a predefined filter from the dropdown list, the active view will be updated to show new analysis results with the filtered poles. In the Grid Data view, the poles that meet the current filter criteria are highlighted. A note is displayed in the Sidebar as a reminder.
Create a New Filter
A new blank filter with the default name "New Filter 1" is created automatically if there are no predefined filter(s) when you open the dialog. You can immediately start to define the filter by adding expression(s). If there are predefined filter(s) when you open the dialog, click on the Add

button to add a new blank filter. See Creating a Filter topic on how to define a new filter.
Delete a Filter
To delete a filter, select the filter you want to delete from the list and click on the Delete

button.
Export/Import a Filter
To export a filter definition, select the Export button.
To import a filter definition, select the Import button.
See Export / Import Filter topic for more details.
Create New File
If you click on the Create New File button, a new Dips file will immediately be generated with the current selected filter. A new Grid Data view will display the filtered poles.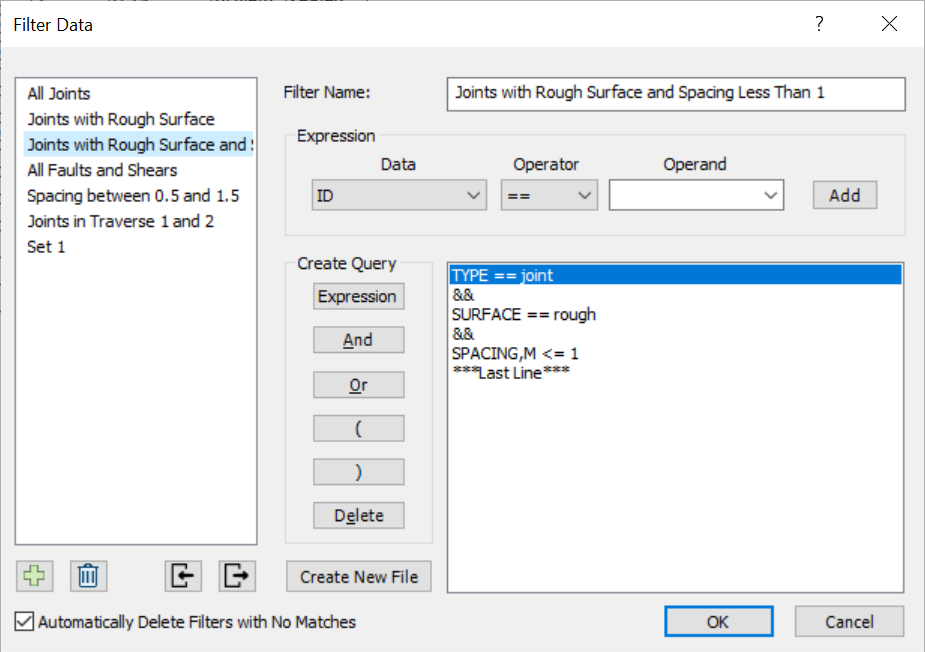 Note that the rows of the new subset file will be exactly as found in the original file and the following are preserved:
The new files created by Filter Data are not processed files.
NOTE: If Sets exist, the Set column can only be saved as an Extra Column in the new file created by the Create New File option. Sets, User Planes, and Tools on the Stereonet View are not preserved.
Automatically Delete Filters with No Matches
By default, Automatically Delete Filters with No Matches checkbox is selected. If Dips finds no Grid Data row(s) matching a given filter definition, it will be deleted.
If you wish to retain filters with no Grid Data matches, then unselect the Automatically Delete Filters with No Matches checkbox to edit the filter definition at a later time. For any filter with no matches, the filter name will be greyed out in the Filter dropdown in the toolbar, and you will not be able to select it in any view since there is no data to plot or report.
Info Viewer
If any filters exist in the document, the Info Viewer will display:
Data Filters with the filter name and definition
Global Mean for the Unfiltered and Filtered data
Global Best Fit for the Unfiltered and Filtered data
Mean Set Planes for the Unfiltered and Filtered data
Set Statistics for the Unfiltered and Filtered data
Intersections for the Unfiltered and Filtered data
Kinematic Analysis for the Unfiltered data and any Filtered data applied to open Stereonet View(s)
Jointing Analysis for the Unfiltered and Filtered data