Shear Factor of Safety
For a Voussoir (no tension) analysis, a rectangular roof is assumed to be divided by cracking into trapezoidal and triangular panels, corresponding to lines of maximum principal tensile stress of an elastic stress analysis. This is illustrated in plan view in the figure below. Such cracking is analogous to the yield lines postulated in the behaviour of reinforced concrete slabs.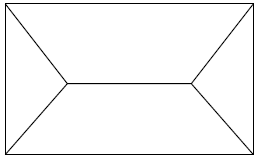 For a long excavation (x>>y or y>>x) this configuration approximates plane strain conditions with a longitudinal crack at midspan. For a square excavation, four equal triangular panels result.
The Shear Factor of Safety from a Voussoir Analysis balances the shear strength of the long excavation dimension against the weight of a trapezoidal panel. This scheme automatically incorporates long or square excavations in the limiting cases of x=y or x>>y or y>>x. Unlike the Rigid and Elastic analyses, the shear strength of the short excavation dimension (and the weight of the smaller "triangular" panels) does not enter into the shear stability calculation.
Since the lateral compressive stress is solely induced by the arching action of the rock and is not due to external field stresses, low span/depth ratios will result in low Shear Factor of Safety values, since the rock cannot develop the lateral stress required for a self-supporting arch. This is why span/depth ratios < 3 are not recommended, for a Voussoir Analysis.
Shear Factor of Safety =

where,