24 - Import from RSLog tutorial
This tutorial provides you with instructions for creating soil profile in Settle3 using boreholes imported from RSLog. You can select multiple boreholes directly from RSLog to create a list of boreholes in Settle3. These boreholes will then be displayed in plan view where you can use the boreholes to create soil model for settlement analysis.
Below is a screenshot of the project borehole information shown in RSLog: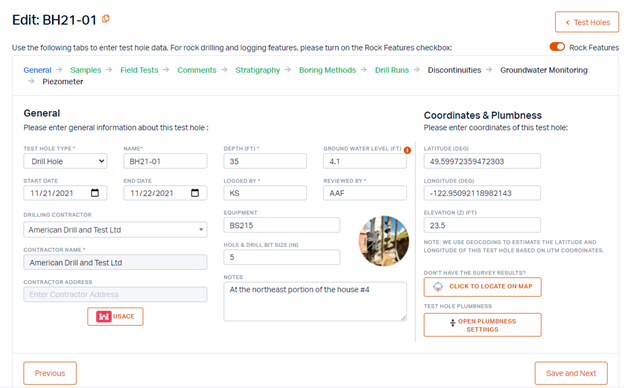 In this tutorial, we'll be importing a project from RSLog that contains 6 boreholes from site investigation.
Topics Covered in this Tutorial:
Import boreholes from RSLog
Creating soil profile using the imported boreholes from RSLog
Finished Product:
The initial/final model of this tutorial can be found in the Import from RSLog_initial.s3z, and Import from RSLog_final.s3z. All tutorial files installed with Settle3 can be accessed by selecting File > Recent Folders > Tutorials Folder from the Settle main menu.
1.0 Introduction
Select Project Settings > Units. Change units to Imperial for stresses.
Under Project Settings > Soil profile, select: Extruded section layers
Select: Soils > Import from RSLog
User will be prompted for log-in information for RSLog. You can use our demo account for the tutorial. Enter the following credentials in order to import the boreholes from RSLog.
Company: demo
Username: guest
Password: Demo2022@



If you do not have an account with RSLog, you can visit our RSLog website for more information:
https://www.ilogonline.com/
Once you log-in, you'll be able to see a list of project you can import. The project shows its metadata with title, project number and its location coordinates. Select Tutorial example listed below and select Next.


2.0 Importing boreholes
After selecting the project, Settle3 will import the borehole log of the project. Note if the boreholes are missing any information, a warning message may pop up with an explanation as to why the borehole may not be imported. Please see our Online help for more details.

These are some of the boreholes that was obtained from site investigation with its coordinates, layer depth, and soil stratigraphy. As you can see, the layer description is imported in Settle3 as well. Check each boreholes and select Finish.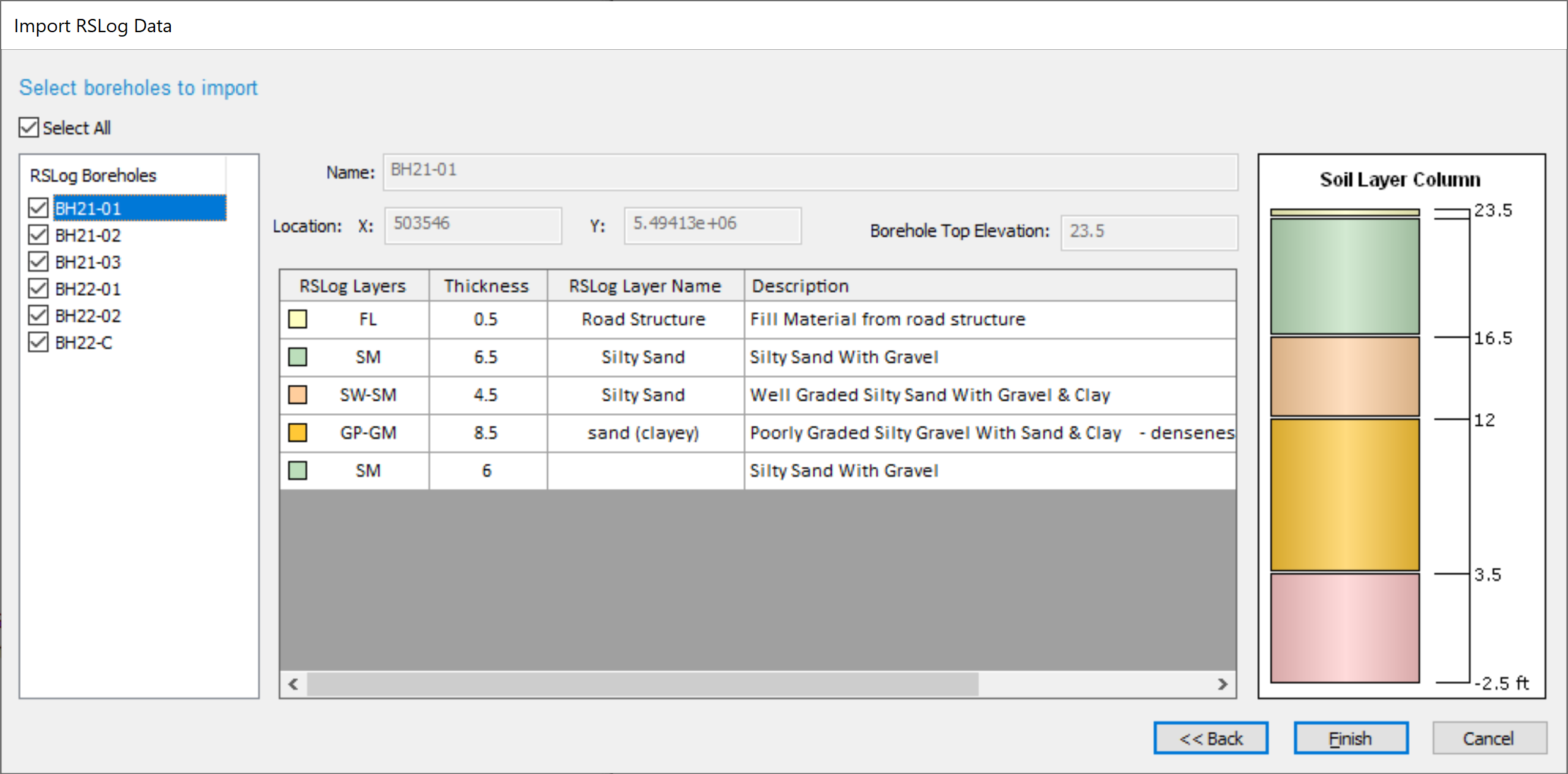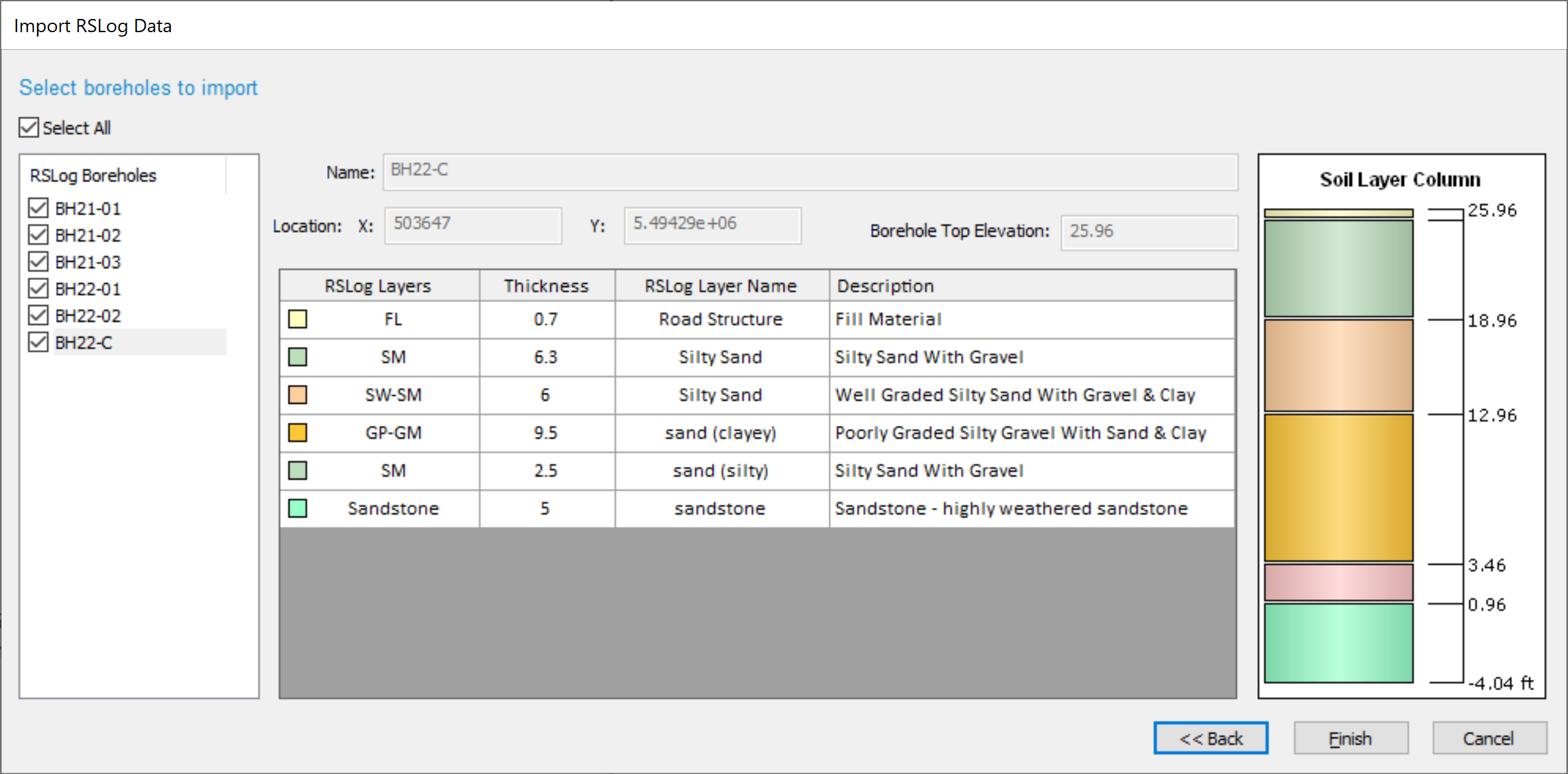 3.0 Creating soil model with the imported boreholes
After importing, you'll see the boreholes imported in the plan view. Since the coordinates are in large values for these boreholes, we'll move the boreholes closer to the origin for better visualization of the soil model in Settle3. Select each boreholes and move them to coordinates near the origin. For instance, right click on the borehole, select move borehole. Select the borehole and enter the new coordinates closer to the origin. For example, you can remove first three significant digit of x, and y coordinates for each boreholes.
We're providing you with an example of each coordinates for boreholes with new coordinates as a suggestion, but feel free to remove the decimals as they're relatively insignificant compared to the magnitude of the coordinates they were originally imported from.

Move to)
BH21-01 to: x=546.451, y = 4128.844.
BH21-02 to: x=704.981, y = 4097.542.
BH21-03 to: x = 612.996, y = 4159.617
BH22-01 to: x=774.094, y = 4320.243.
BH22-02 to: x=676.302, y = 4351.219.
BH22-C to: x=646.768, y = 4294.782.
Do this for all boreholes.

Then, select: Soils > Section creator. Select BH21-01 as first point and draw a straight line towards the end of the line that intersects with perpendicular line to BH21-01 for the second point as shown below: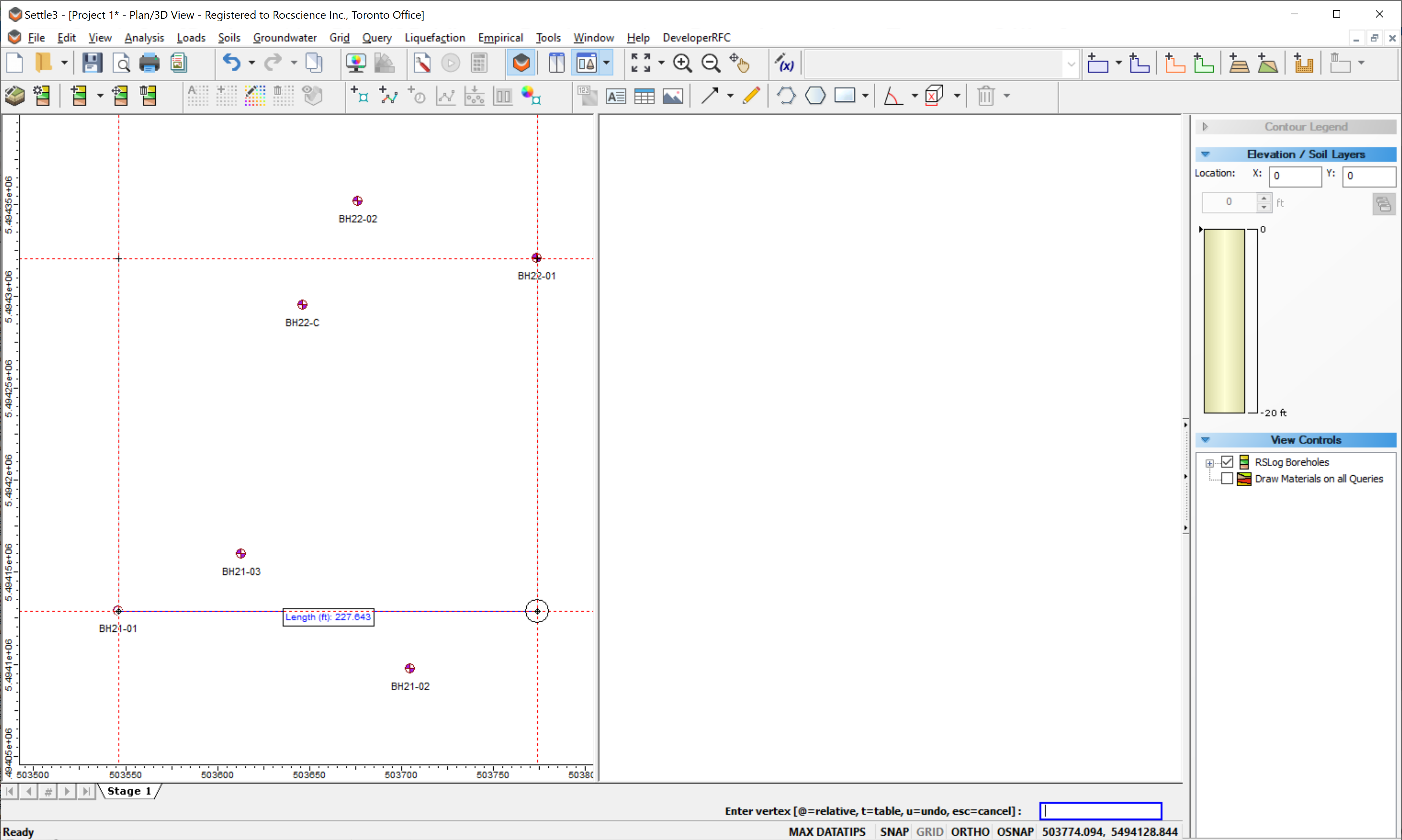 After selecting two points for cross-section layout, you should be able to see the section creator with cross-section as following: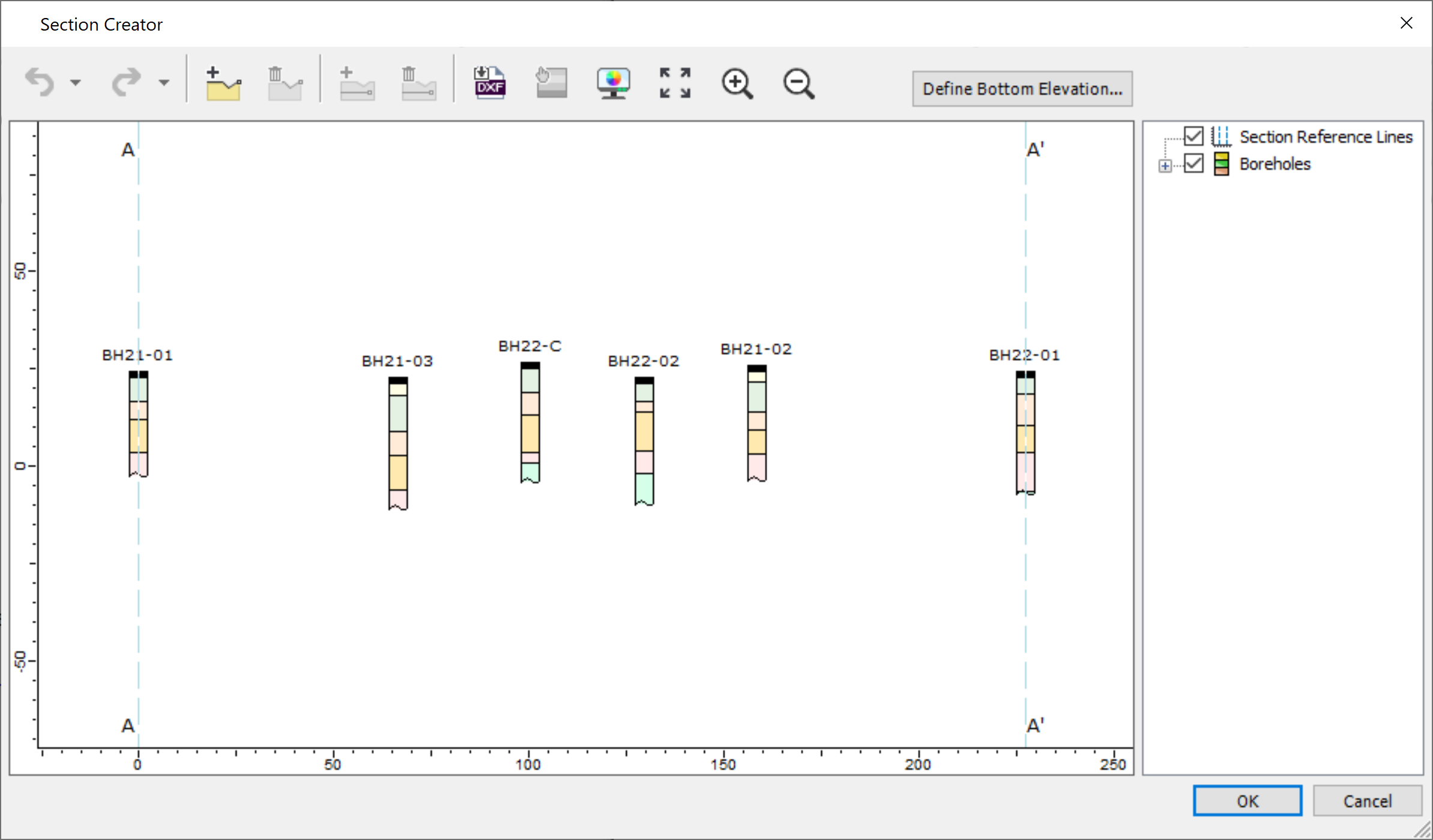 Select Draw ground surface icon and connect the top layer of the boreholes.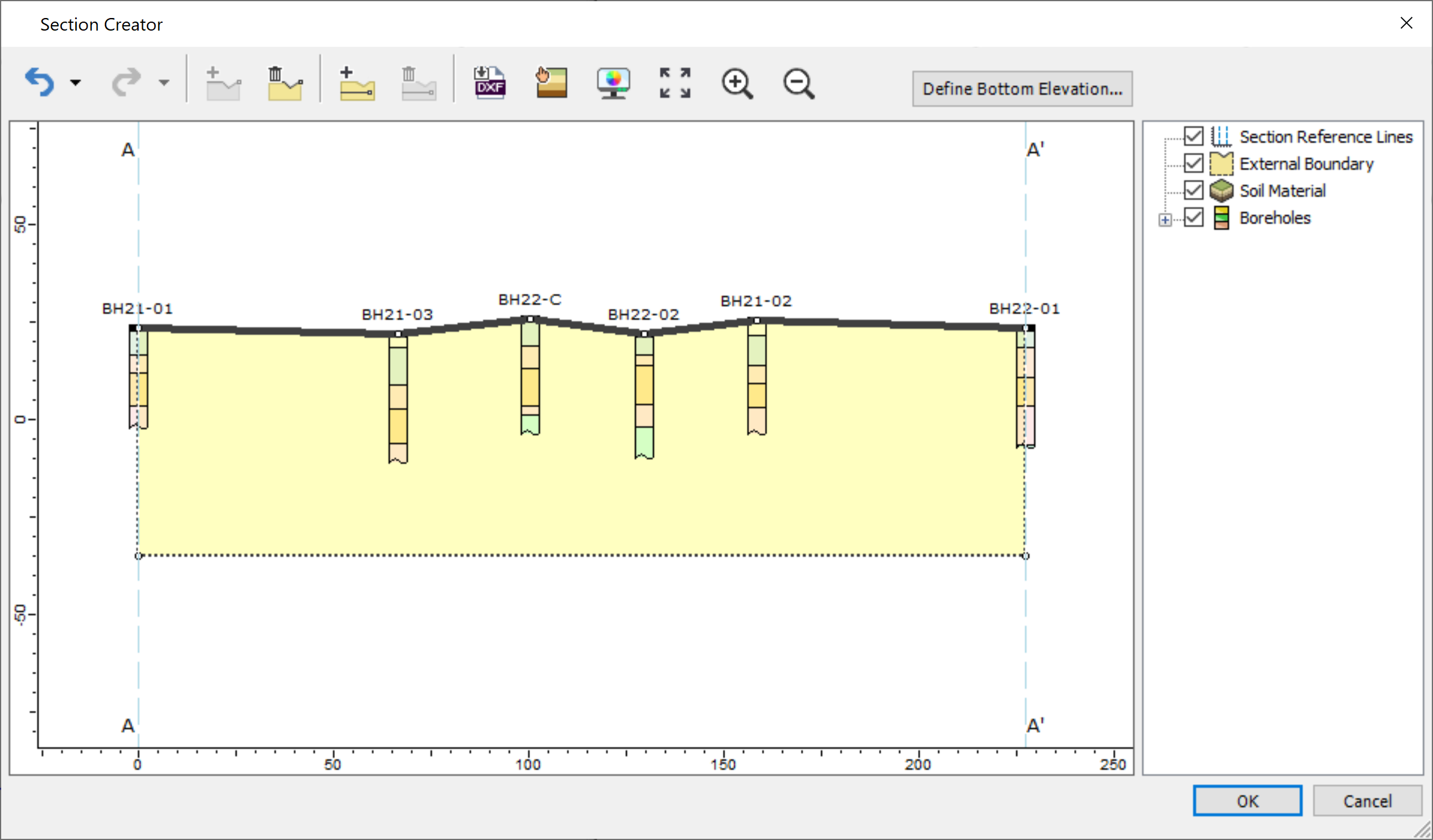 Then, Select draw internal boundaries and connect each boreholes with soil layer thickness. After the layer boundaries are drawn, you can assign materials by selecting and assign the boundaries for each internal layers drawn. The finished dialog should look similar to the following: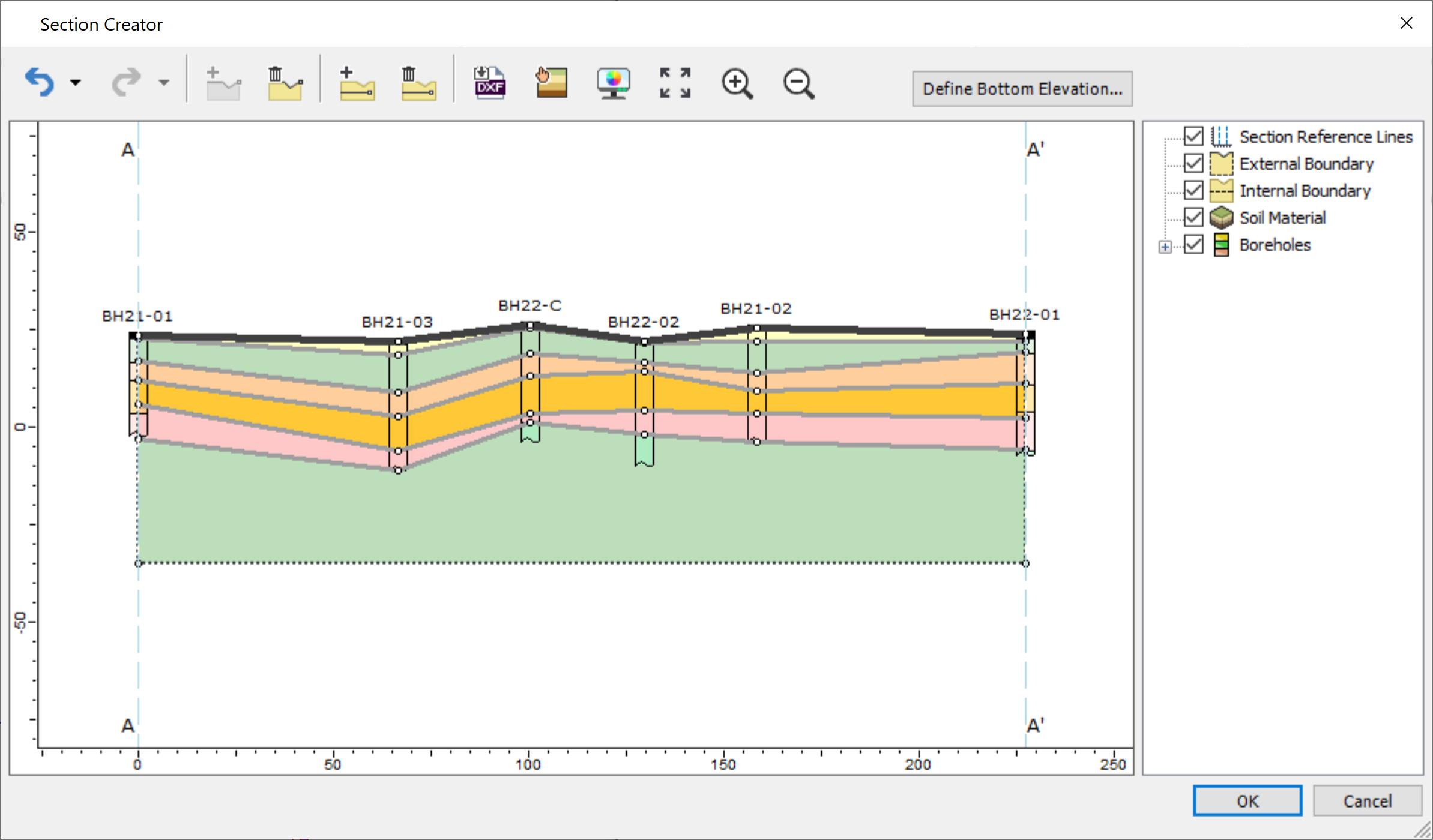 After assigning the soil profile, select OK and you should see the geometry created with soil profile. Right click on the 3D viewer and select Display options. Change the Soil Column Expansion Factor to 3, located at the right bottom of 3D View options as shown below.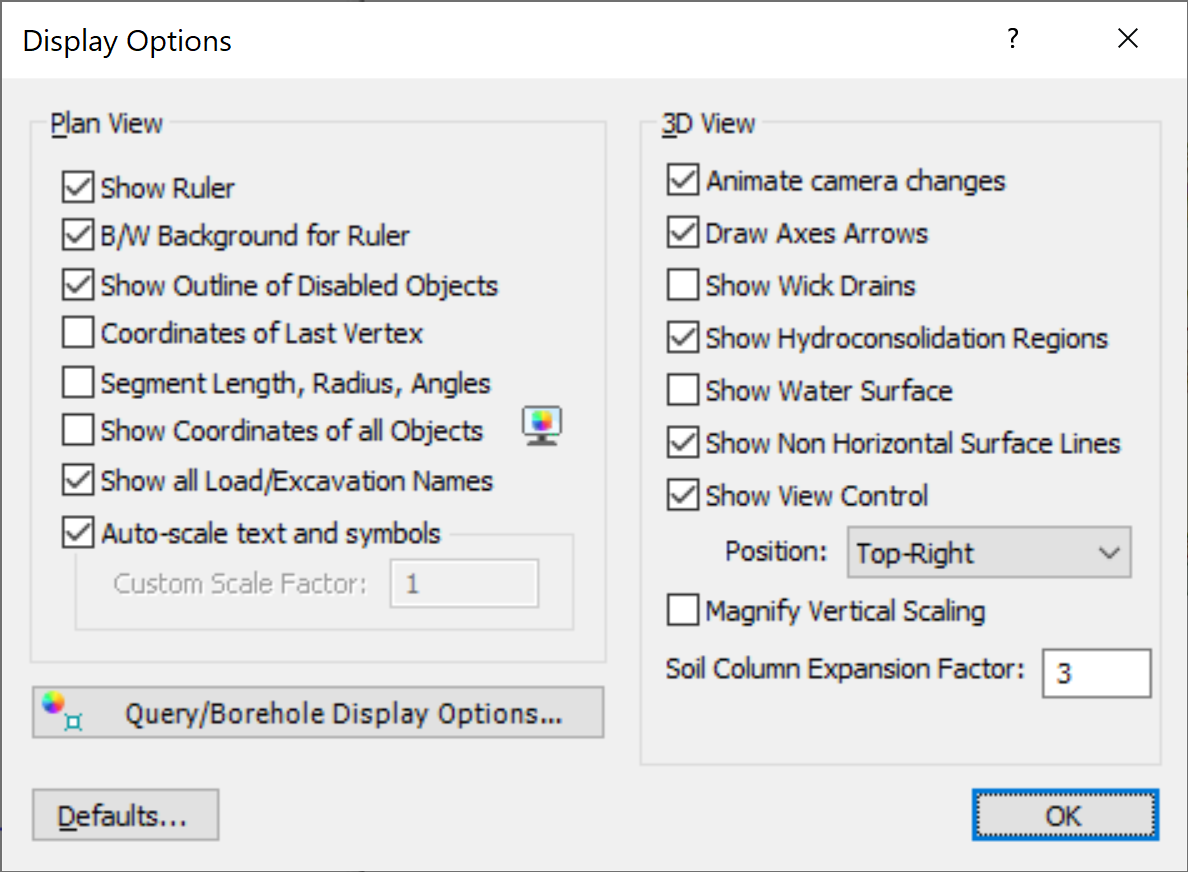 After Selecting OK, you'll see the following model as shown below.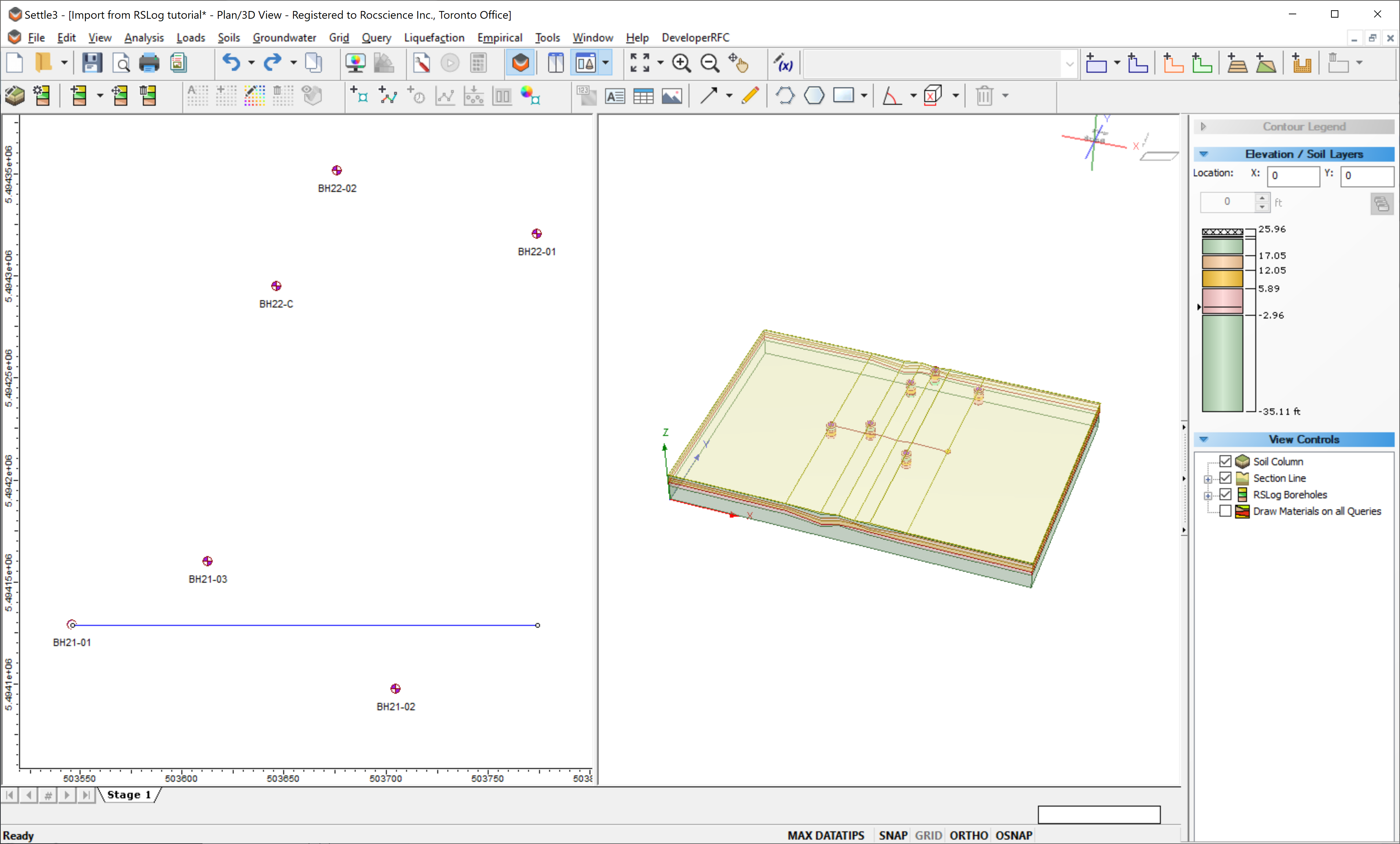 Note that the imported boreholes are provided as a guide for creating section profile in Settle3 for soil model. You can assign soil material properties by selecting Soil > Soil Properties and assign material parameters for settlement analysis.
This concludes import RSLog from Settle3. If you have any further question regarding this feature please refer to our Import from RSLog documentation, or contact us through tech support through our website.