Tension Crack
A Tension Crack is optional in a RocPlane analysis. It can be included in a model by selecting the Tension Crack check box in the Input Data dialog.
When included in a model, a Tension Crack can be specified in one of two ways:
Minimum Factor of Safety Location - This option gives the location of the critical tension crack that provides the minimum factor of safety for a given model
Specify Location – This option allows you to specify a location for the tension crack. The location is specified as a horizontal distance from the crest of the slope.
RocPlane examines how the tension crack intersects with the Failure Plane and Upper Face, and only accepts those cases where the tension crack truncates the wedge in a valid manner (two examples of valid wedge truncation are shown in the figure below). If the tension crack plane does not form an acceptable wedge with the other planes, a warning message is displayed when you click the Apply button to compute.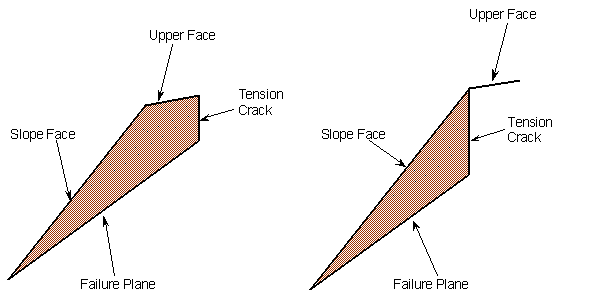 Example of valid truncation of wedges
Angle
In addition to vertical tension cracks, RocPlane can account for non-vertical tension cracks. You can enter a value into the Angle edit box to specify an angle of inclination of a tension crack from the horizontal. The default value is 90 degrees, the vertical position.
Distance from Crest
This allows you to specify the horizontal distance of the Tension Crack from the slope crest, if the Specify Location option is used.
If the Minimum FS Location option is used, then the Distance from Crest edit box is disabled. However, it will display the calculated value of the Minimum FS Location when the Apply button is clicked.
NOTE: The Distance from Crest is always measured horizontally, even if the angle of the Upper Face is not horizontal.
Form Only Valid Tension Cracks
When Form Only Valid Tension Cracks is checked, RocPlane first checks if the geometry is valid without a tension crack. If the geometry is valid, then the maximum horizontal width of the upper face is compared with the distance from the crest to the tension crack.
If the tension crack forms within the extents of the wedge, then the geometry is computed with the tension crack, as specified.
If the tension crack is outside the extents of the wedge, then the geometry is computed without tension crack.