Import Rocdata File
RocData files can be imported into RSData by selecting File > Import RocData File.
Imported files will be converted to the new .rsdata file format.
Below shows an example of importing one of the RocData tutorial files (generalized hoek brown model). You will first be prompted with the message below if the unit type has mismatch. Select OK.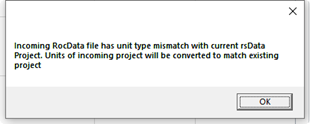 Material properties and failure state can be imported to RSData as shown below: