Article
The Latest Updates from Rocscience
Published on: Jun. 13, 2020 Updated on: Jul. 20, 2022
7 minutes read
As part of our commitment to Continuous Software, Rocscience has been rolling out tons of exciting new features. In fact, there are so many updates this month that we've had to put together this Feature Release Roundup just to make sure you don't miss out!
Slide2

Slide2 is a powerful 2D slope stability analysis program that uses the limit equilibrium method to evaluate the safety factor of circular and non-circular failure surfaces in soil or rock slopes. This easy to use program can create and analyze complex models and be used for all types of soil and rock slopes, embankments, earth dams, and retaining walls.
This year Slide2 introduced a new library of manufacturers and support products that could be added directly into your model, making designing support solutions faster and more precise. This list of support products has continued to grow. This month we are excited to announce a new addition to the list of Geosynthetic products: Geosintex's EDILGRID – a high modulus polyester geogrid use for stabilization and soil reinforcement.
RS3
RS3 is a 3D finite element analysis program designed for 3D analysis of geotechnical structures for civil and mining applications. You can use this powerful program for modelling slopes, tunnel and support design, surface and underground excavations, foundation design, embankments, consolidation, groundwater seepage, and more. With fully automated Shear Strength Reduction, you can use RS3 for advanced slope stability analysis on the most complex 3D models.
Like Slide2, this past month the library of geosynthetic support products for RS3 has been expanded now to include Geosintex's EDILGRID. This comes in addition to other enhancements including improvements in the Divide All and Form Closed Triangulations. These are important tools in 3D geometry creation and both of them are more robust than ever. For underground models, the new divide all is not only faster but also creates less bad elements.
RS2
With exceptional analysis capabilities for both rock and soil, RS2 is your go-to finite element program for modeling and analyzing slopes, surface and underground excavations, groundwater seepage, consolidation, and much more. Its powerful, multi-core parallel processors allow you to solve complex finite element problems quickly and easily.
This month RS2 is adding a new joint strain-softening feature to its broad roaster of tools. As many know, modeling the behavior of soils at and after failure (as is necessary when modeling progressive failure of slopes) requires a relatively advanced constitutive relationship. The new displacement-softening and work-softening models have been developed to describe the sliding of geosynthetic interfaces, such as those in landfill liners.
RSPile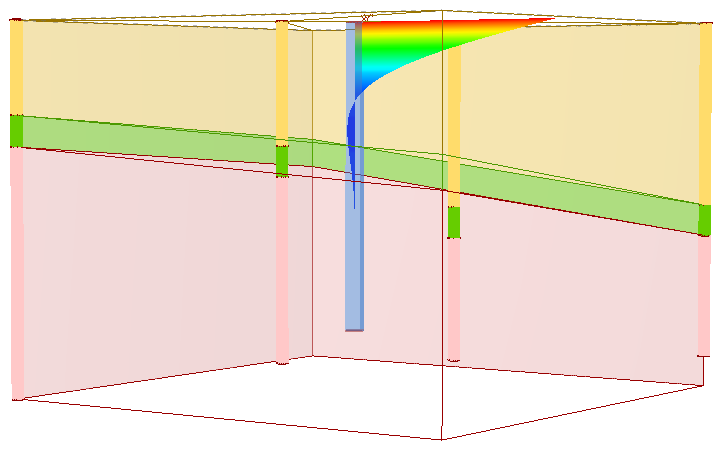 RSPile is a powerful, comprehensive general pile analysis software for analyzing driven pile installation, axially loaded piles, and laterally loaded piles. The program is deeply integrated with Slide2 and able to compute pile resistance forces for use in the 2D slope stability program. Needless to say, RSPile is the perfect complement to your slope stability analysis.

Coming up this June, RSPile is introducing several exciting new updates. New Display Options have been introduced to give you more control over pile numbering, naming, and label formats. Additionally, the new Report Generator is being added to RSPile so you can create customized, professional-looking reports for your pile analysis.
Dips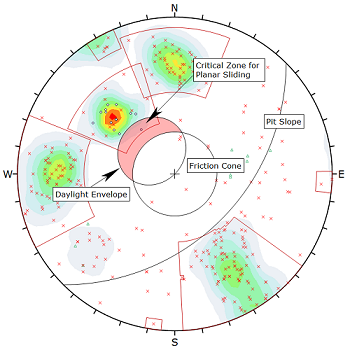 Dips is Rocscience's popular stereographic projection program for analyzing and presenting orientation-based data. The program is designed for both the novice and accomplished user of stereographic projection who wishes to utilize more advanced tools in the analysis of geological data.
This month, the program is being revved up to work faster than before. The new updates allow filters to be applied so the computation speed and memory management of Dips files can be optimized. Continuing with this theme of optimization, a new option to turn off the Auto-Requery Filters has been added so filters are not automatically required whenever changes occur. This change allows for more efficient computations when working with large sets of pole data.
SWedge
SWedge is a quick and easy-to-use analysis tool for evaluating the geometry and stability of surface wedges in rock slopes. The program is commonly used together with Dips and is an excellent tool for the analysis of rock slope stability.
The latest updates for SWedge comes with two powerful new features: Batch Compute and Automate from Excel.
The Batch Compute feature is all about increasing efficiency for your analysis. With this feature, you can compute several Deterministic, Probabilistic, and/or Combinations analysis models all at once using saved SWedge model files. You can add model files to File Queue individually or from a folder and have the option to output the results as a text file (.txt) or in Excel (.xlsx) format for viewing and data postprocessing.
The Automate from Excel feature is similar to the Batch Compute with efficiencies it provides to users. The feature allows you to compute several Deterministic, Probabilistic, or Combinations analysis cases using preprocessed Excel input data. You can quickly generate results for several SWedge inputs through the feature and have the option to add Excel input files to the File Queue individually and/or from a folder.
RocPlane
An essential part of your rock slope analysis toolkit, RocPlane is an easy-to-use tool for planar wedge stability analysis and design. RocPlane makes it easy to create planar models, visualize them in both 2D and 3D, and evaluate analysis results. The program is an especially useful tool for geotechnical engineers analyzing bench stability in open-pit mines and rock slopes.
Like SWedge, RocPlane has also just added the Batch Compute and Automate from Excel features to allows users to compute and generate results for several RocPlane model files, as well as automate RocPlane model inputs. Also included with the Automate to Excel feature are new excel templates for both Deterministic and Probabilistic analysis.
UnWedge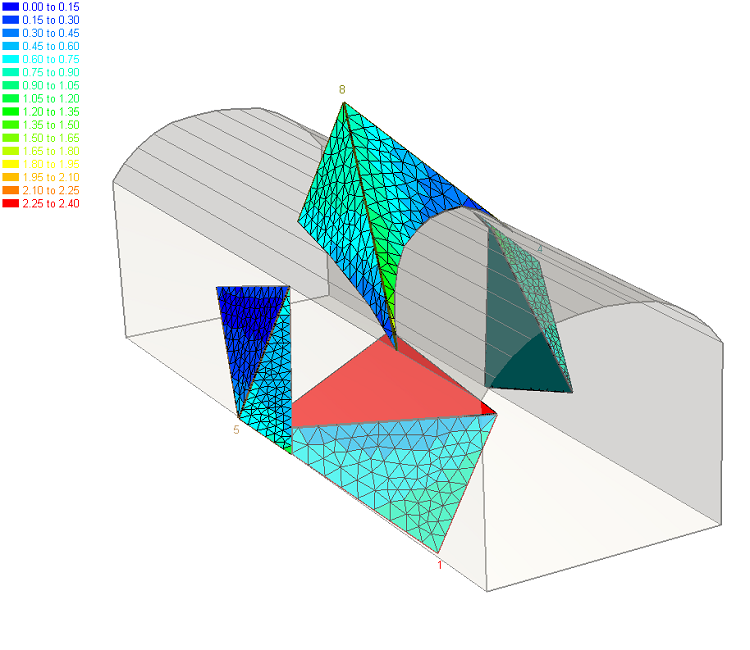 UnWedge is a 3D stability analysis program used to determine the stability of rock wedges formed by the intersection of structural discontinuities. The program's ability to calculate the factor of safety for potentially unstable wedges and determine support requirements for projects makes it a critical tool for geotechnical engineers that work with tunnels, underground excavations, and caverns.
As part of the continuing effort to make designing support solutions simpler, a new list of Common Support Types has been added to the program. Rocscience has partnered with DEXTRA to provide a list of their various products to the Reinforcement library in the Bolt Properties dialog. Users can simply select the product from the list and the manufacturer's specifications for the bolt are automatically filled in, making for faster and more accurate analysis.
RocFall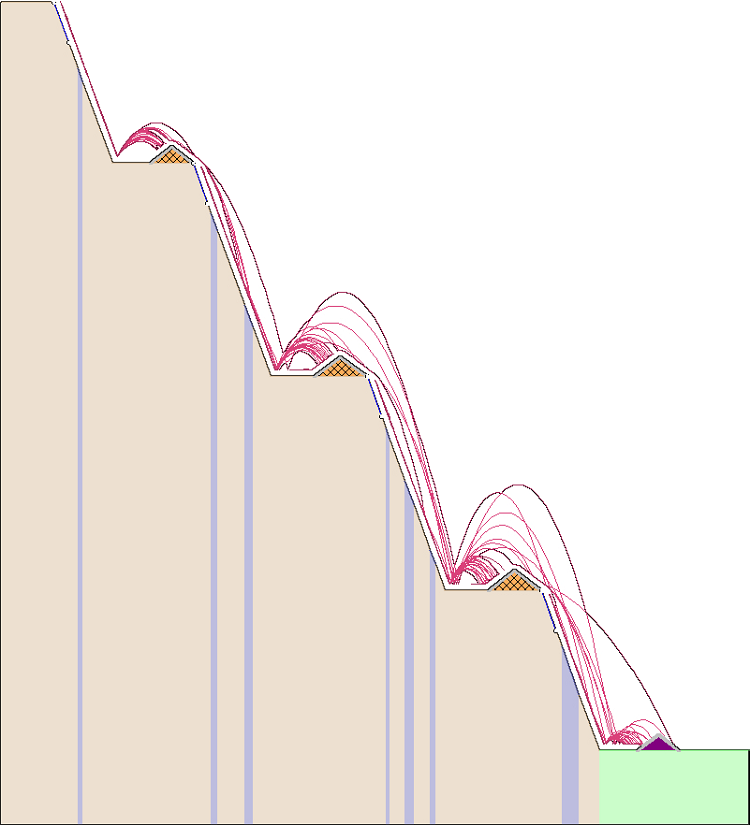 RocFall2 is a 2D statistical analysis program designed to assist with assessing slopes at risk for rockfalls. The program lets you explore the energy, velocity, and bounce height of falling rocks. It also lets you model remedial measures like barriers, which can be custom-defined or selected from one of the predefined barriers.
Speaking of bouncing rocks, this month RocFall2 includes a new enhancement that will add some bounce to your step. This latest update includes added detection of rocks penetrating the slope for Rigid Body trajectory cases without Forest Damping. This occurs if an earlier intersection between the rock and the slope was not detected (i.e., missed intersection). If this does occur, the path will be removed from the results.

More from Rocscience