Tunnel Profile Icon
A Tunnel Profile Icon can be displayed in the upper right corner of the Ground Reaction View. This helps to visualize the distance of support installation from the tunnel face.
The Tunnel Profile Icon is interactive – if you hover the mouse over the icon, you can interactively drag the position of the support installation relative to the tunnel face. This will change the origin of the support reaction curve on the plot, updating all analysis results to reflect the current support installation position.
NOTE: The Tunnel Profile Icon can only be displayed if the method of Support Installation = Distance From Tunnel Face (in the Support Parameters dialog). If the Support Installation is specified directly by Tunnel Convergence or Wall Displacement, then the Tunnel Profile Icon will not be available.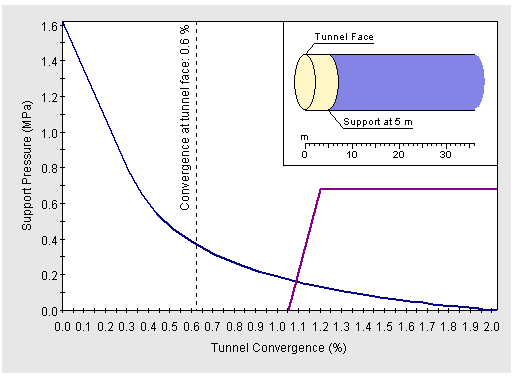 Tunnel Profile Icon displayed in Ground Reaction View.
Show / Hide Tunnel Profile Icon
The display of the Tunnel Profile Icon can be turned on or off, by selecting the Show Tunnel Profile Icon option from the right-click menu for the Ground Reaction View, or from the Ground Reaction sub-menu of the View menu.