RocTopple
RocTopple
RocTopple is part of our complete suite of rock slope stability analysis software, which includes SWedge, RocPlane, and Dips. This 2D and 3D software offers users fast and comprehensive solutions to a variety of slope stability problems.

Applications
Help yourself to a comprehensive database of product support.
RocTopple is an interactive software tool for performing toppling analysis and support design of rock slopes. The analysis is based on the popular block toppling method of Goodman and Bray first published in a paper, Toppling of Rock Slopes, in 1976.
Input the slope parameters, discontinuity spacing, dip angle and strength, and RocTopple automatically generates the toppling blocks. RocTopple makes it easy to visualize the slope failure in 2D and interactive 3D and displays the potential failure mode of individual blocks (toppling, sliding, stable) as well as the overall safety factor.
In addition to deterministic analysis, RocTopple features probabilistic and sensitivity analysis options. Probabilistic analysis allows you to define statistical distributions for any combination of input variables. A probability of failure is calculated, and results can be plotted as histograms, scatter plots, and cumulative plots. Sensitivity analysis allows you to determine the effect of individual variables on the results.
RocTopple implements Eurocode 7 design standards, which allows you to define partial safety factors for different components of the analysis. RocTopple rounds out our suite of rock slope stability software, which also includes SWedge, RocPlane, and Dips.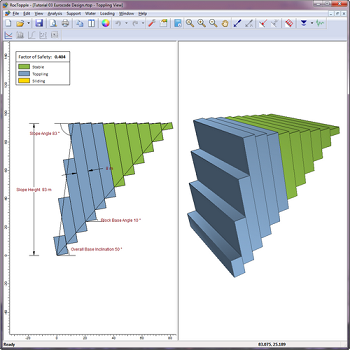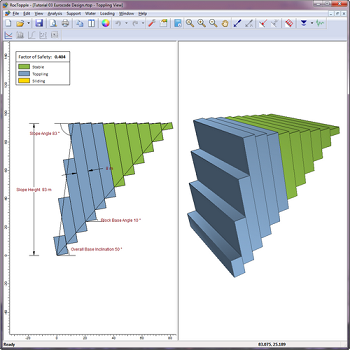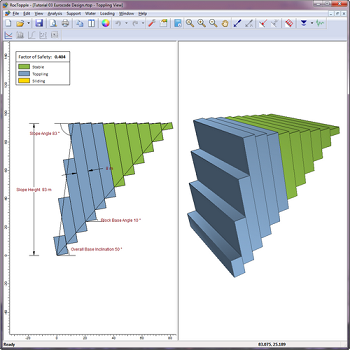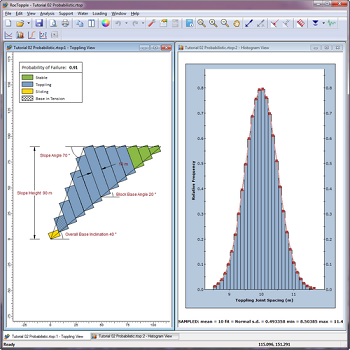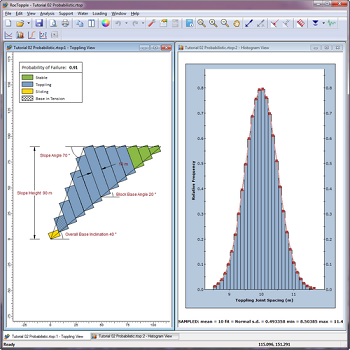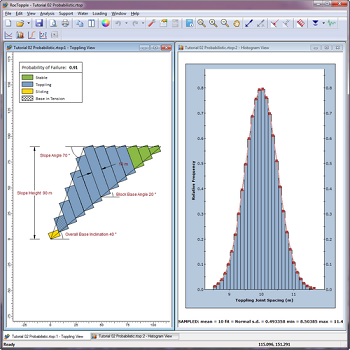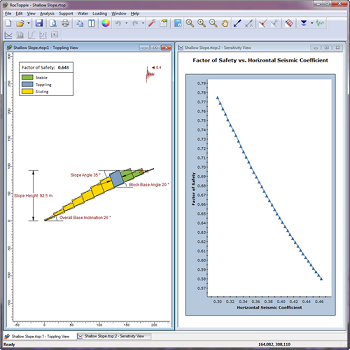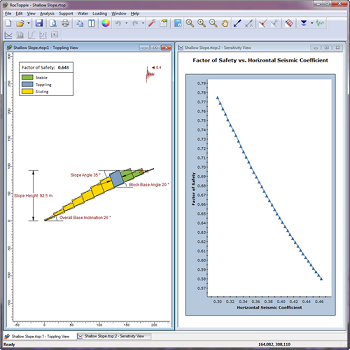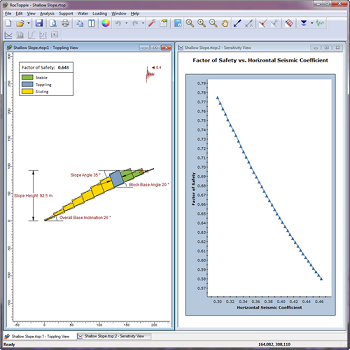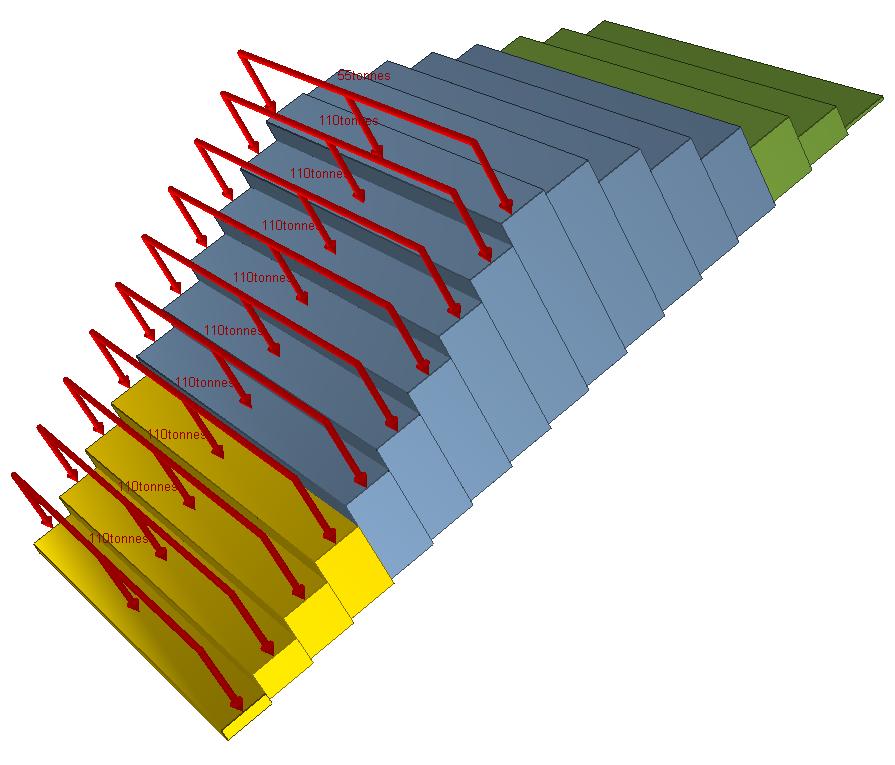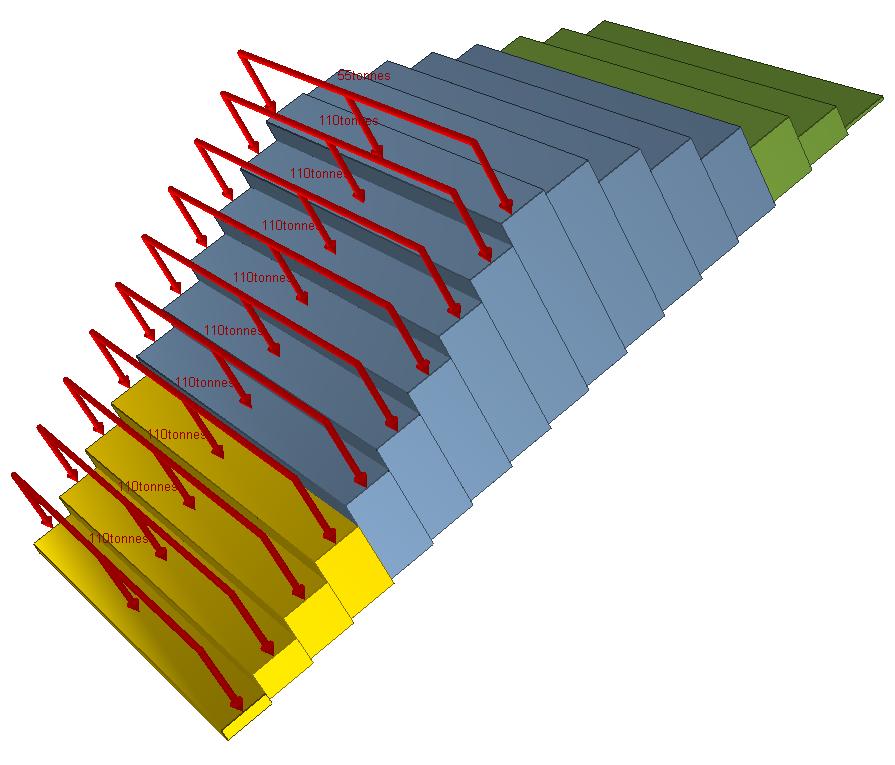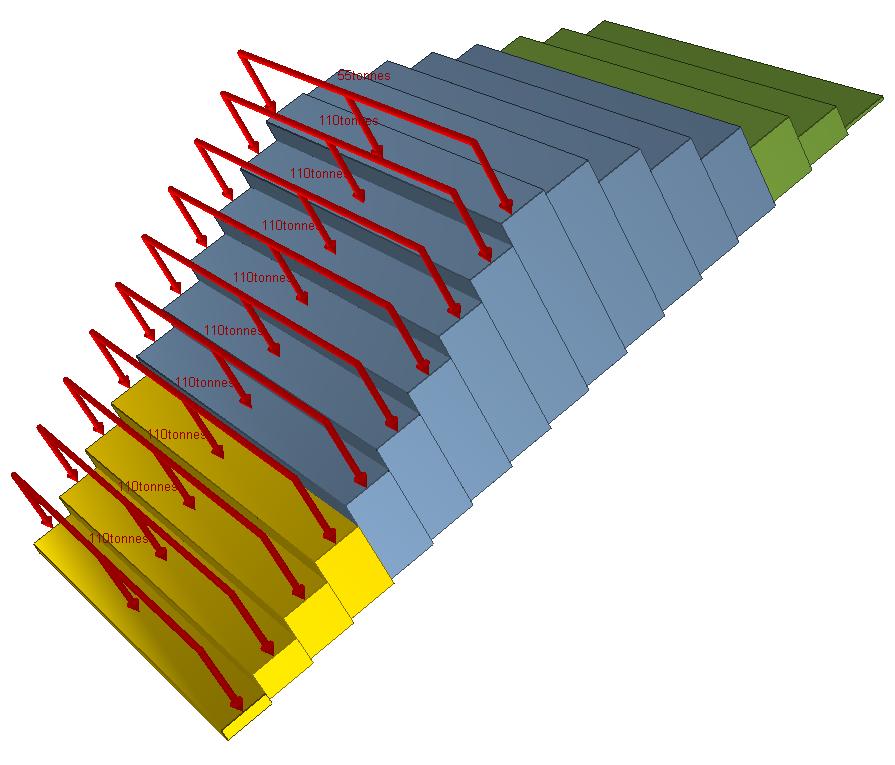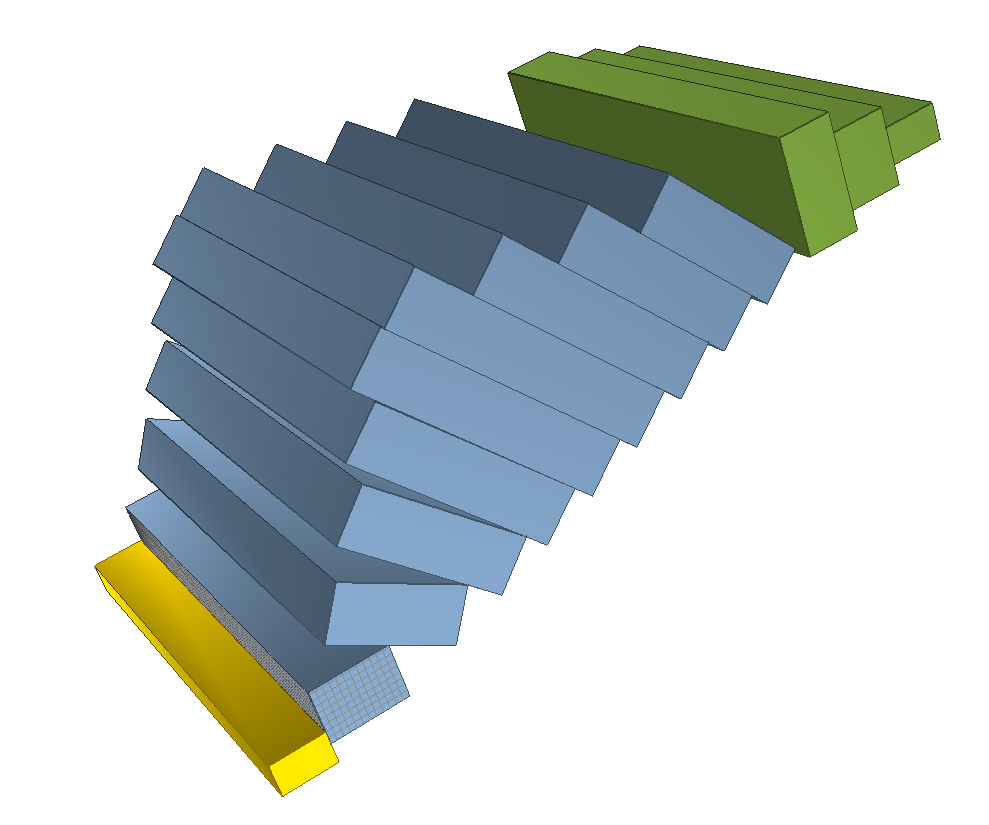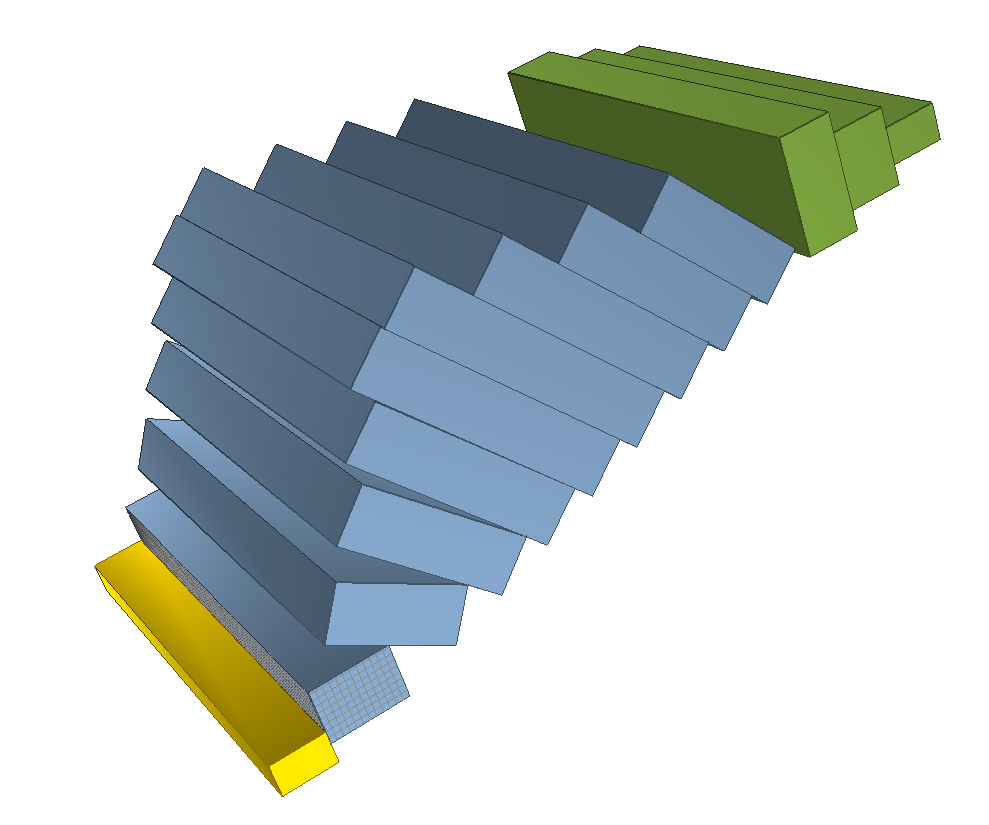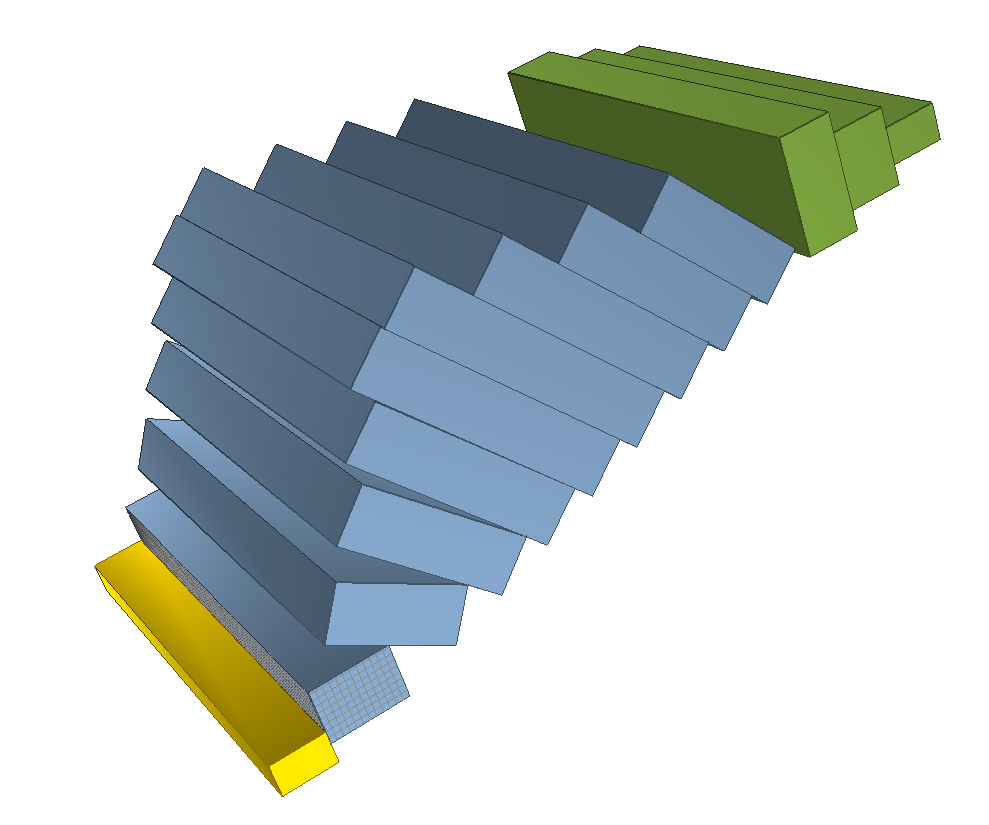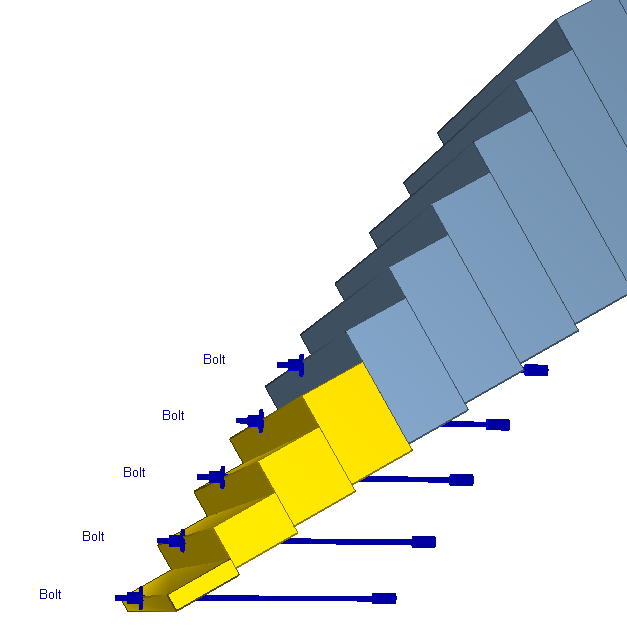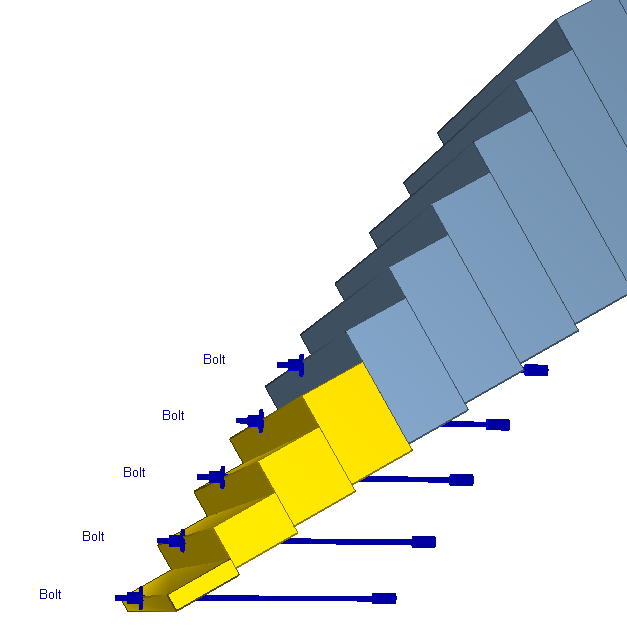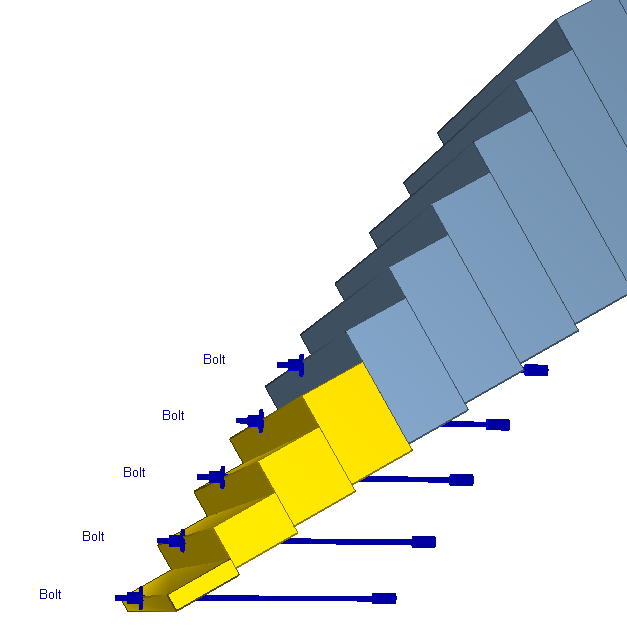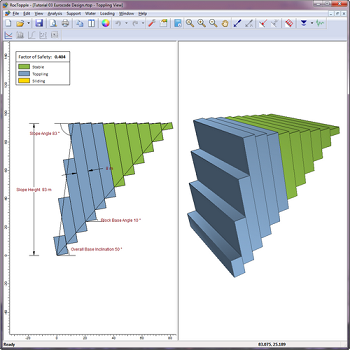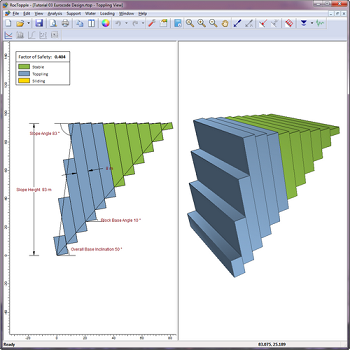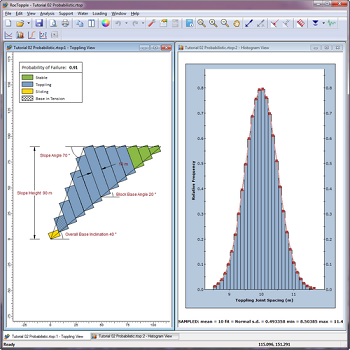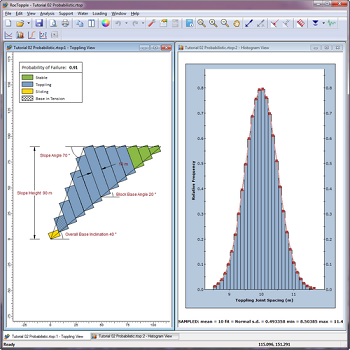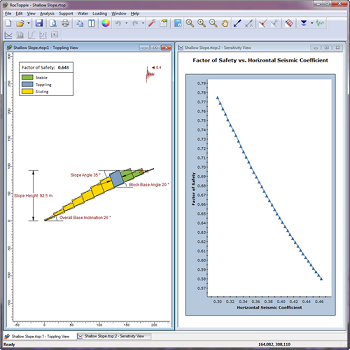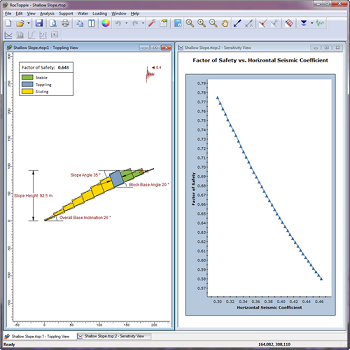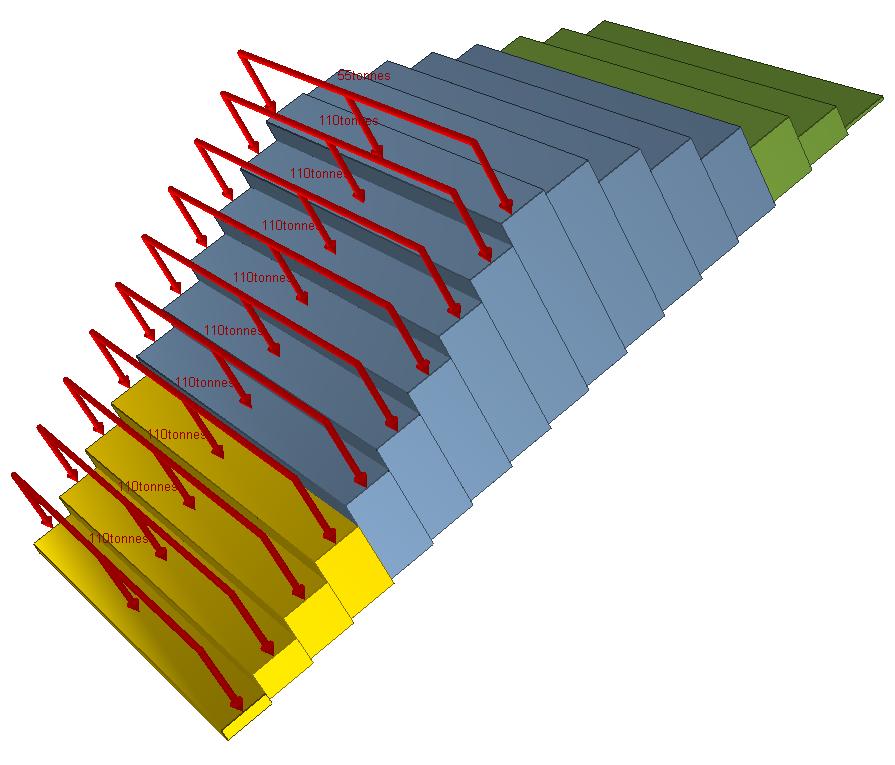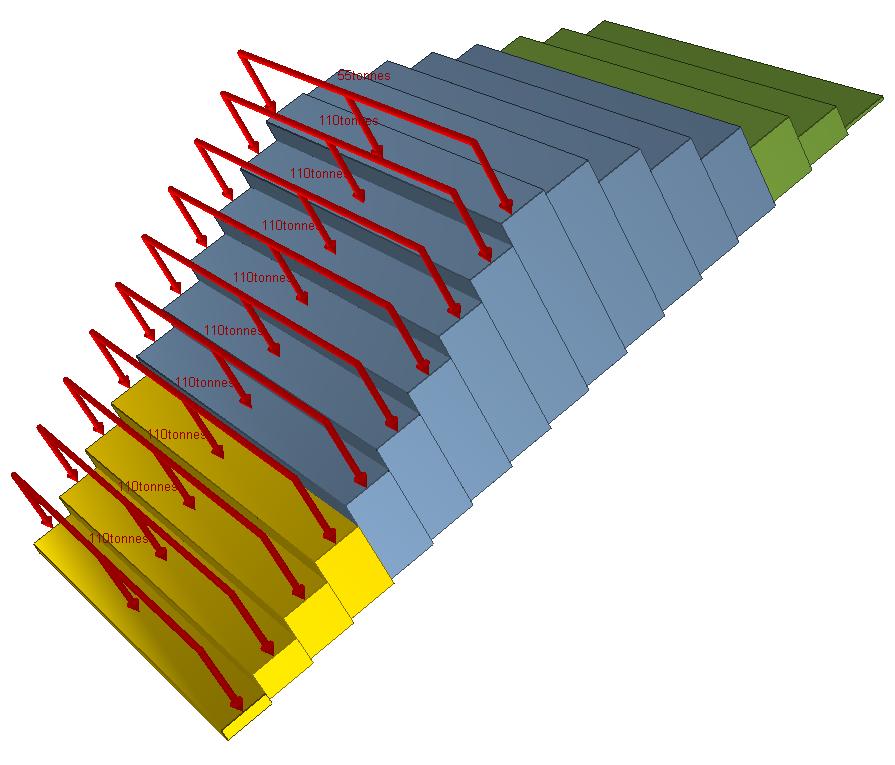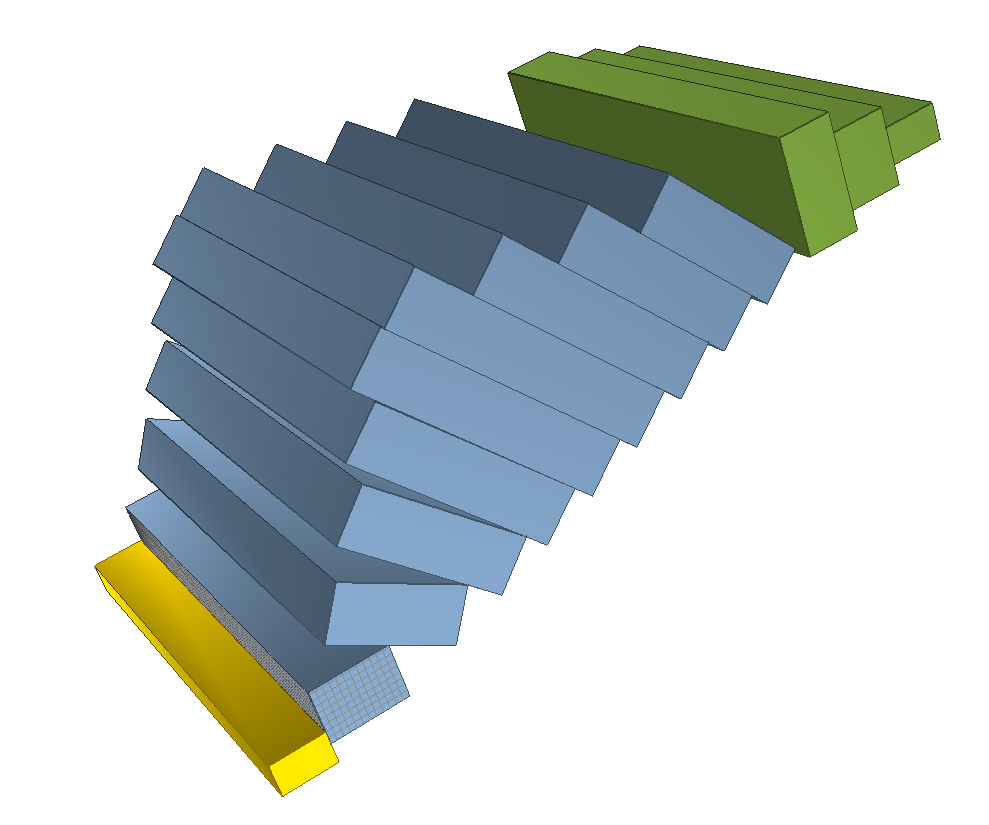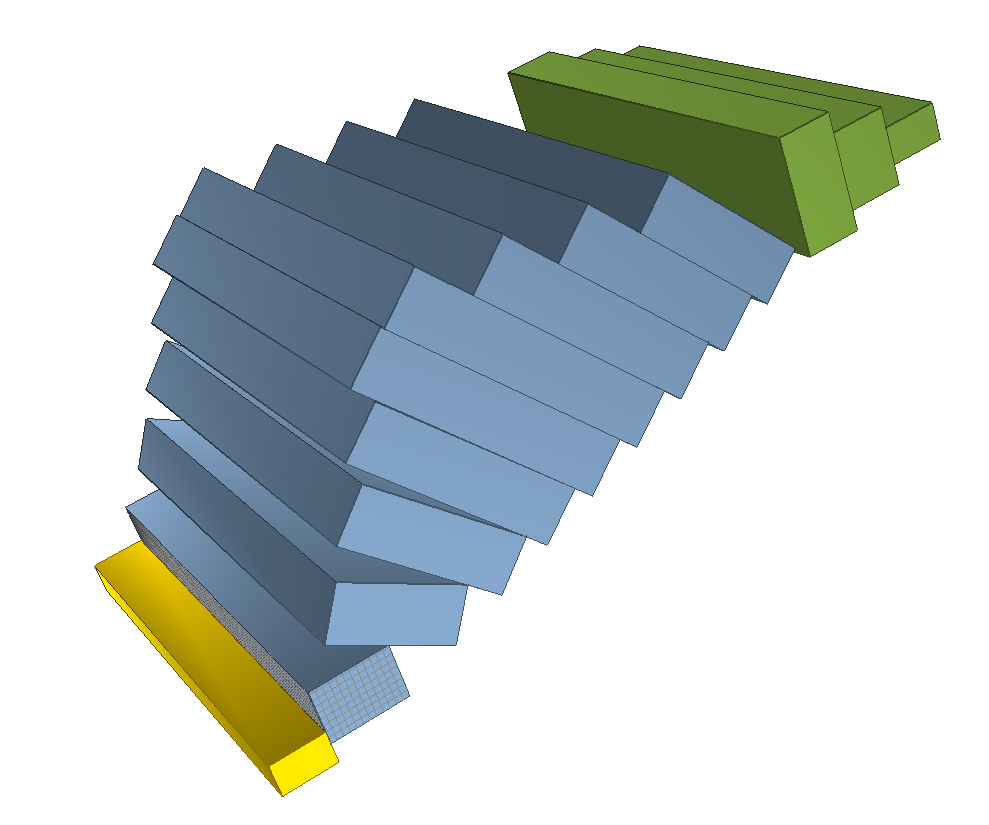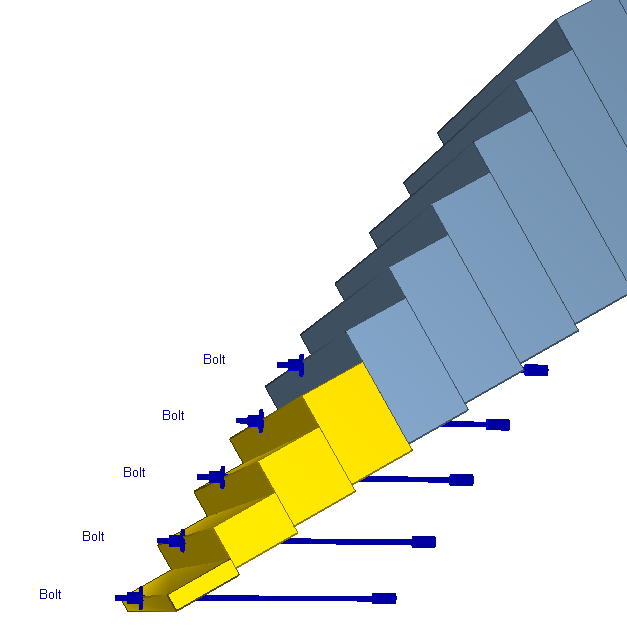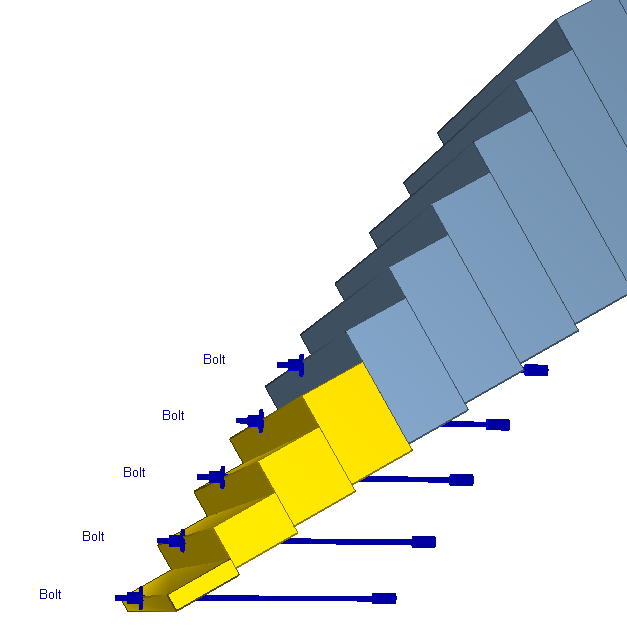 Applications
What's New in RocTopple
The latest release of RocTopple includes the following new features:
Analysis Method
Point of Force Application
Input point of application ratio from 0.5 to 1 for the cases when the above block is sliding, shearing, and flexurally bending.
Support and Loading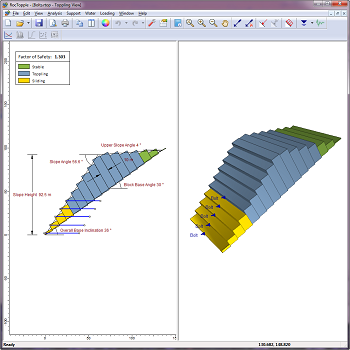 In reality, slopes are subject to both natural and man-made disturbances; thus, practicality demands that these external disturbances be internalized into the analysis. RocTopple not only offers many different applications of external loads but is also designed to allow users to interactively apply them.

Slope stabilization can be modeled by adding rock bolts, which are modeled as simple end-anchored bolts with a user-defined capacity, length, angle, location and out-of-plane spacing. You can add any number of bolts to a model.
Various types of loading can be applied to a RocTopple model including:
Line Loads
Distributed Loads
Seismic Load
Water Pressure
Probabilistic Analysis
In a Probabilistic Analysis, you can define statistical distributions for input parameters (e.g. orientations, shear strength, loading, water level), to account for uncertainty in the values of input parameters. When the analysis is computed, this results in a safety factor distribution from which a probability of failure (PF) is calculated.
The following input parameters can be defined as random variables for a probabilistic analysis in RocTopple:
slope geometry
joint shear strength
support
loads
seismic loads
water level
After computing a probabilistic analysis, the probability of failure is displayed in the legend in the 2D view. Probabilistic results can be displayed in several different plot types, including histogram, cumulative and scatter plots. All probabilistic plots and data can be exported to Excel with a single mouse click.
Export to RS2
The Export DXF File for RS2 option allows you to export the geometry of a RocTopple model in DXF format which can then be imported by the finite element program RS2. This allows you to easily create an RS2 model from a RocTopple file and carry out verification analysis to compare results from the two programs.
In addition to exporting to RS2, RocTopple model and analysis data can be for post-processing in other applications like Excel. Printouts and screen captures can be customized, simplifying the task of generating high quality reports and presentations.
Help yourself to a comprehensive database of product support.