Product Announcement, Article
RSLog - From a Thought to a Web App
Published on: Jan. 13, 2022 Updated on: Jul. 21, 2022
3 minutes read
by Alireza Afkhami, M.A.Sc., M.C.P, P.Eng.
We are living in a digital world. Technology's rapid progress in recent years has made our lives more digitized than ever. Entangled with smartphones, apps, and cloud backups, we trust this technology to take care of our most sensitive data - from bank accounts and addresses to our personal health information. All of this information being available on our devices wherever and whenever we need it is the convenience that technology provides.
In general, the civil engineering industry has always received the benefits of technological advancements with a few years of delay. When it comes to geotechnical engineering, we use various computer programs for engineering analysis, data processing, and presenting results. However, some of the most popular programs in our field which have been around for over 20 years have seen few updates or improvements.
As a geotechnical engineer, having worked with several consulting engineering firms over the last two decades, I noticed that most companies are dealing with the same kind of issues regarding drafting boring logs, software licensing, and accessing their past projects, etc. This especially becomes a bigger problem when dealing with a large number of projects over time. Today, in 2022, this is still an issue that most geotechnical consultants are dealing with. I have seen companies use anything from Excel sheets to Google Earth in order to maintain an up-to-date list of the projects and their associated boreholes.
To address this problem, I started designing a cloud-based borehole management application in 2019. One of the biggest advantages of using a web application: your data is available to you wherever you are; accessible on any smart device, at any time of the day. This resolves a major part of the aforementioned problems that engineers have with software licensing and accessing project-related data.
Over the last three years, my team and I have worked on creating RSLog - a web application that can process your field and lab data, and run engineering analyses online. RSLog gives you the ability to search within a geographic area for specific borehole data (through all your projects), generate reports to share with colleagues and clients, view 3D subsurface models of your site, and more.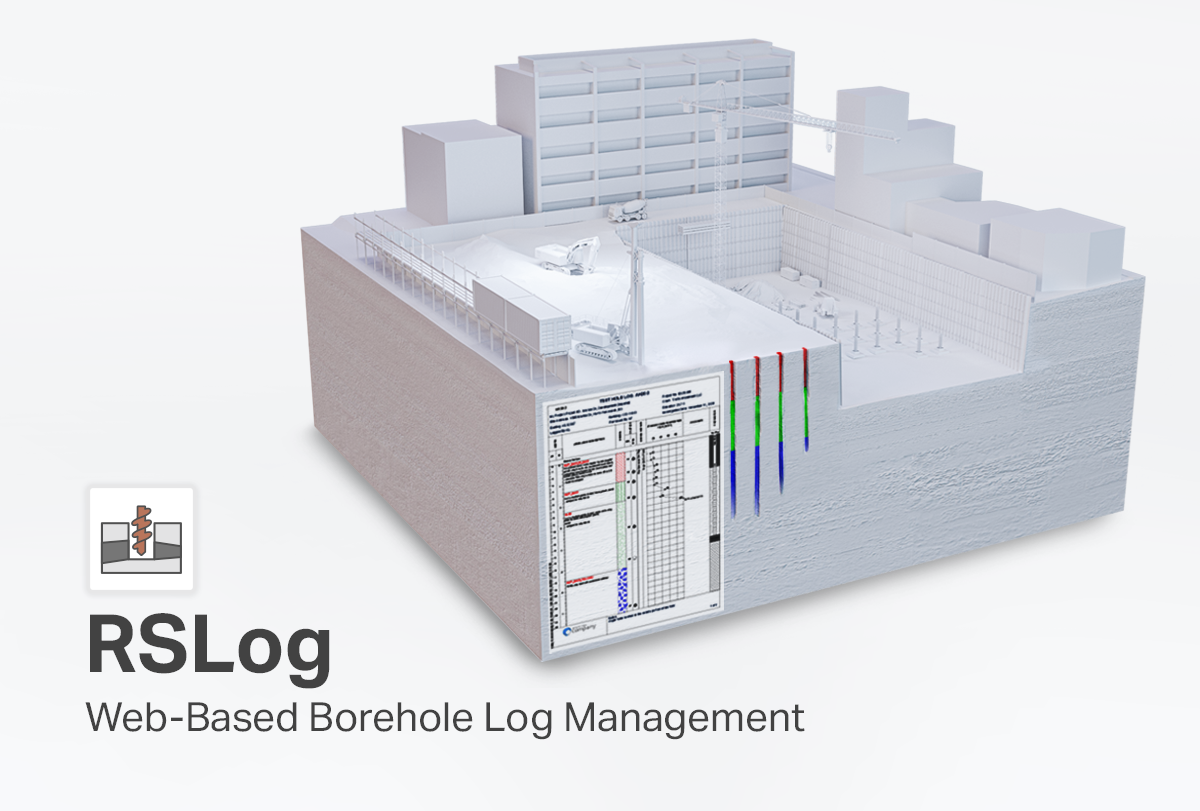 Our vision for RSLog is a 'strong core' for user authentication and data management which serves various independent components such as geotechnical borehole logging, mining features, 2D and 3D cross-section designer, and engineering analysis. This 'core' will soon support international data exchange formats such as AGS and DIGGS, as well as integrations with other Rocscience programs.
RSLog is now available for you to try out and we're excited about how you will benefit from this program. Click here to get your 30-day free trial license. As you have come to expect from Rocscience, we will continue to pack in more features to make RSLog your go-to geotechnical data management program.
Explore the all-new RSLog - Take a tour of the latest features, applications, and a complimentary demo of RSLog.
More from Rocscience