Article
RS2 2019: Advanced Material Models, Integration with Slide2, UI Redesign, and More
Published on: Sep. 10, 2018 Updated on: Jul. 05, 2022
4 minutes read
Click here to get a free trial.
RS2 2019 is here with a whole slew of new features including advanced material models for more realistic modeling of slope conditions, integration with Slide2 for more accurate comparison of slope analysis results, a better user experience for our customers, and more.

New Advanced Material Models
The addition of advanced material models in RS2 2019 means users now have access to a comprehensive array of failure criteria they can apply in RS2's fully automated finite elements analysis. The result is more accurate simulation of the response of real materials to loading conditions, which in turn means more reliable analysis results.

The new material models in RS2 2019 include the following, many of which are the direct result of user requests:
Slide2 material models with Isotropic and Anisotropic failure criteria
FLAC models, including CY Soil and CH Soil
PLAXIS models, including Hardening Soil, HS Small Soft Soil, and Soft Soil Creep
Visco-Elastic-Plastic models
Swelling Rock model
Basic Barcelona model
Dynamic models such as Dafalias-Manzari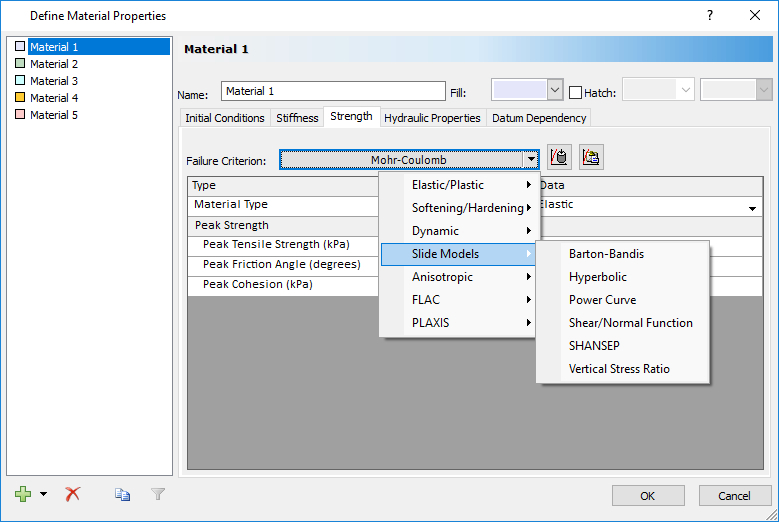 Seamless Integration with Slide2
The addition of Slide2 material models to RS2 now enables seamless transition of slope models between the two products.
Sharing the same material models allows RS2 and Slide2 to be used in conjunction, resulting in a unified and therefore better user experience. More importantly, when users import a Slide2 model into RS2, the 1:1 correlation between materials means they can make a more accurate comparison between the model's limit equilibrium (LE) and finite element (FE) analysis results to determine the reliability of the factor of safety (FS).


UI Redesign
Rocscience prides itself on building tools that engineers can rely on every day. But we also commit ourselves to building tools that are intuitive and easy to use. This commitment to a better user experience is evident in the significant additions and improvements we've made to the UI in RS2 2019 to promote ease of modeling.
Material Properties dialog listing new material models
New Dockform including a Property Grid, Visibility Tree, and Property Viewer
Ability to adjust visibility and colour of boundaries, surfaces, piezometric lines, and more
New Staging filter to enable adjustment by Stage
Profiles and boreholes
Copy and paste to Clipboard
Ratio tool
Contour option to colour regions below and above the min/max contour level
Display of hydraulic properties in the Material dialog (like RS3)
Definition of static groundwater methods (piezolines, grids, Ru) by material
Separation of multiple transient stage groups by static or steady state stages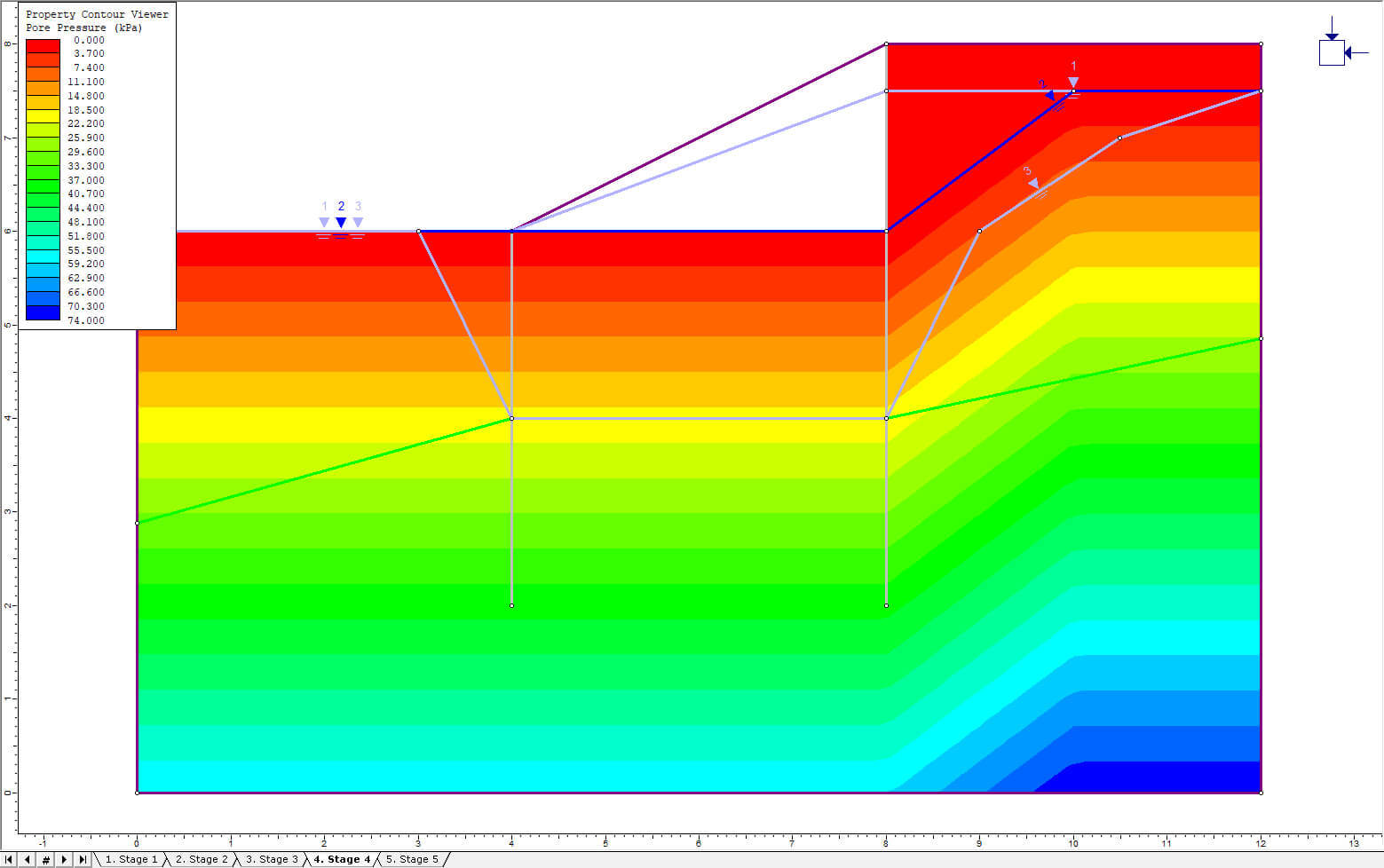 New Visibility Tree
A Visibility Tree pane has been added to RS2's modeling interface. This pane facilitates the visualization of model components by presenting model entities, such as loads, groundwater boundary conditions, liners, and more, in a tree format. This tree lets users toggle the visibility of an item on and off as well as perform other operations, including zooming in on and deleting an item.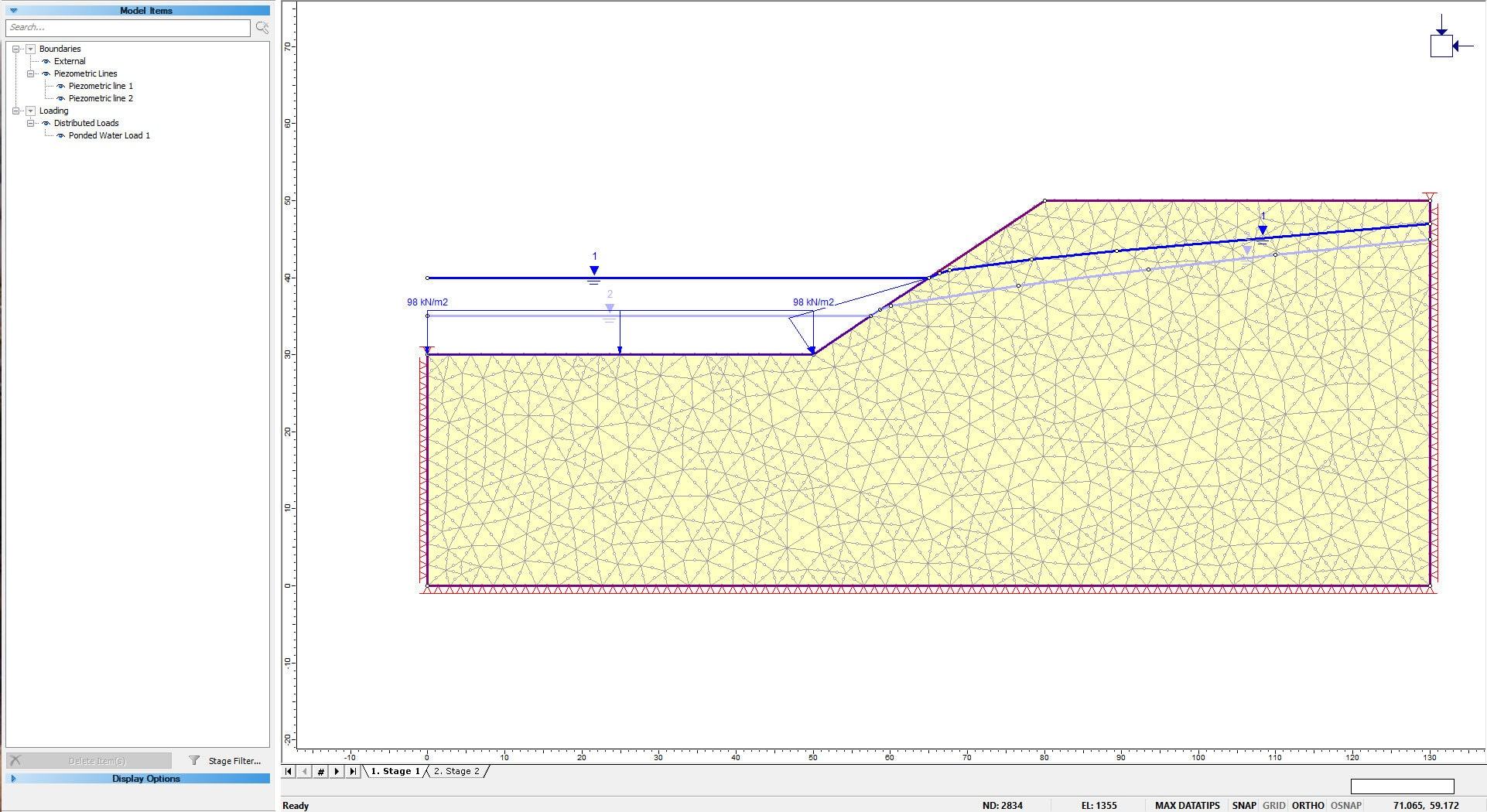 Enhanced Groundwater Analysis
RS2 2019 features superior groundwater analysis tools for finite element steady state or transient seepage analyses. For ease of use, hydraulic properties can be found in the Material Properties dialog. Initial transient pore pressure has been added, and static transient pore pressure is now defined by individual material. In addition, wick drains can now be added to groundwater models.

Performance Improvements
Improved Loading Capabilities
New improved loading capabilities allow users to add multiple loads to one location on a model. In addition, improvements to the Add Load interface allow users to add loads with a simple click-and-drag.

Accelerated SRF Calculation
Calculation of the strength reduction factor has been dramatically improved by saving the model in the last known converged stage and restarting the analysis from that stage. This improvement has resulted in an approximately 50% increase in the speed of SSR analysis.
New Uncoupled Consolidation
A new Uncoupled Consolidation analysis type has been added to improve the stability and speed of consolidation analyses.
Other Features and Enhancements
Custom modulus and unloading modulus
Dynamic improvements
Ability to stop an analysis at a non-converged stage
Vacuum consolidation
Wick drains
Transient stress analysis (Creep and Swelling)
Improved Unknown BC (seepage face)
Try it out for free with a trial!
More from Rocscience