Product Announcement
The Latest Features in RSPile
Aug. 17, 2021 2 minutes read
RSPile is a powerful 3D pile analysis program designed to help you overcome your most challenging projects. RSPile can be used for foundations and slope support.
Stay up to date with the latest features and integrations that you can incorporate into your geotechnical projects.
March 2021
Pile Types and Pile Cross-Section Properties
RSPile is undergoing some big and exciting changes to the way users define and design piles. The Pile Properties section of RSPile is getting an overhaul with the introduction of Pile Types. A pile type is a pile with a defined length and orientation. In this new workflow, users can define the properties of a pile type and then apply them to any pile just by selecting this pile type from the drop-down menu.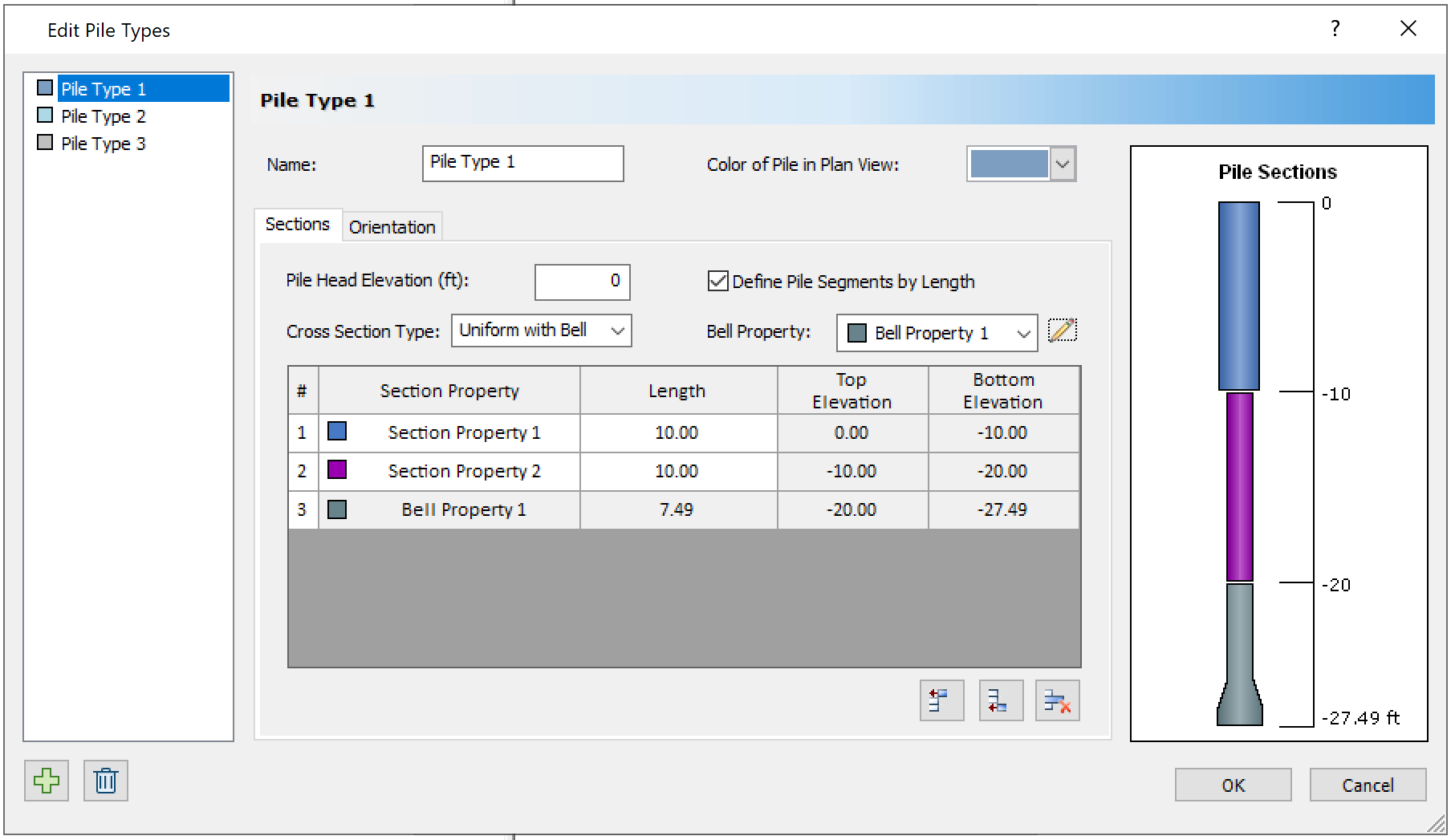 Within this pile type, users will also be able to define multiple sections that make up the pile type. These sections can consist of varying cross-sections whose properties can be defined using the Pile Cross-Section Properties option. Users can define these segments with different lengths, widths, reinforcements, and other aspects that come with a pile cross-section.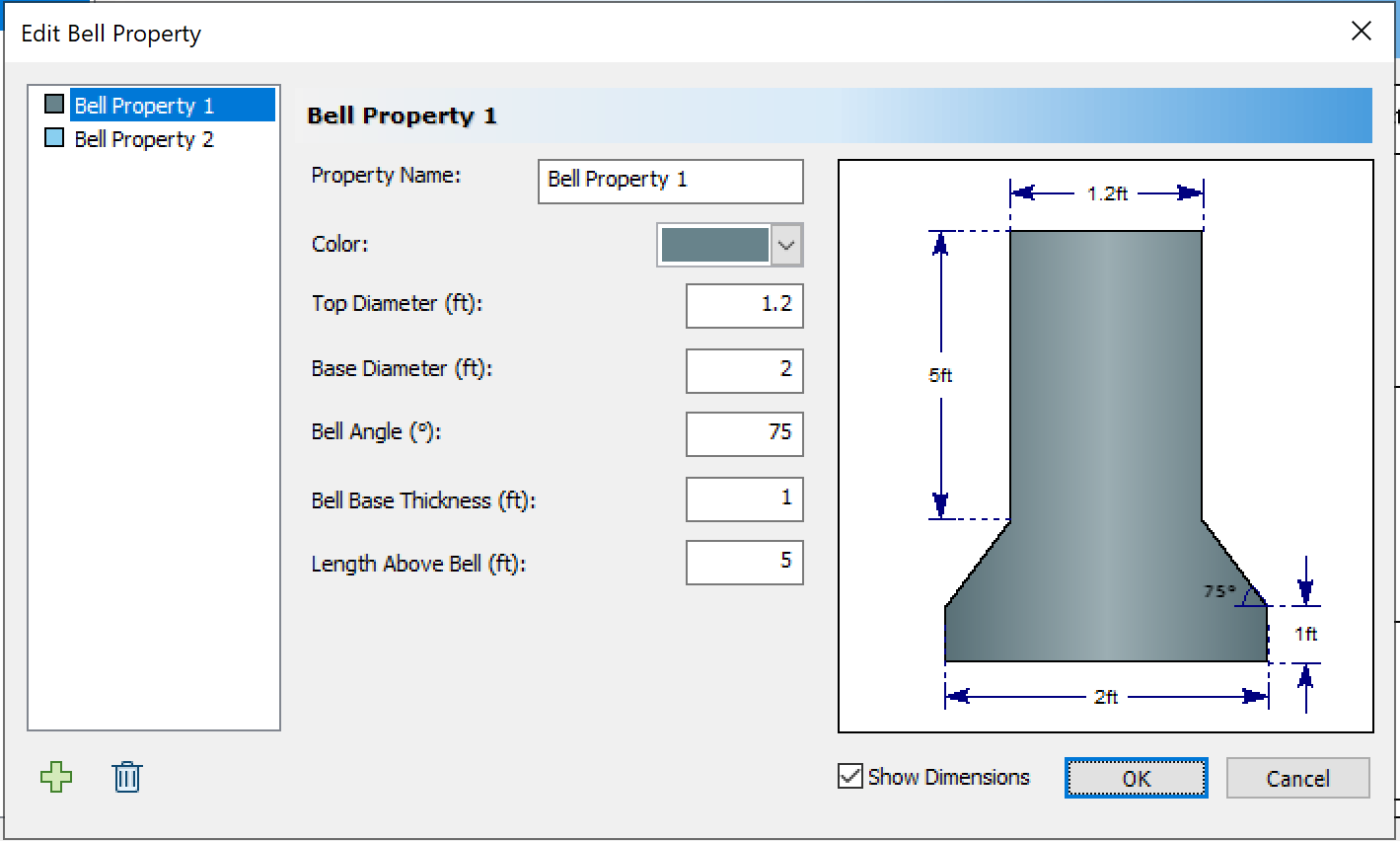 All of these changes are being introduced to give users more control over the way they define and analyze their piles. This new workflow will also allow users to more quickly apply properties to a pile allowing an overall quicker design process.
October 2020
Bored Pile Analysis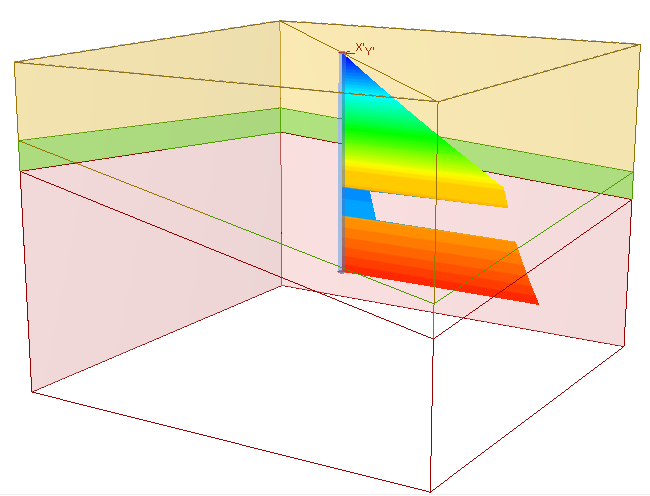 The analysis of Bored piles differs from other options because of its focus on computing the Ultimate capacity of a pile in resisting applied load. The piles themselves differ as well. Unlike prefabricated piles, bored piles are formed by drilling a borehole for a reinforced concrete pile and pouring the concrete on site.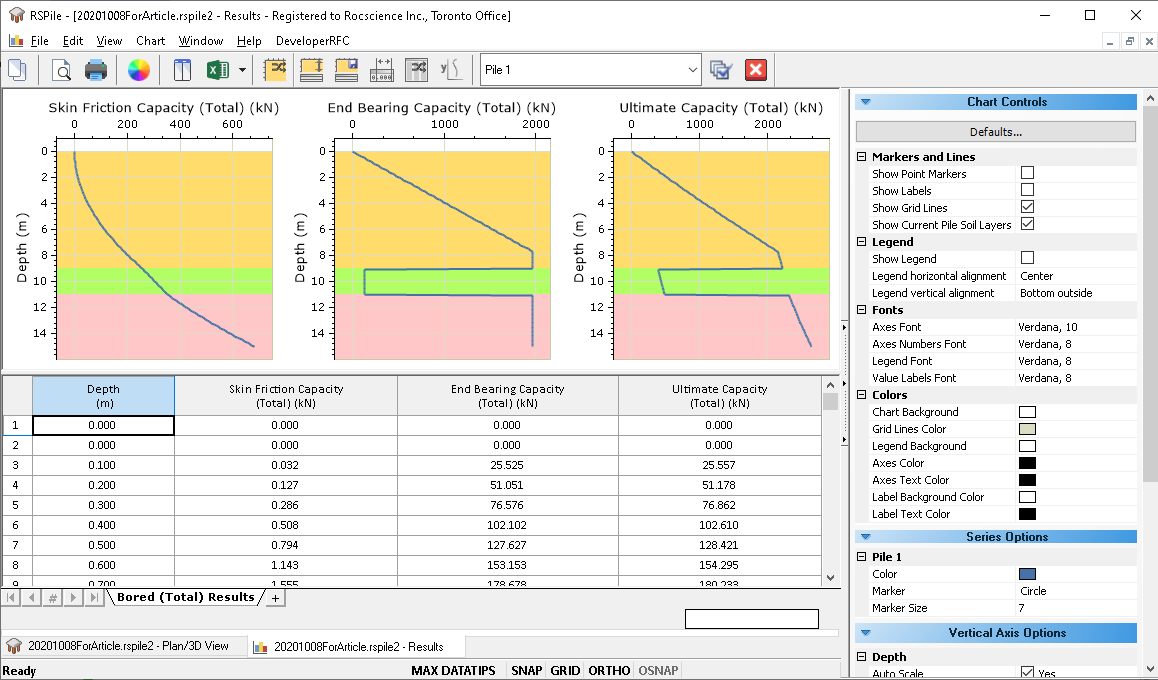 Bored piles are commonly used when building and reinforcing foundations of structures and are a great option for building near existing foundations because of the minimal vibrations caused by their installation. What's more, they are thoroughly versatile option for when a project requires piles of varying lengths.
Needless to say, this analysis option is the ideal accompaniment to any urban geotechnical project requiring piles, and was, as a result, developed in accordance with the Federal Highway Administration (FHWA) and American Association of State Highway and Transportation (AASHT) standards.
Like with all pile options in RSPile, users have several cross-section design options for their reinforced concrete piles including circular, square and rectangular. Similarly, the soil properties options for Bored pile analysis include a comprehensive range of options, including some new soil types not previously offered in the program. The main soil conditions computations considered for bored piles though are the effects of soft soil conditions or scourable soils.
Carrying Capacity
With the addition of the Bored pile analysis option, also comes a refresh to the RSPile Project Settings. Users will notice a new Carrying Capacity category has been added, allowing you to consider piles for more than just Individual or Grouped Pile Analyses.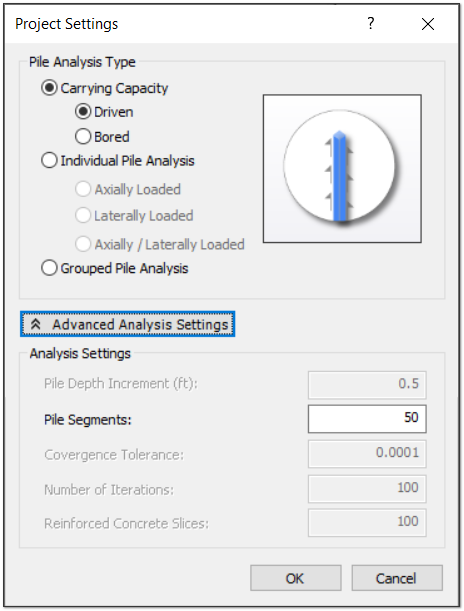 If that wasn't enough, a new advanced analysis setting has been added allowing users to specify the Pile Depth Increment. This option allows users to specify the spacing between pile tip depths where the total capacity is computed for Bored Pile Analysis. Capacities, in this case, are computed starting at the defined pile head or ground surface (whichever elevation is less).

April 2020
How to import an RSPile file into Slide2?
The installation of piles is one of the most common methods of slope stabilization in the industry. This makes the general pile analysis software RSPile a particularly useful addition to your slope stability suite. The RSPile program allows users to design and analyze numerous types of piles to meet the needs of their geotechnical project including driven piles, axial and laterally loaded piles, and grouped piles. In the case of slope stability analyses, RSPile automatically calculates the pile resistance by allowing the user to specify the range of sliding depths examined in the analysis and produce the corresponding pile resistance functions.
These pile resistance functions produced in RSPile are easily imported into the Slide2 program. Simply open the Define Support Properties dialog and select RSPile as your support type. From here you can launch RSPile and import the RSPile file directly into Slide2.
With one RSPile model file, a user can define the soil and pile properties for multiple piles of various embedment lengths and soil layer configurations.
For each intersected slip surface to a pile, Slide2 will use linear interpolation to determine the appropriate resultant pile resistance and compute the factor of safety.
June 2022
Pile Capacity Generator Table
The Pile Capacity Table Generator gives you an option to generate a table for proposed Bored piles capacity with depth. This kind of table is widely used by site investigation and geotechnical firms to prepare a ready guide for the structural engineers to choose their piles' distribution in their preliminary analysis of the superstructure and the foundations.
A preliminary estimate for the allowable capacity of several proposed piles will be very useful to start the analysis. After the first run of the structural analysis program (ETABS, SAFE, Ansys, STAAD Pro, etc.), the loads on the piles are found usually assuming them as hinges or fixities at the foundation retaining supports. With these loads, the first estimate of pile sizes and lengths may be chosen from such a table to start a further investigation and runs for the program with new supports that represent the piles as springs (whether linear or non-linear) to optimize the choice of the piles.
The pile capacity table generator not only provides you with the ultimate skin friction and ultimate tip resistance but also includes the tool that allows you to apply different factors of safety to determine the allowable carrying capacity of the piles as per your convenience. Graphical representation of the variation of ultimate and allowable capacities with depth helps the designer to visualize where the changes are potential and to choose suitable depths to end the piles at. You can choose to limit or free the average sectional stress.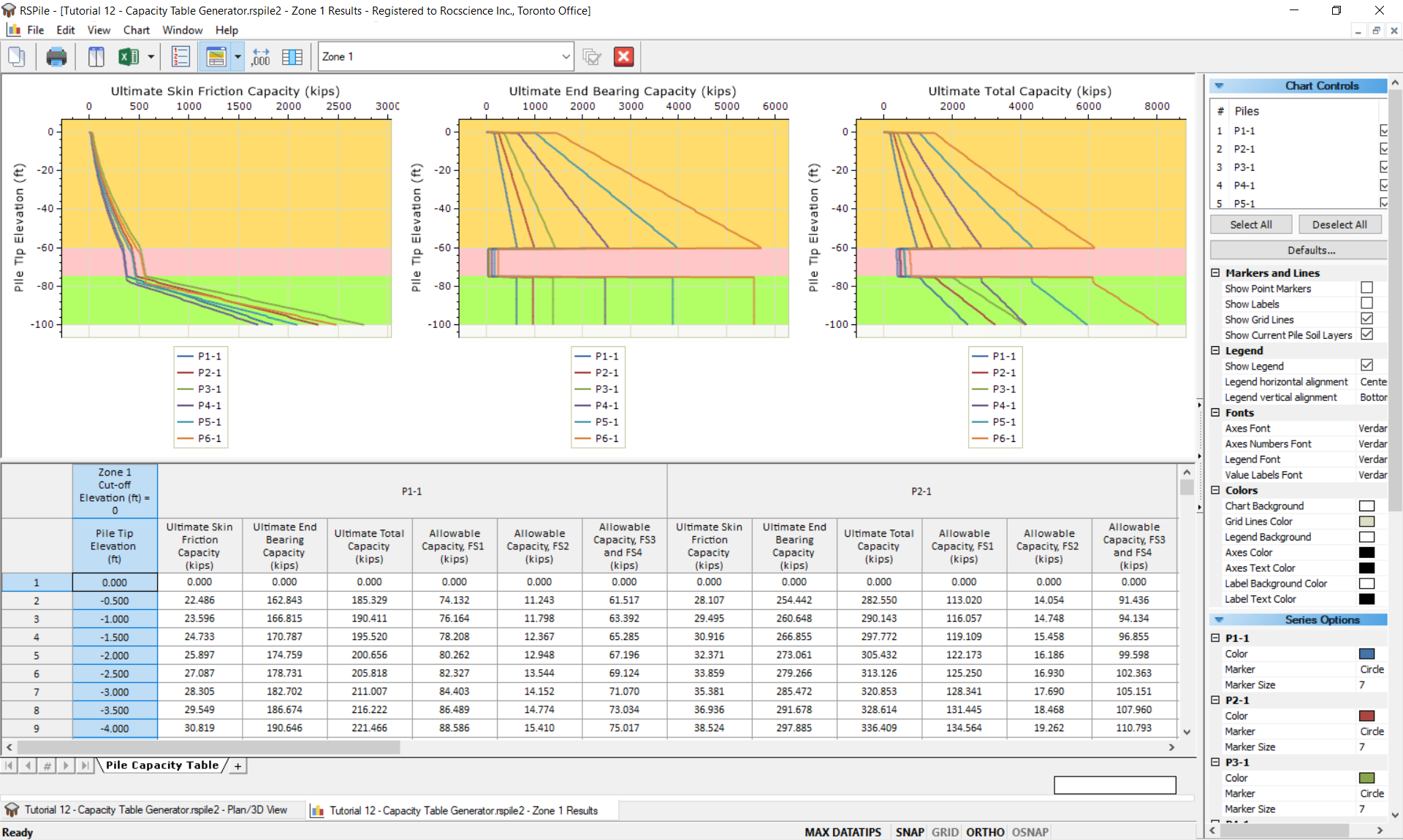 The pile capacity table generator allows you to divide the project area into sub-areas or Zones that will be defined for pile capacity calculations differently with each zone having its own soil layering and ground surface based on interpolating between the boreholes. A unified cut-off level may be assigned for each zone and you can view the project zoning in 2D layout and 3D view. Pile designers and geotechnical investigation firms will be able to optimize the project zones for cost minimization and adopt elevations closer to foundation levels.
Learn RSPile
Explore the RSPile user guide for in-depth instructions on how to use the program and visit our library of learning resources, including case studies, past webinars, and articles, designed to expand your geotechnical knowledge and help you get the most out of your analysis.
More from Rocscience